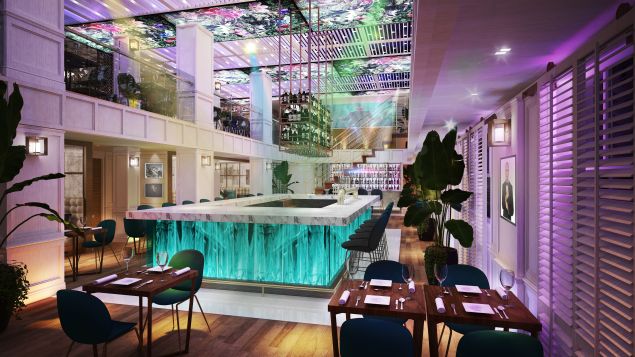 Pitbull is gearing up to give Miami his biggest gift yet. The Grammy award-winning artist Armando Christian Perez, who many of us known as "Pitbull" or "Mr. Worldwide," will open a massive restaurant on Ocean Drive in Miami Beach this summer. It will be aptly named iLov305. And though there is still some time until it debuts, Pitbull's reps are already calling it "Where What Happens, Never Happened."
Through a partnership with the global restaurant brand Sugar Factory, Pitbull's new haunt will be equal parts restaurant, bar, and nightlife venue. The two-floor space, set inside the Bel-Air Hotel Miami Beach, will feature three VIP rooms, a private lounge, and four cocktail bars. Though the venue is clearly attempting to maintain a level of exclusivity, its location on Ocean Drive is destined to make it one of Miami's largest tourist traps yet.
"iLov305 says it all," Pitbull said in a recent statement, "I want everyone to feel, see, share the same passion and love I have for Miami. iLov305 will have the most energy that Ocean Drive has ever seen, Dale!"
The 9,000 square-foot space opens with cigar rollers, retail, and a tropical-inspired lobby daiquiri bar. Also on the ground level is a massive vintage dining room with over-the-top decor like Spanish tile and crystal lighting. Toward the center of the room, find the Pitbull Voli. It's the restaurant's main bar stocked with wine, beer, and spirits. It will also serve as the venue's performance hub. In the back, there's a more intimate mojito bar with a menu of more than 50 varieties.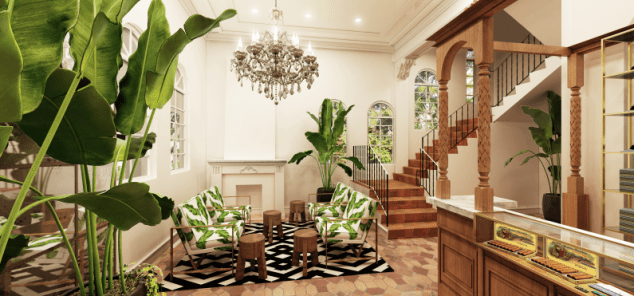 Then comes the VIP area. On the venue's second level, there will be three private rooms, a DJ booth, and access to a private bar area overlooking the main dining room and bar. There's also a "Dale!" room, serving as Pitbull's secret hideaway when he visits the restaurant. He's got his own bar and bathroom, which will only be accessible to guests when he's not at the venue.
The menu, created by chef Bryan Odgen, is a hodgepodge of American comfort food and traditional Latin staples. Of course, there's a Cuban sandwich layered with roasted pork loin, ham, Swiss, pickles, and whole grain mustard. There's also pork belly sliders hugged inside grilled egg bread rolls and served with mashed plantains and sour orange sauce; black bean soup with a zesty lime crema sauce; and the 305 Burger, stuffed with a beef patty, gulf shrimp, charred plantains, savory bacon, chipotle mayo, and chimichurri sauce. For dessert, opt for a guava bread pudding made with queso blanco, honey, and coconut ice cream.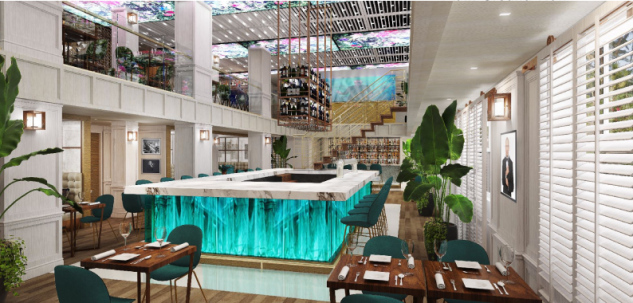 Throughout the venue, there will be more than 100 different kinds of cocktails, most made with Pitbull's Voli 305 Vodka. There's the Mr. 305 punch bowl, meant to share between two or three drinkers; and the Dale Mojito, Pitbull's take on the traditional Cuban drink.
iLov305 will join Pitbull's other restaurant in the performer's dining portfolio, 305Sinco opened at Casa de Campo in the Dominican Republic at the end of 2016. He is also an investor in the Miami Subs Grill chain. There is no set launch date for iLov305, but it is expected to debut sometime in summer 2018.
Clarissa Buch is a writer and editor who has covered Miami for more than half a decade. Read her full bio here.