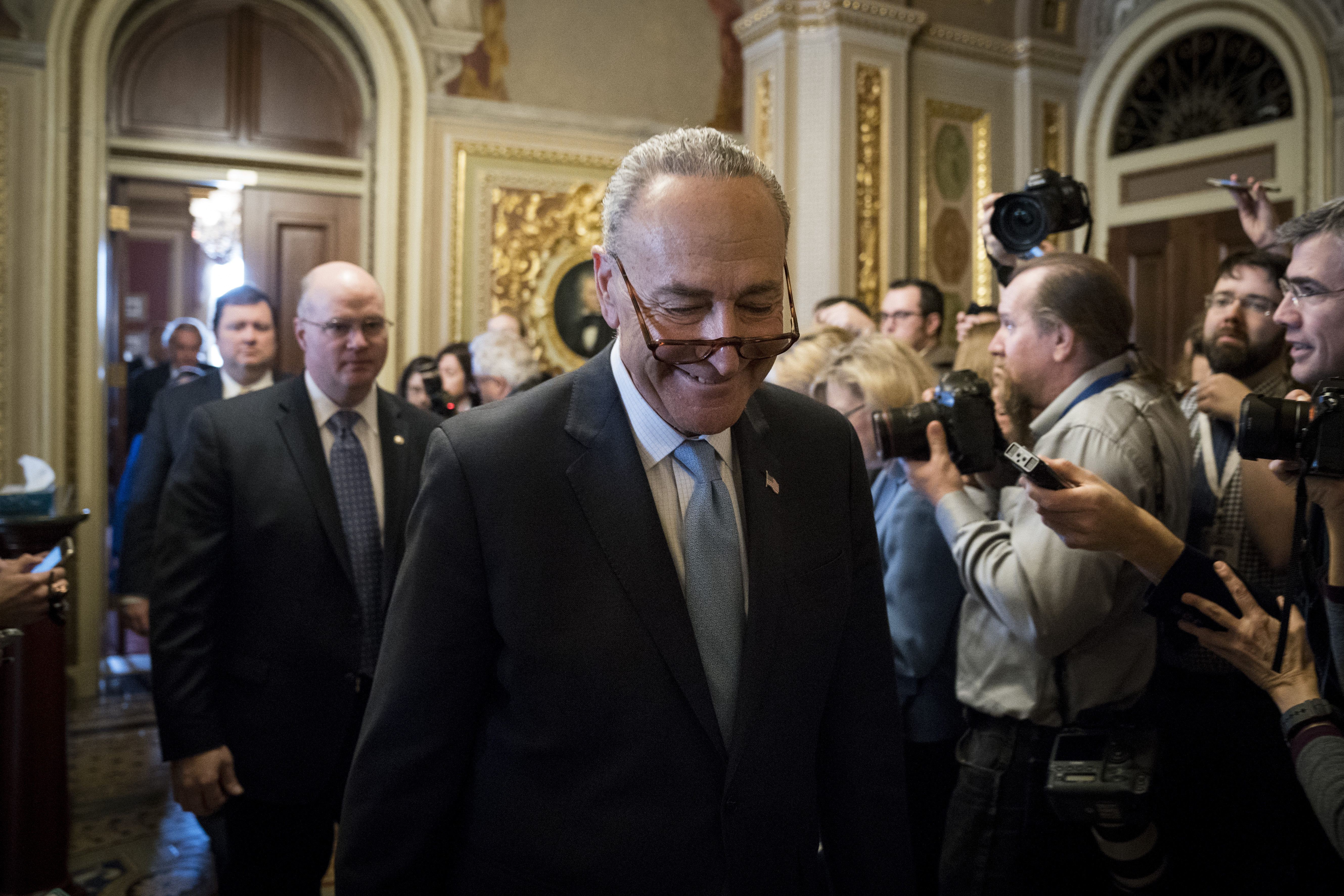 Tensions between Democratic and Republican lawmakers over immigration began to cool on Monday as the Senate voted 81-18 to end the shutdown. Senate Minority Leader Chuck Schumer announced mid-afternoon that he had reached an agreement with Republicans; a short-term spending bill to keep the government running into February and fund the Children's Health Insurance Program for the next six years in exchange for Republican lawmakers' promise to reach a resolution on DACA.
Of the 18 lawmakers that rejected the spending bill in the preliminary vote, many were potential Democratic candidates for the 2020 presidential race, including Cory Booker (D-N.J.), Kirsten Gillibrand (D-N.Y.), Kamala Harris (D-Calif.), Elizabeth Warren (D-Mass.), and Bernie Sanders (I-Vt.). "I want to see the government reopen as much as anyone, but this bill fails to fix the moral issue we must solve. That's why I voted against it," tweeted Sen. Gillibrand Monday afternoon.
Previously nicknamed the "Schumer Shutdown" by Republican leaders, Schumer proposed a name of his own in a speech delivered Monday afternoon. "My recent offer to the president was a generous one," began Schumer. "I put his signature campaign issue on the table in exchange for DACA, and still he turned away. President Trump's unwillingness to compromise caused the Trump shutdown and brought us to this moment."
The three-day shutdown will officially end once the three-week spending bill is given final approval by the Senate and then the House. "The Republican majority now has 17 days to prevent the Dreamers from being deported. Mr. President, we have a way to address the fate of the Dreamers," said Schumer. "In a few hours, the government will reopen. We have a lot to do," he concluded.
Senate Majority Leader Mitch McConnell echoed Schumer's call to action. "It's evident that this government shutdown is doing nothing, absolutely nothing to generate bipartisan progress on the issues the American people care about," he said on the Senate floor Monday morning. "Everyday we spend arguing about keeping the lights on is another day we cannot spend negotiating DACA or defense spending or any of our other shared priorities. So, look, let's join together, put the filibuster behind us, and get back to work for the American people."
California Sen. Kamala Harris also voiced concern over McConnell's promise to address DACA following her vote against the proposed budget plan. "The Majority Leader's comments last night fell far short of the ironclad guarantee I needed to support a stopgap spending bill. I refuse to put the lives of nearly 700,000 young people in the hands of someone who has repeatedly gone back on his word. I will do everything in my power to continue to protect Dreamers from deportation," she told CNN reporter Phil Mattingly in a statement.
A bipartisan group of senators led by Sen. Lindsey Graham (R-SC) and Sen. Dick Durbin (D-IL) presented Trump with a bipartisan solution that included granting DACA recipients a pathway to citizenship in exchange for increased restrictions on chain migration, terminating the diversity visa lottery program, and more funding for border patrol. Unfortunately, propositions such as the Graham-Durbin bill are expected to falter due to their inability to appeal to the majority of Senate Democrats or House Republicans.
Trump has already voiced his disdain for the DACA solutions proposed so far. Although the president had previously stated he would sign anything they presented, Durbin stated on NBC's Meet the Press on Sunday that this is not the case. " When the president said on January 9th, and I was sitting right next to him, 'You send me a bill to solve the problem,' that he created on DACA, 'I'll sign it. I'll take the political heat.' Within 48 hours, Lindsey Graham, Republican South Carolina, and I presented that bill to him. He rejected it out of hand," said Durbin. As long as the president's stance on DACA remains unclear, Republicans and Democrats alike remain in the dark as to how to prepare for upcoming bipartisan immigration talks.
Francesca Friday is a New York City-based National Politics, Health and Lifestyle contributor for Observer.