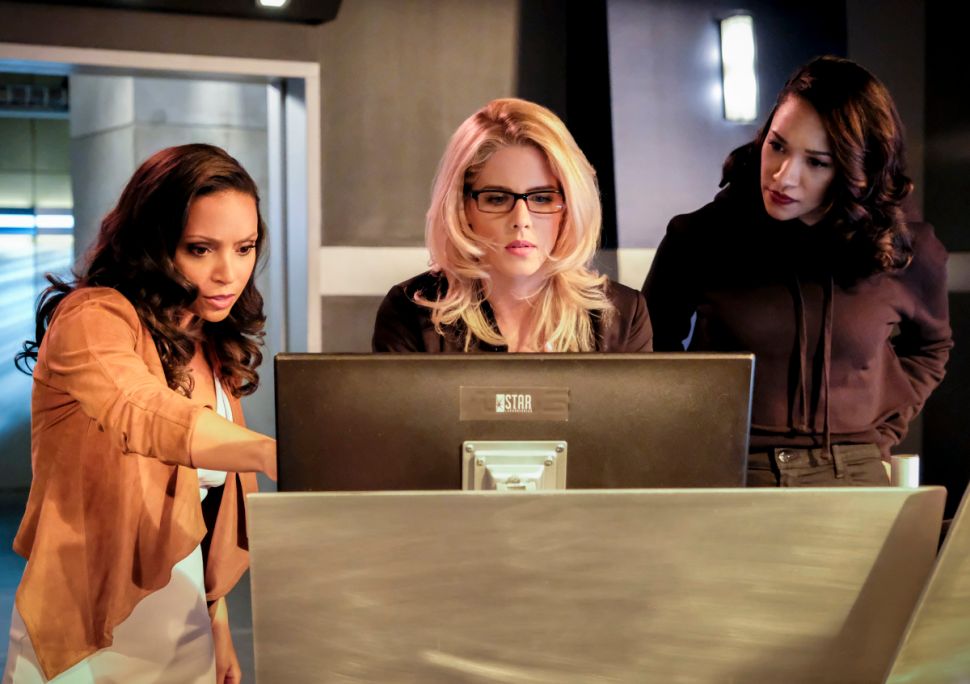 A superhero costume serves a variety of functions: to conceal identity, aid abilities and act as a symbol of a brand. The CW's ever growing roster of DC Comics adaptations (Black Lightning debuts this week) follows these conventions, but dressing to save the world isn't limited to leather or spandex. Arrow, The Flash and Supergirl all feature office environments of one sort or another, as well as low-key street looks from our mighty heroes. Here are some of the best looks from this sprawling universe.
Arrow jump-started the superhero trend on the CW in 2012 when protagonist Oliver Queen merged his corporate family business with his desire to save his city. He was brought into I.T. genius Felicity Smoak's orbit at Queen Consolidated. They've been working together ever since. Felicity's attire very much reflects the office-ready trends of each year. Fitted and flared dresses, peplums and keyhole details have all been repeated over the last five years. Felicity's recent work-wardrobe includes a pink bell frill sleeve sweater by Boutique Moschino, coral cold-shoulder frock by La Petite Robe by Chiara Boni, a sophisticated Diane von Furstenberg sheath dress and velvet paisley Sandro. All styles that have recently featured fashion cycles.
Felicity's work look is super feminine, and includes a lot of pastel and jewel tones. Meanwhile, Oliver's sister Thea Queen tends to lean toward brands with more of a cool girl vibe in a darker palette. At her brother's recent wedding celebration she wore a black Alexander Wang dress with crystal-embellished sleeves. Earlier in the season she made a subtle statement with a T by Alexander Wang striped sweater. Rag & Bone also features in the neutral knit department. She isn't color-averse though, costume designer Maya Mani has included floral Alice + Olivia and a burgundy suede Theory jacket in Thea's recent Arrow wardrobe.
Star Labs bio-engineer brought some good old-fashioned embellishment to the CW's DC lineup when The Flash premiered in 2014. Similar to Betty Cooper from Riverdale, Snow favors simple sweaters by brands like Club Monaco and Ted Baker for glitzy collars. Caitlin's got a whole Jekyll-and-Hyde thing going on with her superhero alter ego, Killer Frost. This includes a completely different wardrobe with a sexier look, but Caitlin even in her everyday-wear she isn't adverse to leather skirts or cold-shoulder bodies such as this one by Twenty Tees.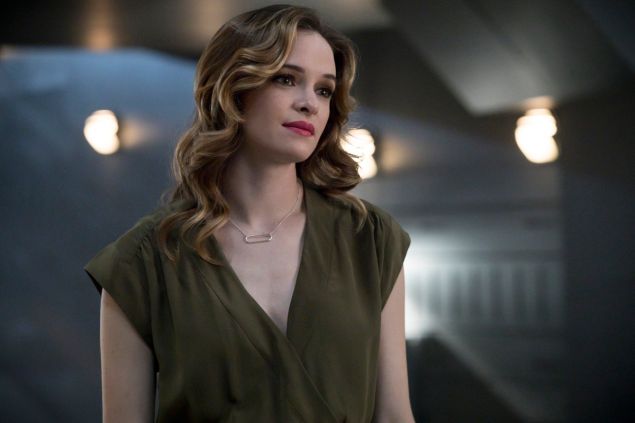 As with Caitlin, Iris West wears Club Monaco on The Flash and as a reporter she favors clean lines. High-waisted pants and pencil skirts make up a lot of Iris' wardrobe, often paired with cropped knitted tanks from affordable brands such as Moth at Anthropologie and Urban Outfitters. And if in doubt, this white silk Equipment blouse as worn by Iris in the recent episode "Therefore I Am," is a great staple item for your closet.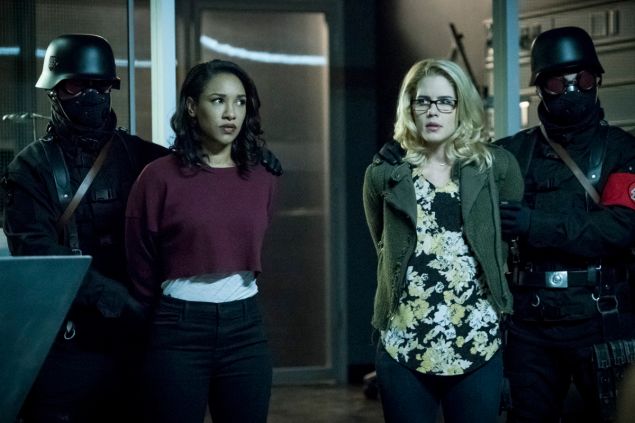 On another version of Earth, Kara Danvers a.k.a. Supergirl also keeps it stylish outside of her iconic red, blue and gold costume. Her everyday work attire is primarily pastel in color; it is twee, girlish and wouldn't look out-of-place on New Girl. Sweaters, patterned dresses and turtlenecks from Kate Spade New York, H&M, Sandro and Madewell feature. But the brand Kara wears most often is Brooks Brothers, including trench coats (in both traditional khaki and plaid), windowpane check dresses, a floral shirt and polo sweater. Her sister, Alex is more in tune with a superhero on Netflix. Alex's All Saints leather jacket would likely get the approval of Jessica Jones, her costuming is far edgier than her sister's.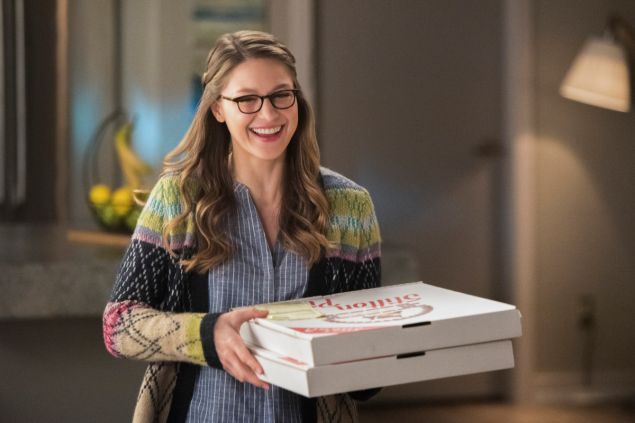 The reason all these characters came together in the recent four-way Arrow-verse episode "Crisis on Earth X" crossover was for Barry and Iris' big day. Iris wore a stunning Monique Lhuhillier bridal gown, but if you want a wedding dress that is more affordable, Felicity Smoak's white frock by Dress the Population in the most recent episode of Arrow has you covered. Before the ceremony was so rudely interrupted by invading Nazis from another version of Earth, all attention was on the bride. The soft blush Faviana gowns worn by bridesmaids Felicity and Caitlin are no longer available, but if you are after something in this color palette, look no further than Kara's lace Mac Duggal cocktail frock.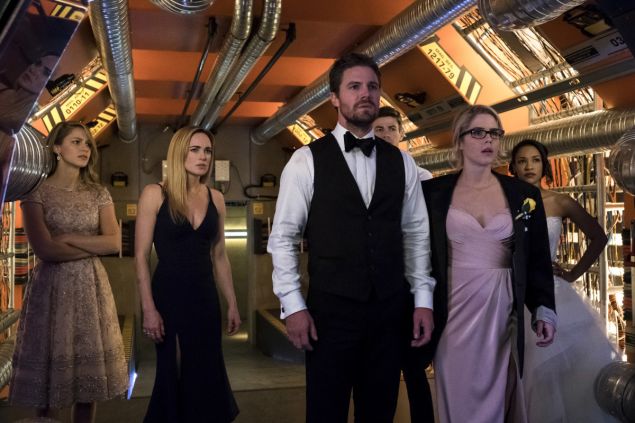 There is a new superhero about to join the CW ranks; featuring in our 2018 Style Preview, Black Lightning debuts January 16. Saving the world doesn't just mean spandex and leather, the hard work is also done in office-ready outfits that look good on whatever version of Earth you reside.
Emma Fraser is the creator of TV Ate My Wardrobe and spends most of her time writing about TV, fashion and costuming; like Abbi and Ilana's Broad City style, the wigs on The Americans and Fleabag's lipstick. Emma has a MA in Film and Television, and she holds Angela Chase responsible for this path. You can find her on Twitter @frazbelina.