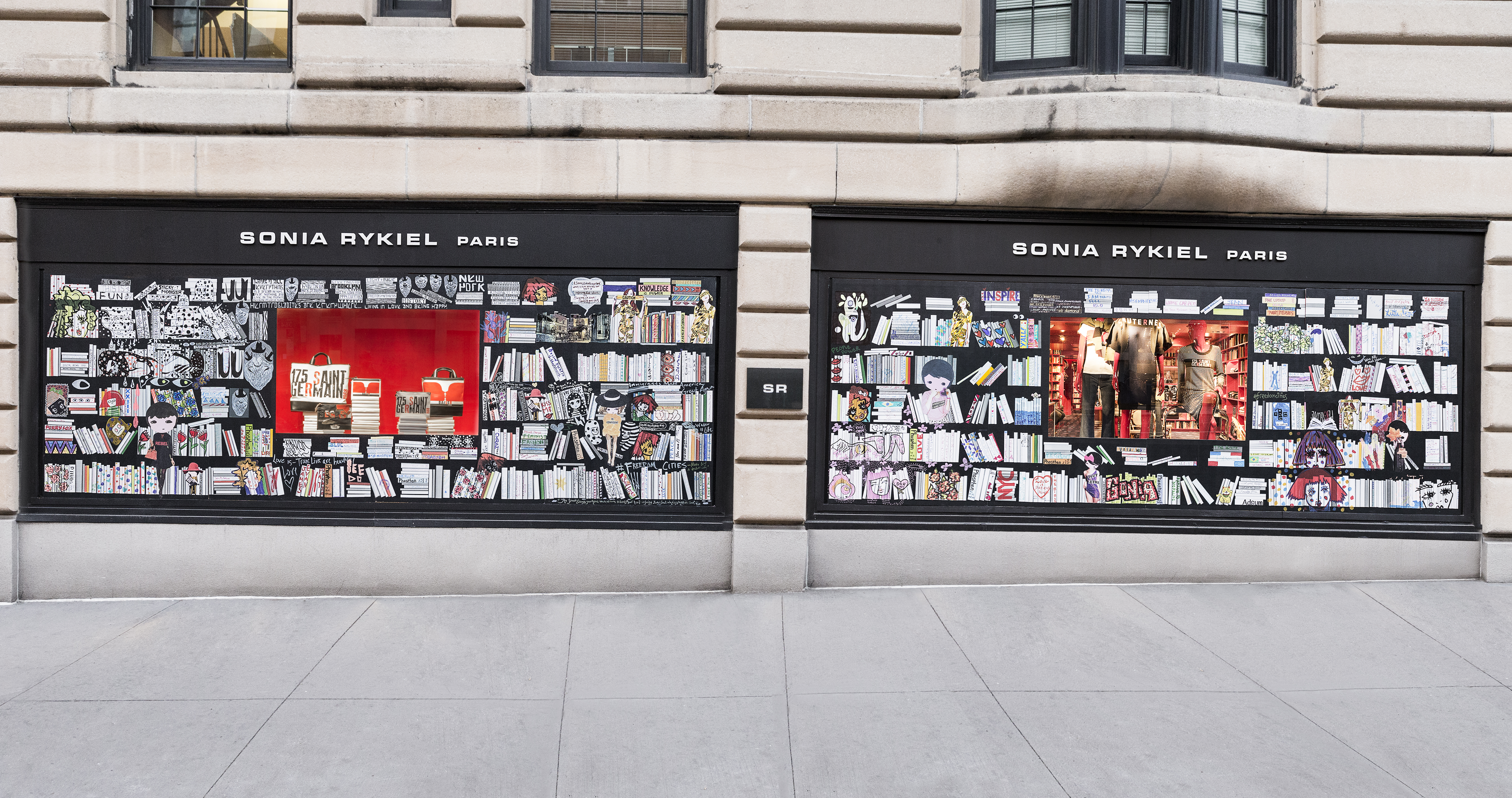 New York's posh Upper East Side isn't a neighborhood known for embracing the artistic appeal of street art, but that notion is being challenged by Sonia Rykiel, as the French brand celebrates 50 years in business.
On the façade of their Manhattan flagship, located on Madison Avenue between 68th and 69th Streets, the brand has installed an interactive mural that basically begs passersby to scribble on it. The mural depicts an artfully disheveled bookshelf—but the spine of each book is entirely blank. Pens are located nearby, allowing everyone and anyone to fill in the blanks with the title of their favorite book, the name of their favorite author and so on. Slovak visual artist Jaro Varga designed the murals, which will also adorn Rykiel stores in Paris, London, Tokyo and Seoul.
But, as most devout Rykiel fans might have guessed, this artwork is more than just a series of pretty, albeit interactive, pictures. After all, when this Manhattan flagship opened up in 2016, there were 15,000 books lining the shelves.
According to the brand's website, "[t]he project questions the relevance of physical
 books and their eventual obsolescence, while also offering the temporary community surrounding the exhibition a chance to define the books entered into this conceptual library." It's a concept that the brand's late founder would adore. Rykiel, who passed away in 2016, began her namesake brand in 1968, in the midst of the women's liberation movement; her clothing designs helped prove that women could be into both fashion and literature. In fact, Rykiel penned a few books of her own, including Dictionnaire Déglingué, in which she published her own definition of words. 
"Words and literature are a part [of the] Rykiel DNA. Sonia Rykiel was the true originator of slogans on clothes–quite literally fashion with a point of view! It thus seemed natural to launch a year of celebrations for the 50th birthday of the house with a collection around words and definitions," Julie de Libran, the brand's current artistic director, at Sonia Rykiel, told Observer.
Naturally, the brand is launching a collection to celebrate the milestone as well. Titled Manifesto, the range of knit sweaters, denim blazers, cheeky t-shirts and flared jeans (in a nod to Rykiels' '70 heyday) are emblazoned with words pulled from the pages of Rykiel's Dictionnaire Déglingué. That includes a slew of very French terms such as s'aimer, Sauternes, baiser, Saint Germain, secret and so on; but the 'S' and the 'R' of each word stands out from the rest.
"I decided that these words should incorporate our monogram 'SR,' as a sort of coded tribute to the house," Libran explained of the 22-piece collection. "It was also important to include the Rykiel staples: knitwear, of course, plus denim, and t-shirts with accessories."
If you're looking for a way to add more female empowering clothing to your wardrobe, this celebratory collection is sure to do the trick—simply accessorize with the book of your choosing.