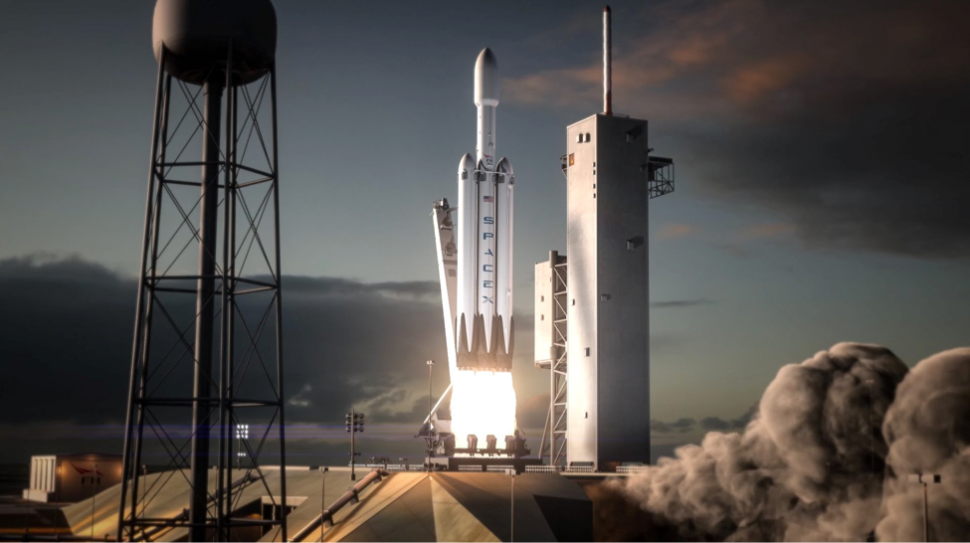 Elon Musk's newest (and what will become the world's most capable) active rocket made a dramatic 12-second debut during a pre launch-preparedness test called a "static-fire" today from Florida's Kennedy Space Center. In the order of operations for SpaceX launches, static-fire checks are among the last of the major tests they will perform before providing a firm schedule for liftoff.
Meaning that after seven long years of anticipation, secrecy, and delays over the past few weeks due to weather and the government shutdown, this rocket is not only alive, but may launch in a matter of weeks. The Falcon Heavy debut can be seen as sign that SpaceX is not only healthy and innovating as a company, but also growing strategically to outperform its competitors.
In addition to taking flight from the same historic pad that launched the Saturn V Apollo 11 moon rocket, the Falcon Heavy will carry some of the most controversial cargo to have publicly launched to space.
"Payload will be my midnight cherry Tesla Roadster playing Space Oddity. Destination is Mars orbit. Will be in deep space for a billion years or so if it doesn't blow up on ascent." Musk confirmed on twitter.
Though the cargo-turned-publicity-stunt holds no abundantly known wide-scale scientific value, when the first mission does happen, it will demonstrate their newly acquired technical ability to deliver a heavy payload on a path to deep space—something they've never done before. It also clearly serves as cross-promotional marketing, keep both Tesla, and SpaceX in public eye.
As a private entity, SpaceX is under no obligation to use their most precious commodity to test independent projects or serve other scientific objectives, but once it has demonstrated a proven reliability, it will likely be tasked with multitude of missions serving both the private and federal sectors—perhaps even carrying astronauts. But for the first mission, they're only sending what they're prepared to lose. 
The Falcon Heavy's maiden voyage has become one of the most anticipated space launches in recent history, and it may not even make it very far off the pad, if at all.
"There's a real good chance that vehicle does not make it to orbit. We want to make sure and set expectations accordingly. I hope that it makes it far enough away from the pad that it does not cause pad damage. I would consider even that a win to be honest. Major pucker factor" Elon Musk said earlier this year during a talk at the International Space Station Research and Development Conference.
If the rocket successfully makes it to orbit, each booster in the Heavy's triple-stack is designed to disengage and reorient for atmospheric reentry and hopeful landing inside the Cape Canaveral Air Force Station, or at sea via mobile landing ships named ASDS (Autonomous Spaceport Drone Ship). No other rocket company on the market can boast such an ability.
SpaceX has noted that the Falcon heavy will employ previously flown, or "flight-proven" boosters from their May 2016 Thaicom 8 satellite launch, and the July 2016 Space Station resupply mission, CRS-9. Flight proven boosters adorn each side of the central core of the new rocket in an effort to cut costs, while the central booster will be brand new. With over 30 launches planned for 2018, SpaceX will soon have its largest store of flight-proven boosters yet, which they will repurpose for additional Falcon-9 and Falcon Heavy missions.  
"When Falcon Heavy lifts off, it will be the most powerful operational rocket in the world by a factor of two" the company's website touts. Adding a heavy-lift capability that is comparatively cheap because it reuses components from previous launches allows SpaceX to enter into a new market of delivering heavier cargo while efficiently putting more of their used boosters to service. With higher load capabilities, the Falcon Heavy could even prove useful in the United States' recently reignited interest in landing humans on the moon. The next step is just proving it can actually fly.
Thaddeus Cesari is a photojournalist, commercial videographer and newspaper columnist with a passion for aerospace. Read his full bio here.