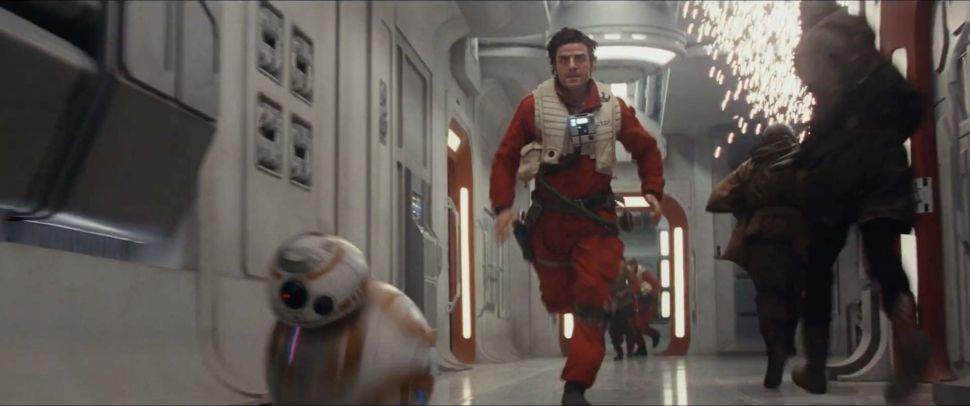 Star Wars: The Last Jedi is an outright box office smash hit with a 2017 North American-leading $594.9 million and a grand spanking total of $1.3 billion worldwide (and counting). By any measure, it's going to finish as one of the 10 highest grossing films of all time. Disney and Lucasfilm need not worry about that pesky second-week domestic drop at the box office a few weeks back.
But the studio should be concerned when it comes to the lack of interest in the Force in China.
The Last Jedi debuted to a disappointing $28.7 million in China last week and sank like James Cameron's Titanic to just $2.4 million in week two, per Box Office Mojo. That's a 92 percent fall, which is steeper than the Emperor's tumble at the end of Return of the Jedi.
For comparison, The Force Awakens opened to $52.3 million en route to $124.1 million in China, while Rogue One opened to $30 million en route to nearly $70 million.
Star Wars has never been as big overseas as it is Stateside, as evidenced by The Force Awakens' 50/50 splits in terms of domestic and foreign gross (typical blockbusters score roughly 35/65 splits), but this is somewhat worrisome for Disney and Lucasfilm.
"The Last Jedi has already been completely pulled from cinemas here," Jimmy Wu, chairman of nationwide Chinese cinema chain Lumiere Pavilions, told the Hollywood Reporter. "It's performed much worse than we could have expected."
That's an understatement.
The Last Jedi is expected to finish its Chinese run—which started on 25,000 screens—with less than $50 million. Some of the biggest worldwide flops of the year like Valerian ($62 million) and Geostorm ($65.6 million) have easily outgrossed that paltry effort.
What's more concerning is that the three Star Wars releases since 2015 have all been trending downward, which doesn't bode well for Lucasfilm's plan to release at least one Star Wars picture a year for the foreseeable future. With China poised to overtake the U.S. as the most important box office region in the world within the next few years, something will have to be done.
Walt Disney has not yet responded to Observer's request for comment.
"I'm not sure there's much Disney can do at this point," Jeff Bock, Senior Box Office Analyst at Exhibitor Relations, told Observer. "They obviously tried with the casting choices of Rogue One and The Last Jedi, but for some reason, the middle kingdom isn't as interested as the rest of the world in the space saga. At this point, they'd much rather see homegrown entertainment like Wolf Warriors or anything with Vin Diesel or Dwayne Johnson in it. Wait, has casting finished for Episode IX? I think we're onto something…"
The big issue is that the original three Star Wars films never received a wide release in China, so there was never that country-sized frenzy that engulfed the U.S. back in the 1970s and '80s. The Force Awakens managed to muscle some solid numbers due to its mystery factor, and Rogue One sported two homegrown Chinese stars in Donnie Yen and Jiang Wen. The Last Jedi just didn't have enough of those factors going for it to make much of a difference.
"Because of the complex characters and themes, the prequels, and all of the multi-generational layers that are part of the culture, or cult, of Star Wars, it's been hard for young Chinese filmgoers to get into the franchise," James Li, co-founder of Beijing-based market research firm Fanink, told THR.
But should any of that really matter?
None of the first five Fast and Furious films received a theatrical Chinese release, yet the most recent two franchise entries set national records for Hollywood films with $390 million and $392 million, respectively. The same goes for the first three Jurassic Park films, yet Jurassic World still earned $228 million.
Yet those films require little to no knowledge of the prior franchise; fans could just jump in blind and enjoy. However, this current iteration of Star Wars films require a deep understanding on the series' mythology—Luke Skywalker, Darth Vader, Yoda, etc.—which may have turned some unfamiliar audiences off.
Going forward, don't be surprised to see Disney and Lucasfilm tap more Chinese stars for lead roles, while further emphasizing its standalone anthology series. Otherwise, the studios might be looking at further embarrassment at the box office.