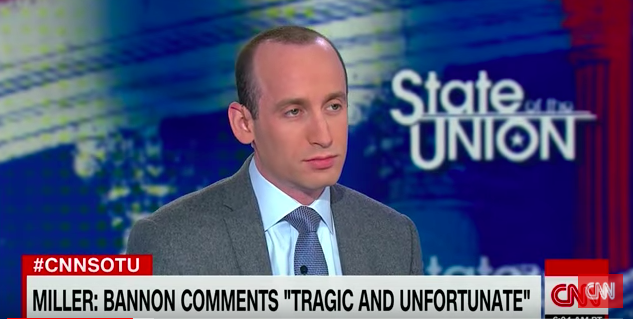 Of all the reptiles in President Trump's White House swamp, few slither like Stephen Miller and Jefferson Beauregard Sessions III.
Miller is a Trump speechwriter, senior policy advisor and attack crocodile. Sessions is Trump's slippery attorney general sometimes portrayed as a possum with a long tail by Kate McKinnon on Saturday Night Live.
Sessions now wants to lock up pot-smokers because everyone knows that marijuana causes hippies to burn their draft cards. Put that in your pipe and smoke it, liberal California.
Before Trump won a Russian-sabotaged presidential election in 2016 with a minority of the popular vote and a flukey voting pattern in the Great Lakes states, Miller worked for Sessions when Sessions was a backward Republican senator from the backward state of Alabama. (See: "Moore, Judge Roy," "Wallace, George C." and "War, Civil").
Both men were featured on the political talks shows Sunday—Miller in the creepy flesh with Jake Tapper on CNN's State of the Union and Sessions in absentia from the studios as well as from Trump's big policy pow-wow at Camp David.
It made for a snap shot in time of Miller, relatively new to politics, in ascent and Sessions, a veteran of decades, in descent. Sessions was once Miller's mentor. Miller learned fast.
Miller launched a rambling verbal attack on behalf of Trump against Tapper and CNN. He repeated chunks of gripes like a guy passing gas in a bar. He insulted the host and spit out his words like bullets from a clip of an NRA-blessed semi-automatic.
Miller spouted one burst of words for 97 seconds uninterrupted. The rest of the time, he interrupted Tapper until Tapper turned a cold shoulder to him and went on with the show.
The conversation opened with Miller's reaction to Michael Wolff's book Fire and Fury that strongly suggests that the President of the United States is insane.
Much of the book is based on direct quotes from Steve Bannon, Trump's former Rasputin both on his campaign and in his White House.
Miller called those quotes "so out of touch with reality and obviously so vindictive," and he kept repeating the word "grotesque."
"It reads like an angry, vindictive person spouting off to a highly discredible (cq) author," Miller said. "The book is best understood as a work of poorly written fiction. The author is a garbage author of a garbage book."
Tapper asked Miller about the infamous Trump Tower meeting involving campaign aides Donald Trump, Jr. and Paul Manafort with Russian agents promising stolen "dirt" on Hillary Clinton. Bannon had strongly suggested they also must've been introduced to Trump, Sr. and that the whole affair might have been "treasonous."
Miller avoided the question and talked over Tapper.
"You know your network has been going 24/7 with all the salacious coverage, and I know that it brings a lot of you guys a lot of joy," Miller said. "They're trying to stick the knife in…The president is a political genius… A self-made billionaire who revolutionized reality TV and changed the course of our politics."
Tapper became annoyed.
"I'm sure he's watching and he's happy that you said that," Tapper said.
This caused Miller to extend his stiff right hand as if it were a hatchet. He brought it down in a series of chopping motions and spoke.
MILLER: "No, no, Jake. You can be condescending."
TAPPER: "I'm not being condescending. I'm trying to get to the point that Steve Bannon—"
MILLER: "You can be condescending. No. That was a snide remark. You're sure he's watching and he's happy. Let me tell you—let me tell you something. Your network, look, you can be as condescending as you want. It's part of your M.O. But, listen, you can have 24/7—"
TAPPER: "I have no idea why you're attacking me."
After a bit more of this, Tapper told Miller to "Settle down, settle down, calm down" and asked Miller about Bannon.
"Can you acknowledge the reality that he was a key player?" Tapper asked.
Miller first replied with a silent smile last seen carved on a pumpkin on Halloween.
"His role has been greatly exaggerated," he said, before turning the conversation to "sanctuary cities" and, strangely, telling Tapper, "I know you think I'm interrupting you."
Tapper tried to pry from Miller an answer to that story about the first draft of Trump's letter to fire FBI Director James Comey. Miller wrote it. Did that first draft really mention the Russia probe in the first sentence?
Miller dodged this question and turned the conversation to what he called "the toxic environment that you've created here at CNN" and how "something magical is happening in the hearts of this country."
Finally, Tapper told Miller "There's one viewer that you care about right now and you're being obsequious… and I think I've wasted enough of my viewers' time. Thank you, Stephen."
As Tapper turned to a different camera and began to tease the next segment, viewers could hear the voice of Miller from off-camera barking "You know who I care about? You know who I—you know who I care about? Hey, Jake, you know who I care about?"
Last winter, a Miller television tour of multiple Sunday shows was the first indication of how unhinged this administration really was.
After federal courts stopped Trump's travel ban against many Muslims, Miller said, "The president's executive power shall not be questioned" and that Trump's will would reign "supreme"—an interesting word choice in a fight with a branch of government ruled by what Americans call "the Supreme Court."
Miller was a key advisor in that fiasco of an executive order kept secret from most of the people who had to enforce it. In August, Miller appeared in the White House press room to justify Trump's crackdown on immigration, something both Miller and Sessions have advocated.
A CNN reporter that day asked Miller about the Emma Lazarus words on Statue of Liberty—''Give me your tired, your poor, your huddled masses yearning to breathe free…"
Miller replied then that those words weren't originally on the statue. He was partly right. The Statue rose in 1886. The words were added in 1903. So they've only been there for barely over a century. Take that, Jim Acosta!
But Miller didn't mention that the poem appeared in 1883 as a fund-raising promotion for the statue. Miller's words were like drops of urine sprayed and splashed on Lady Liberty's pedestal.
Miller is 32 years old, the Boy Wonder of the West Wing, a slender man with a cobra-like head who, if not born to humans, could have been hatched in a test tube at the Heritage Foundation from the frozen sperm of Roy Cohn and the frozen embryo of Ayn Rand.
As for Sessions, he was told to stay home when Trump took most cabinet members and Republican congressional leaders to Camp David to plot the next few months. On Meet the Press on NBC, the panel discussed a decision announced last week by Sessions about pot.
No longer will federal prosecutors be encouraged to deprioritize prosecution of marijuana crimes in states where it is legal on a state level while still a crime on the federal level.
Sessions told them to go ahead and prosecute. Mere use can be a federal felony. Even Republican senators in pot states are complaining of this violation of "states' rights," a concept once popular in Alabama.
Sessions is taking criticism from many sides these days, including the president. The Camp David snub was a petty way of humiliating Sessions and showing him he is on the outs for not "protecting" Trump from lawmen and law-women.
Commentators on several shows Sunday suggested Sessions did his pot crackdown as a symbolic stunt to work his way back into Trump's good graces, what with law-and-order and all that stuff.
But Sessions has been consistently anti-pot. It is as if he saw the movie Reefer Madness a long time ago and thought it was a documentary.
MSNBC's Joy Reid, who is African-American, saw a more sinister motive.
"The war on drugs—particularly the war on weed—has disproportionately destroyed the lives of particularly African-Americans and Latinos in this country," she told Chuck Todd. "Jeff Sessions isn't exactly a friend to these communities."
She had a point. Earlier in his career, as a U.S. attorney, Sessions tried to stop blacks from voting. Reid added that it is ironic that people, once released from prison for marijuana crimes, will not be able to get licenses to sell pot in states where it is legal.
"Jeff Sessions is destroying lives," Reid said.
Miller—who has espoused racist views since high school—went to work for Sessions in 2009 after they bonded about their views against immigrants.
A year ago, a Politico profile of Miller quoted Bannon, who was about to enter the White House as Trump's chief strategist after serving as his campaign chairman. Bannon spoke of how Miller helped raise the profile of Sessions while rising quickly in Republican ranks.
"Whether the issue was trade or immigration or radical Islam, for many years before Donald Trump came on the scene, Sen. Sessions was the leader of the movement and Stephen was his right-hand man," Bannon told Politico.
A year later, Bannon has been bounced out of the White House and maybe even from his media role of running Breitbart News. Sessions endures multiple insults from Trump and hangs on.
And Miller? He survives and thrives. His power grows. He's smart. He works for a brilliant man. Just ask his boss. On Fox News Channel, Howard Kurtz broke into his script on Media Buzz to read Trump's tweet about Miller's performance on Tapper's show.
"Jake Tapper of Fake News CNN got destroyed in his interview with Stephen Miller of the Trump administration," Trump wrote. "Watched the hatred and unfairness of this CNN flunky."
Had Kurtz showed a clip from that show, he would have "reported" in a "fair and balanced" way to let his viewers "decide." (Instead, he let Trump decide).
When Tapper opened S.O.T.U., he said, "Jake Tapper in Washington, where the state of our union is, 'like really smart.' President Trump is declaring himself, quote, 'a very stable genius.'"
These were direct quotes from a previous Trump Twitter tantrum. Miller was sitting right there when Tapper said it. Did this make Miller mad? Be careful when you turn your back on him, Jake.
Joe Lapointe spent 20 years as a sports reporter for The New York Times and worked as a segment producer for Countdown With Keith Olbermann. Recently, he has taught journalism at New York University, Rutgers and Long Island University-Brooklyn. Follow him on Twitter: @joelapointe