As Beyoncé famously asked, then answered: Who run the world? Girls. Or at least they do at the Sundance Film Festival, where this year the most compelling stories are about women and the strongest filmmakers are female.
It's no secret that men have overwhelmingly dominated moviemaking for decades. (If Greta Gerwig gets a directing nod for Lady Bird when Oscars nominations are announced on Tuesday, she will be only the fifth woman to do so in 90 years) Sundance, though, a strong supporter of minority voices, is admirably upending that moribund convention with 45 films directed by women—37 percent of the total features making their debut before the fest wraps up on Sunday.
Just look at the titles alone: Lizzie, Colette, Mandy, Nancy, Ophelia. And don't forget Jane Fonda in Three Acts, Kusama—Infinity, Seeing Allred, Westwood: Punk, Icon, Activist, and Juliet, Naked. Even one movie is simply called Damsel.
Best discovery in the lineup so far is Bo Burnham's competition entry Eighth Grade, the disarmingly funny and painfully vivid look at shy kid Kayla (Elsie Fisher) and her last week of classes before summer break springboards her into high school. How a 27-year-old man like comedian Burnham could have written and directed such an honest look at female pubescent angst is miraculous, but even he insisted at the film's Q&A that all credit be given to Fisher's vibrant performance for making his invented world feel absolutely convincing.
And a standout in the festival's outré Next section is Crystal Moselle's Skate Kitchen, a visceral, joyous, sly look at girl skateboarders who bond over their "valid vaginas" and trying not to get "credit-carded"—when one wipes out and has her crotch sliced by the edge of her board. Chock full of non-professional actors (alongside movie star scion Jaden Smith) the coming-of-age romance tenderly captures the stress tests of girl-power solidarity when young love looms.
During Friday's world premiere of Gus Van Sant's groovy cartoonist rehab-biopic Don't Worry, He Won't Get Far on Foot, a throwaway quote from a minor character unwittingly summed up the festival best: "What's scarier than a group of women that don't need men?"
Better still: how about a film festival that doesn't need Harvey Weinstein? The movie-mogul pariah had owned Sundance for almost three decades, ever since he turned 1989's top prize winner Sex, Lies, and Videotape into box office gold. But now the accused serial rapist is persona non grata.
"Harvey Weinstein was a moment in time and we're going to move past that," said founder Robert Redford at the press conference kicking off the 2018 edition. Indeed, press and industry badges came with inserts that announced Sundance's new sexual harassment policy: "We reserve the right to revoke, without notice or refund, credentials or access to festival events and venues for those who engage in such conduct."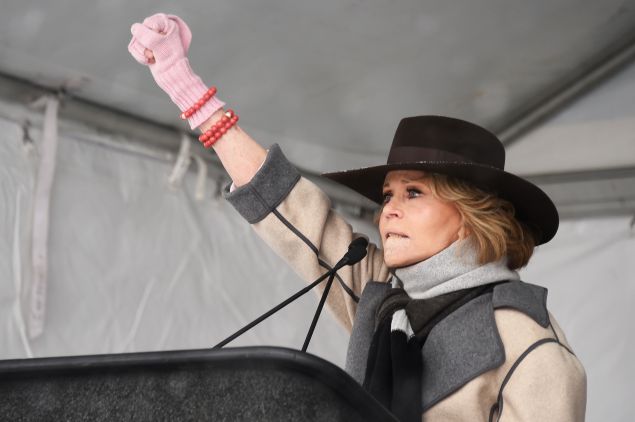 On this anniversary weekend of admitted sexual harasser Donald Trump's first year in office, the dysfunctional male-dominated government had a shutdown while women here in Park City held a Respect Rally to join their brethren around the country commemorating last year's nationwide women's marches. "Resist. Persist. Insist. Elect," chanted the crowd, which gathered to hear Jane Fonda, Gloria Allred, Tessa Thompson, and Maria Bello speak about the Time's Up initiative, legal protections, equal pay, and political change at the state and local level.
Supreme Court justice Ruth Bader Ginsberg, here promoting the documentary RBG, also addressed the #MeToo movement during an on-stage interview with NPR correspondent Nina Totenberg. "It's about time," she said. "Every woman of my vintage knows what sexual harassment is, although we didn't have a name for it. "The attitude towards sexual harassment was simply get past it. Boys will be boys."
That devastating legacy is at the heart of this weekend's most searing film, Jennifer Fox's autobiographical The Tale, in which the filmmaker (played by Laura Dern and, in flashbacks, child actor Isabelle Nélisse), uncovers the depth of her own repressed memories when she realizes that her 40-year-old running coach (Jason Ritter) and icy British equestrian trainer (Elizabeth Debicki) seduced and molested her at the age of 13.
The fascinating docudrama hybrid, structured almost like a detective thriller, is a huge aesthetic departure for Fox, whose previous works include the 6-hour 2007 film Flying: Confessions of a Free Woman as well as Beirut: The Last Home Movie, which won the top documentary prize at Sundance 30 years ago.
Replaying her experiences with minor variations, toggling between past and present, Fox reveals the shifting sands of her own understanding, as she methodically builds out the ways in which older predatory adults use a girl's own sense of value against her—and the different ways in which that girl will lie to herself to survive the trauma.
In the onstage Q&A after its Saturday premiere, Fox explained how the interviews she had conducted for Flying made her understand that her own brutal experience wasn't isolated but was actually more universal than she realized. Ellen Burstyn, who plays Fox's mother, was grateful that the movie was so in tune with today's zeitgeist. "The exploitation of innocence is a deep criminal crime. And it's time, now, to change it."
Stephen Garrett is the former film editor of Time Out New York. Read his full bio here.