Don't let the arctic blast this past week fool you—New York's art scene is already heating up. From big group shows about gender politics and global warming to small solo exhibitions reflecting issues of minority representation, here are the five shows kicking off 2018 with a bang.
In 1960, French conceptual artist Yves Klein officially registered his International Klein Blue (IKB), a deep, matte ultramarine blue paint that he used liberally in his work, most notably in his "Anthropometries" performance series, in which he bathed naked female models ("living paintbrushes" as he called them) in the signature shade and had them roll around on canvases, leaving behind only the marks of their Smurf-ifed bodies. Wagenknecht's latest body of work puts a new spin on Klein's act, laying her own nude body on blank canvases while a Roomba saturated with IKB shuffles around her, creating a confused pattern of blue streaks outlining the large patches of blankness where she reclined. The resulting works are abstract, minimal paintings that offer insightful commentary on the history of innovation over the last century, revealing the interdependent dance of man and machine—and the incidental absence of women.
This powerful group show featuring works by more than 50 artists explores the personal and political contentions around the act of abortion. The pieces range in scope from personal tales of loss and trauma to political power and agency, including both pro-choice and pro-life standpoints. What comes to the fore the most, however, is what it means to care for one's body and the magnitude of consideration it requires to bring another into being—or not.
It's been only a year since the Women's March made headlines when it overshadowed Trump's inauguration in early 2017, though it feels like a decade ago, given the sheer number of shocking political events that have transpired since. Spurred by outrage over a presidential administration littered with known sexual harassers and overtly supported by racist factions, the march then inspired Untitled Space to launch their successful group exhibition "Uprise/ Angry Women" last January, to which this show provides a bookend for an unruly year of discontent. Featuring a wide array of works by 80 artists, "One Year of Resistance" explores the multitude of social ills spotlighted over the previous twelve months, ranging from issues of persistent racism and xenophobia to the rise of the #metoo movement against sexual harassment. Perhaps more importantly, the exhibition serves as a reminder of the importance of art as a tool of powerful activism as we head into a new year filled with uncertainty and continual power shifts.
A MacArthur genius grant winner and professor of photography at the School of the Art Institute of Chicago, LaToya Ruby Frazier is known for her incisive black-and-white photo and film work that documents structural inequalities of small towns across the U.S., including Braddock, Pennsylvania, an industrial steel town ravaged by industrial decline. For her first solo show at Gavin Brown—and her largest in New York to date—the artist will present three impressive bodies of work, including her Braddock-based series "The Notion of Family," as well as two newer compilations probing the Flint water crisis and the artist's own pilgrimage to Joshua Tree, California, to see a remarkable outdoor desert art museum founded by 20th century African-American sculptor, Noah Purifoy.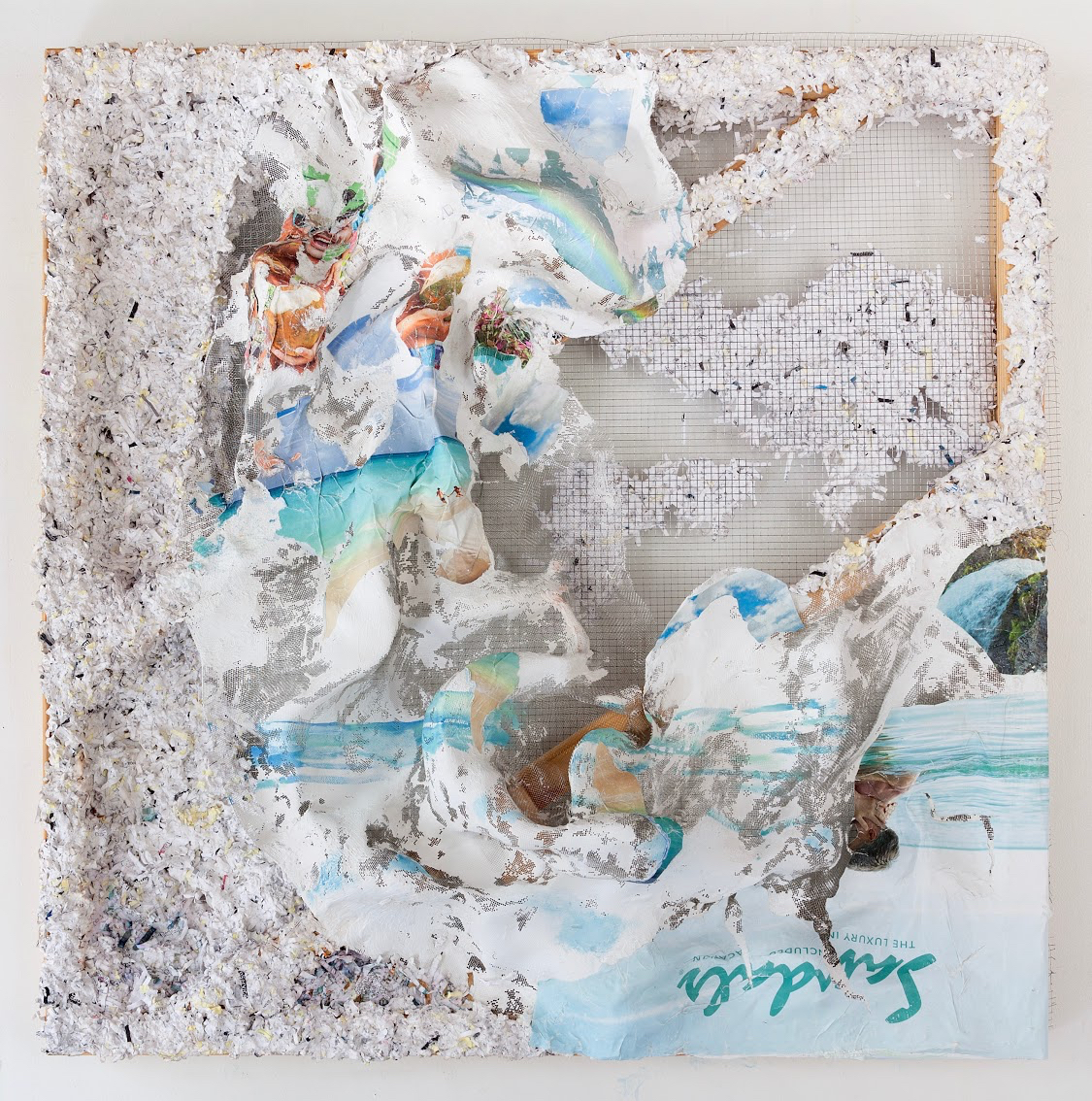 A former recipient of the Museum of Arts and Design (MAD) Van Lier fellowship, mixed-media artist Camille Hoffman uses everyday consumer detritus to construct assemblages representing pristine natural landscapes. In "Pieceable Kingdom," on view in MAD's project space, the artist explores our obsession with nature and the ideal of the sublime through a late Capitalist lens, as evidenced by the pieces of plastic Walmart bags, ads for Sandals resort vacations, and pre-approved credit card applications that reveal themselves upon closer inspection.