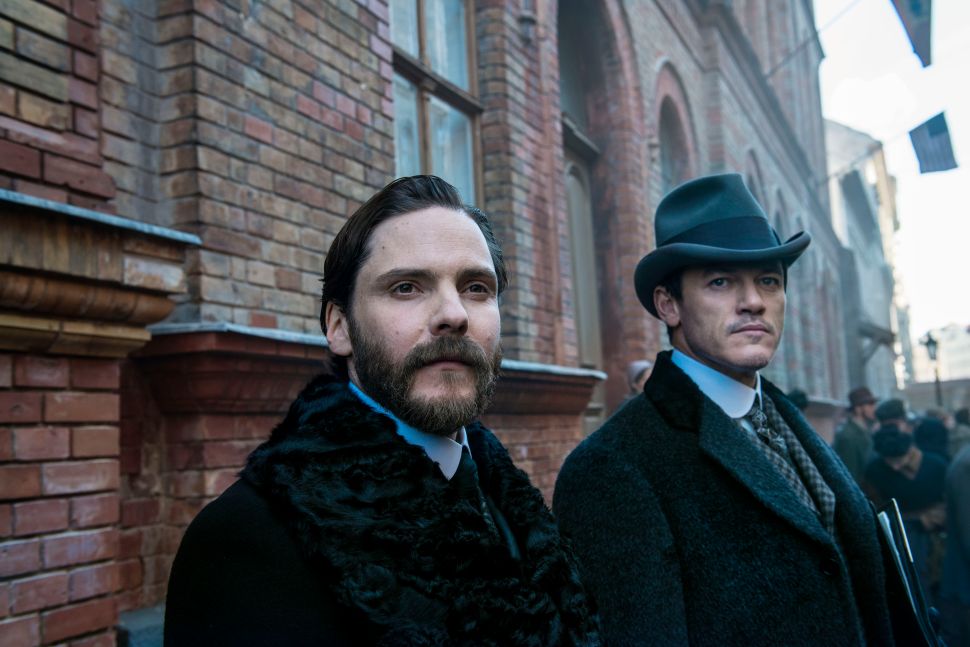 Daniel Brühl, who most film fans know as the movie star Nazi Fredrick Zoller in Quentin Tarantino's Inglourious Basterds and the vengeful Baron Zemo in Captain America: Civil War, spends his free time running a tapas restaurant. That's right, the actor behind some of the most sinister characters in recent movie history darts around his tapas place, Bar Raval, in Berlin with a friendly smile, suggesting which dishes are best to split on dates and which appetizers he'd recommend.
We were surprised too.
But subverting expectations has been a staple of Brühl's career; his performance almost made that Nazi sympathetic, his Marvel villain emerged as a highlight among a growing list of a disappointing MCU baddies. Now, he's hoping the same will hold true for his new limited series, The Alienist, on TNT.
Let's all admit this upfront: when we think of prestige television, we don't think of TNT. When we think of TNT, we think of Law & Order re-runs. But in an effort to change their reputation as a content producer, the network is hoping that The Alienist can do for them what Mr. Robot has done for USA Network.
"This is their ambition to reinvent themselves, to do something new, to move on," Brühl told us. "I think this series has all the ingredients and quality to do so. It will hopefully attract many people who will be surprised to see such a show from TNT. I'm very confident with what I've seen that people will be attracted."
Having seen the first two episodes, we can tell you that the The Alienist is most definitely a departure for the basic cable channel.
The series follows psychologist Dr. Laszlo Kreizler (Brühl), crime reporter John Moore (Luke Evans) and the ambitious police secretary Sara Howard (Dakota Fanning) as they investigate a serial killer in late 19th century New York City. The series is based on the 1994 novella by Caleb Carr of the same name.
The Alienist is a competently made, highly stylized and welcomed departure from TNT's normal offerings. It won't re-define the genre—you can see the shades of Mindhunter, Sherlock Holmes and True Detective in there—but it is an alluring period crime drama nonetheless. The serial killer field has been so picked clean by pop culture that we can't blame The Alienist for some of its more familiar and predictable beats and turns early on.
While the show may not completely shift the paradigm like Mr. Robot—though its artfully done horror-gore imagery will certainly try—it does mark a new path for TNT as a more ambitious home of original content, and that's a win for the viewers.
"People will begin to engage with different things in the show. The gripping psychological thriller elements, the mystery, the interesting doctor. Hopefully, they will be compelled by the interesting characters. It's a fascinating story and portrayal of New York at the time. Also, I found some subject matter to feel incredibly current if you think about politics and corruption and Sara Howard's character fighting her way to be respected as a woman in a male-dominated field," Brühl said.
But why make this move now?
The Alienist has been languishing in developmental hell for the better part of 20 years, Brühl's film career is going well (he stars in the third Cloverfield movie that may or may not be released later this year) and, like we said, TNT isn't exactly the premiere destination for prestige drama.
But Brühl has seen the elevation of the small screen medium coming for some time now, and the Spanish-German actor was looking for an opportunity to be given a longer leash as a performer.
"So many actors before me did so," Brühl said of the transition from film to TV. "I've been fascinated with television for a long time, beginning with The Sopranos and The West Wing. It's a privilege to have this time to spend with a fascinating character over a long arc and to be able to explore the character to the core. You can only really accomplish that in TV, whereas films are somewhat constricted. Over 10 hours, you can spend time on all of these details.
He continued: "The quality of TV has become so good, beginning with the writers. The incredible sets that they build, the costume design. It's all made by people with incredible passion and ambition. Working on the show, it felt like I was traveling back to 1896… I cannot tell you how much I enjoyed it."
TNT finished 2017 just barely outside of the top 15 most-watched networks based on total viewers, per Nielsen data.
Can The Alienist, along with the upcoming Snowpiercer TV adaptation, push them into the upper echelon both commercially and creatively? It will be fascinating to watch it all play out.
And if it doesn't work, Brühl always has tapas to fall back on.