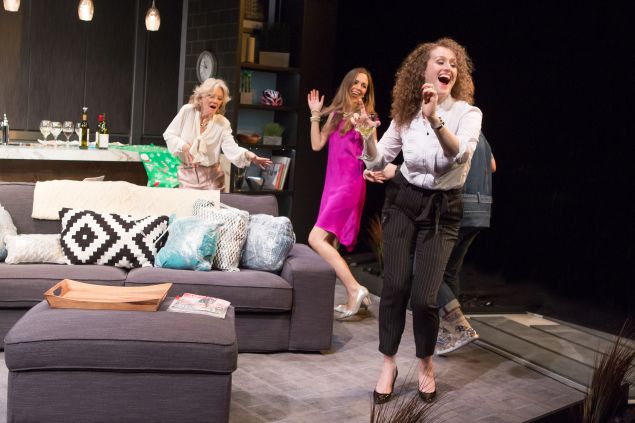 Pollyanna grew up. I mean Hayley Mills, that Disney darling who appeared in a rash of popular family films in the early 1960s, including The Parent Trap and Pollyanna, for which she won an Academy Award for Outstanding Juvenile Performance. They don't give Oscars for juveniles anymore because the juveniles are now grownups, covered with tattoos by the time they're over the hill at the age of twelve. But somebody should give a special award to Hayley Mills for arriving at last on the New York stage after all these years, and for surviving a terrible play called Party Face. As a senior citizen (72 in April) Mills still has a party face and everything that goes with it. It's the play that shows wrinkles.
In the handsome kitchen of a flat in a suburb of Dublin, Mollie Mae is expecting some girl friends for her first cocktail party since her return from three weeks in a psychiatric hospital. It seems that Mollie's husband left her six weeks earlier after 16 years of marriage and gave her a nervous breakdown. As the corks pop out of the sauvignon blanc and the insults build into open hostility and eventual violence, Irish playwright Isobel Mahon tries to prove that the cocktail party format doesn't always have to be the deadliest theme in the annals of theater history. But nothing of any consequence ever happens at this one, and Party Face, routinely directed by Amanda Bearse at Manhattan's City Center, collapses quickly into a pile of soggy canapés along with the five poorly-written but gamely-acted women guests.
Mollie (Gina Costigan) has invited her mother Carmel, her tiresome sister Maeve (Brenda Meaney), her rude and exasperating neighbor Chloe (Allison Jean White, the only actor with an Irish accent so thick you couldn't cut through it with a razor blade) who had an affair with Mollie's husband, and the hostess's overweight, neurotic loony bin roommate Bernie (Klea Blackhurst).
First to arrive is Carmel, played with cool elegance and perfect timing by Hayley Mills. As another stage mother from Hell reduced to curdling clichés, Mills overcomes the cocktail-party deja vu and grabs attention faster than the noisy chips and nuts. Adjusting her earrings and checking her makeup in the shine of the refrigerator door, she's a fussy, critical, control freak in high heels and pink slacks with a wilting retort for every line of somebody else's dialogue. She holds center stage throughout, despite an electrical blackout and faulty plumbing that sprays water all over the set. (Talk about a bunch of wet blankets!) One hour and 50 minutes of meaningless babble while everyone pours wine and nibbles olives, stringing words together just so the audience won't feel alone in the room, is no longer a good enough reason to write a play or produce one.
One waits tiresomely for a shred of insight or some ray of revelation, but the characters remain stubbornly superficial. Occasionally a laugh breaks through. The insufferable, brain-dead Chloe scoffs at Mollie's domesticity ("I haven't chopped a vegetable since 2012") and Bernie travels with her own yogurt and eating utensils sealed in Saran Wrap. Bernie is both manic-depressive and compulsive-obsessive, guaranteeing at least a few derisive laughs. The cast is fine, even if nothing any of the women do feels real or remotely believable—with the exception of Hayley Mills, who makes even the most exaggerated observations appear truthful. It took seven decades to get her to the New York stage, and I hope she returns—in a vehicle more rewarding and less forgettable than Party Face.