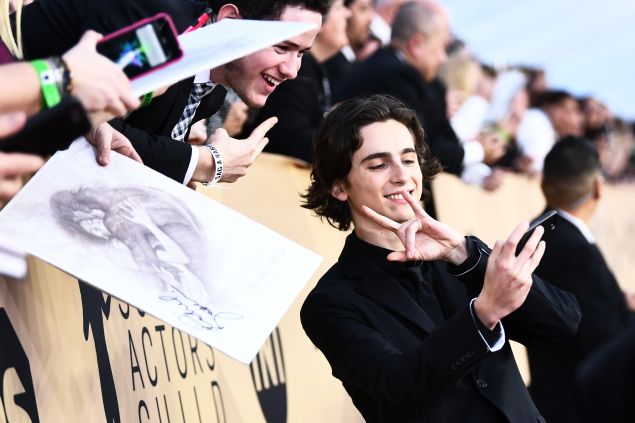 2017 proved to be quite the successful year for Timotheé Chalamet. The breakout actor garnered critical acclaim for his roles in two of the most revered films of the year—Call Me By Your Name and Lady Bird. Now that awards season is in full swing—Chalamet is picking up award nominations left and right including solo nods for a Golden Globe Award and a Screen Actor's Guild Award.
In Call Me By Your Name, he plays Elio Perlman, a 17-year-old Jewish-American introvert coming of age in Italy in 1983. His character finds himself questioning his sexuality when he falls in love with an older male graduate student spending the summer in Italy.
His Lady Bird character is a wealthy teen who spends his time either paranoid about the world or focusing on his rock band. Lady Bird's writer and director Greta Gerwig first discovered Chalamet through one of her friends. Gerwig, a self-proclaimed "theater nerd" told a panel after a SAG screening of the film, "he was in a play in New York that I was pointed to." As Gerwig revealed, that's one of her primary ways of either unearthing up-and-coming talent and honing her craft. "It's my favorite way to watch actors because there is nothing intervening with me watching them work. There is something about actors who are used to a stage—it gives them the space to act with their wholes bodies."
Shortly after seeing him on stage, Gerwig cast Chalamet as Kyle Scheible in her feature-length debut, Lady Bird. His character unemotionally breaks the heart of Soairse Ronan's titular protagonist. Chalamet hoped to achieve one thing with his role—to bring humanity to Kyle. "It was important for me that I didn't just sit as an antagonist," Chalamet shared at the SAG screening.
Crafting a well-rounded character—even when that is not someone viewers are supposed to like—became important to Chalamet after his experience working on Showtime's Homeland. "When I watched it back, I always felt like there were moments where I just played the antagonist, as opposed to finding the real human in that," he shared.
With Lady Bird, Chalamet had "excellent reference points both from people in real life" and the books he read to prepare. However, he credits Gerwig's writing in helping him achieve what he wanted to with the role. "It is a testament to the writing," he said. "But hopefully people can see that character as an antagonist that is genuinely suffering, has real emotions and is living a sad existence," he said.
Paul Zahn is an on-air host, journalist, and entertaining expert. Read his full bio here.