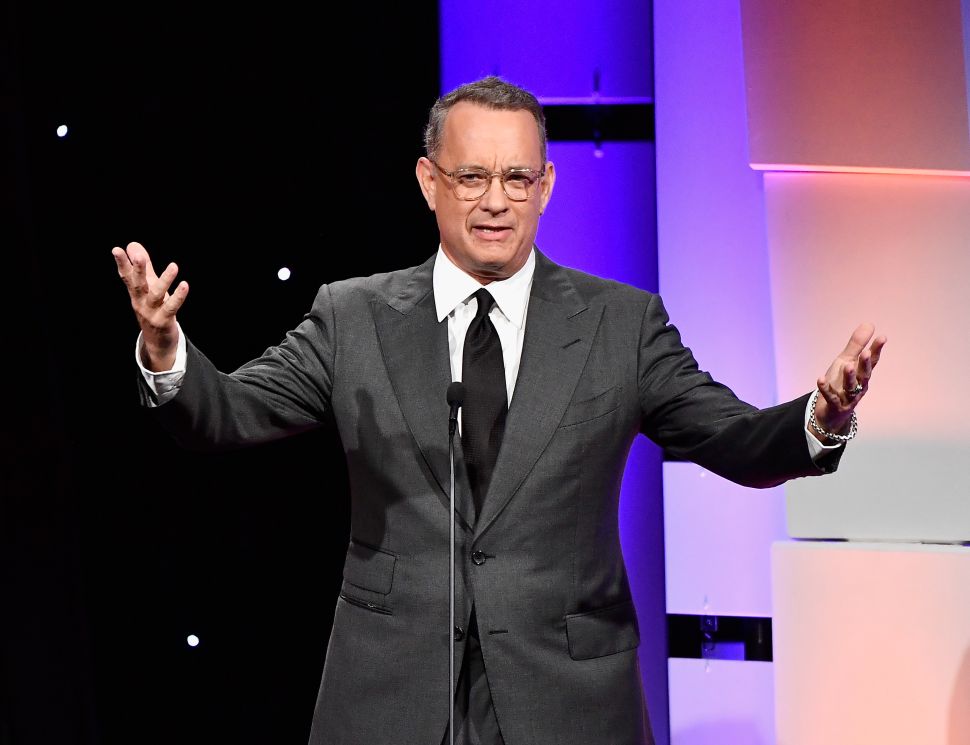 Tom Hanks is completing his transition into America's full-time Dad by signing on to play beloved children's TV host Fred Rogers in TriStar's upcoming biopic You Are My Friend.
The studio announced that it had bought the worldwide rights to the story of the Mister Rogers Neighborhood host and his relationship with a disgruntled journalist assigned to do a profile piece on him. It is based on the real-life friendship between Rogers and Tom Junod.
The script first popped up on the 2013 BlackList, an annual composition of the best-unproduced screenplays.
"This is the perfect alchemy of talent coming together at the perfect time to remind us all of the transformative power of kindness and respect to heal and to unite. We are proud to partner with Marielle, Tom and everyone at Big Beach to bring this inspirational true story to audiences all over the world," TriStar President Hannah Minghella said in a statement, per TheWrap.
"I'm thrilled to be making You Are My Friend," director Marielle Heller added. "The script knocked me out with its message of kindness and its exploration of the human spirit. As a mother, I am so inspired by the teachings of Fred Rogers, and as a human, I am in awe of his life's work. I can't wait to bring his story to the public and be a part of such a thoughtful, smart group of people who are all coming together to make this film, which truly feels to me like an antidote to our very fractured culture."
Beyond the Hanks angle (which will be a good shot at his first Oscar nomination since 2001), this is particularly exciting because it marks a studio-funded opportunity for Heller (Diary of a Teenage Girl).
Hollywood insiders and the movie-going public often love to play matchmaker with hot up-and-coming directors and major blockbuster franchises. However, that game is often reserved for male filmmakers in both the hypothetical and actual. Ryan Coogler is one of the best young directors in all of Hollywood who absolutely deserved to be bumped up to Creed and then Black Panther, following his debut with Fruitvale Station. But how come we aren't playing the same game with, say, Kelly Fremon Craig (Edge of Seventeen)?
The idea is that quality work should be rewarded with upward progression.
This also marks yet another bit of counterprogramming in what has become a blockbuster IP driven movie landscape. We love Wonder Woman and Star Wars as much as the next moviegoer, but we don't want studios to completely abandon the Lady Bird and Sicario-like films of the world.
No word yet on when TriStar is planning to release You Are My Friend.