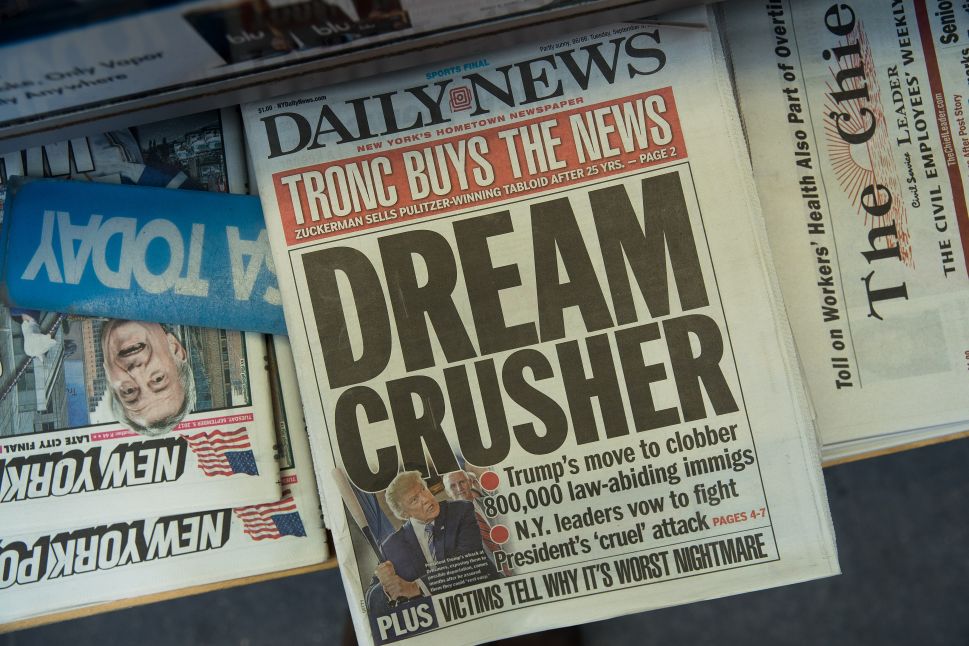 It's been a turbulent few months for Tronc thanks to sexual misconduct cases and union efforts. Now the two-year-old media company is fighting the turmoil, with help from a familiar face.
Tronc announced today that former New York Daily News editor-in-chief Jim Rich is coming back to the paper in his old role as of January 31.
The News, a Tronc property since September, has laid off writers and seen circulation decline in recent years. It's also lost over $90 million since 2014, according to a regulatory filing.
But like many newsrooms, the biggest problem for the News recently has been sexual harassment. Last week, two male editors were suspended pending an investigation after multiple female staffers accused them of improper behavior.
So now Rich will try to right the ship.
His first stint at the News ended in October 2016, after less than a year. But it was a very good year, in which the paper won its first Pulitzer Prize for Public Service Journalism for a series on the NYPD abusing nuisance abatement laws.
Rich became the executive editor of HuffPost in May 2017 but left the site in December. In an exit email to staff, he wrote that the "for-profit model… of local journalism is dead, and it's not coming back."
It's not clear what happened in the last month to change Rich's mind, but the remarks make his Daily News return more than a little ironic. In fact, one person on Twitter called Rich "the Billy Martin of NY tabloids," referring to the New York Yankees manager who was hired and fired five different times.
Today's Tronc memo also put rumors about the Los Angeles Times' future to rest.
Interim Daily News editor Jim Kirk has been named editor-in-chief of that paper effective immediately. Former Times editor-in-chief Lewis D'Vorkin will now be Tronc's chief content officer.
Kirk faces the unenviable task of getting the newsroom to trust management again following a sexual harassment investigation into the paper's publisher Ross Levinsohn. Adding to the headache is that after Times staffers successfully voted to unionize, HuffPost found that D'Vorkin built a shadow network of non-union "scabs," along with a free contributor network.
On paper, Kirk certainly has the chops for the job. Before coming to Los Angeles, he spent 25 years in Chicago as an editor and reporter for the Chicago Sun-Times, Chicago Tribune and Bloomberg.
He and Rich definitely have their work cut out for them.