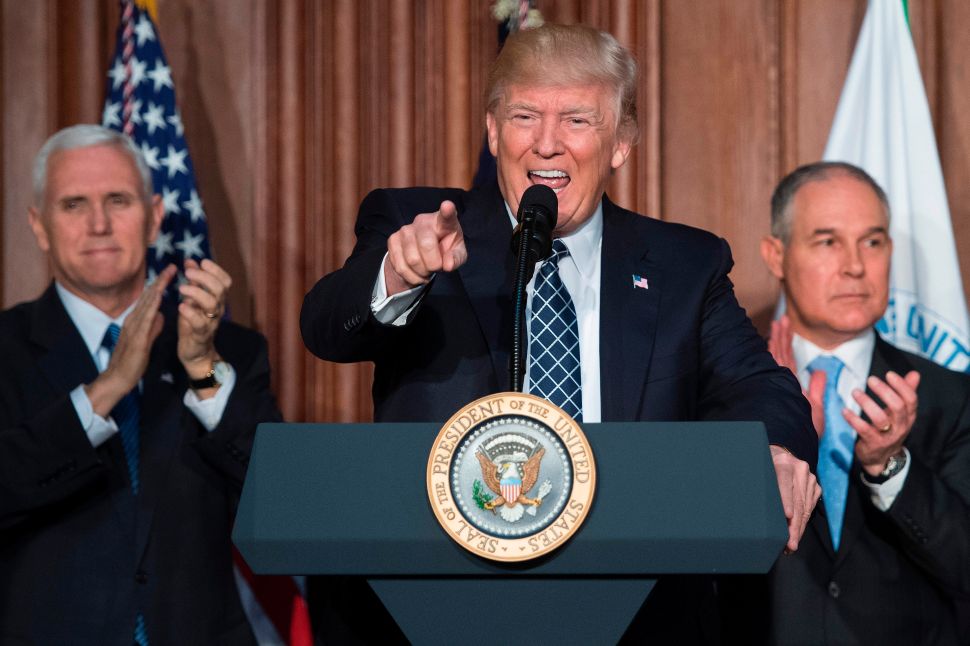 President Donald Trump dismantled environmental agencies in a year defined by climate change devastation. According to NASA and the National Oceanic and Atmospheric Administration (NOAA), 2017 was the world's hottest year without an El Niño event.
With a slew of natural disasters hitting North America, many environmentalists and experts worry the president's responses are insufficient to deal with climate changes' mounting threats.
"We are seeing the impacts of climate change through droughts, wildfires, hurricanes, other severe climate events getting worse and becoming more expensive," said New Jersey Sierra Club Director Jeff Tittel. "The planet is breaking records in extreme climate events, all while President Trump still believes climate change is a hoax invented in China." 
Though the past three years have all been the warmest on record, 2017 inflicted the most far-reaching damage to U.S. infrastructure. Hurricane Harvey and Hurricane Irma demolished Houston and Puerto Rico, while wildfires raged across California. The NOAA report found that 16 natural disasters in 2017 inflicted $306 billion in total damages.
"We've seen four of the most devastating storms in history coming all within a few weeks of each other. Hurricane Harvey had the most rain ever, Irma was the biggest storm in the Atlantic and Maria devastated Puerto Rico," added Tittel.
Hurricane Harvey required the redevelopment of entire swaths in Houston at a $125 billion price tag. Meanwhile, Hurricanes Maria and Irma cost U.S. taxpayers $90 billion and $50 billion respectively, with the former demolishing Puerto Rico's power grid in a region lacking the infrastructure needed for rebuilding efforts. Southwestern wildfires are estimated to cost $18 billion.
Though Trump struck a deal with Democratic leaders Nancy Pelosi and Chuck Schumer to raise the debt ceiling and fund hurricane relief, his administration has defunded environmental agencies while rolling back Obama-era climate change initiatives. In addition to pulling the U.S. out of the Paris Accord, Trump announced his decision to repeal the Clean Power Plan last fall.
Scott Pruitt—Trump's appointed chief of the Environmental Protection Agency (EPA)—has fired 400 members to reduce the EPA's scope. The White House's budget proposal is also expected to cut $5 billion from NOAA grants and $667 million from FEMA relief. An uptick in natural disasters, coupled with diminishing funds to contain them, sets the stage for a fiscal crisis.
"Nature is bringing the extreme weather, but Trump's policies are making it worse," said Tittel.