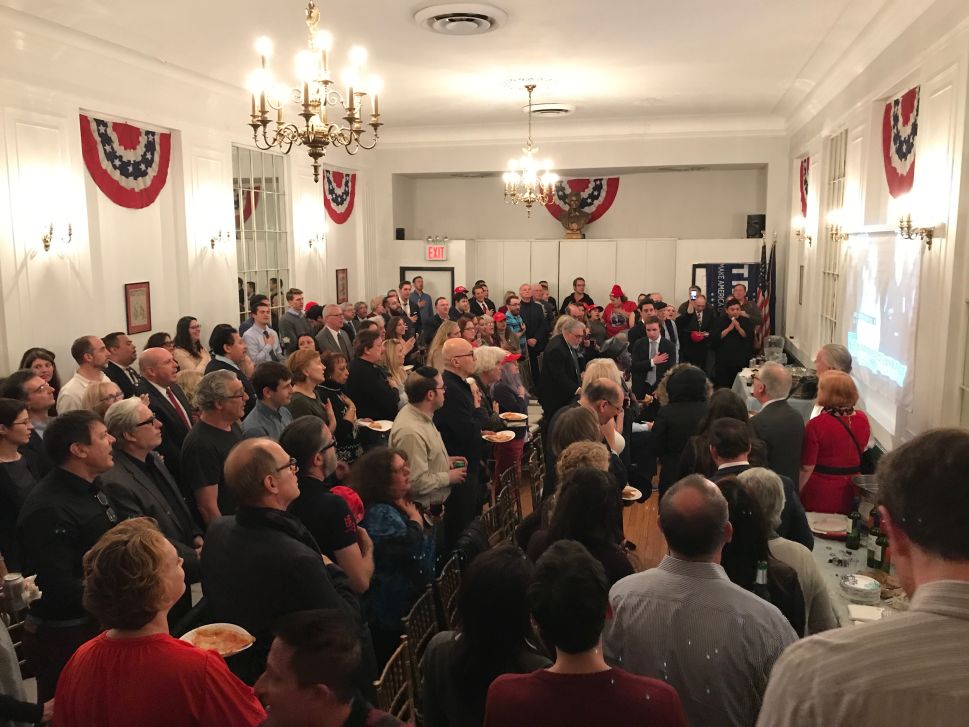 The Metropolitan Republican Club—long considered a pillar of Manhattan's conservative movement—descended into a mob on Tuesday evening during President Donald Trump's State of the Union Address.
After an unidentified—and likely intoxicated—woman repeatedly hollered during the president's speech, a security guard put her in a headlock. As she accused the guard of assaulting her and being "a Democratic operative," angry Trump supporters wearing Make America Great Again hats injected their own venom into the commotion.
"Assault the animal!" yelled one Republican holding a plastic cup of cheap red wine.
"Pour some wine on her," jeered another Trump supporter who had attended Mike Cernovich's 'A Night for Freedom' gala nine days prior.
As reporters and attendees filmed the disturbance from iPhones, like an episode of Black Mirror, the club's president Debbie Coughlin tried to mediate the situation, only to be accosted by a Trump supporter blaming her for lack of oversight.
Though the chaos diminished after the agitator was thrown into the frigid winter night—her smashed iPhone later retrieved from the corner of the room—crowd members continued to add rambunctious commentary to the evening. Choruses of boos erupted whenever Senate Minority Leader Chuck Schumer (D-N.Y.) appeared on screen, while white men in MAGA hats whistled during cutaways to First Lady Melania Trump.
Those expecting to rub shoulders with GOP powerbrokers in an elite Upper East Side club—one that boasts former New York mayor Mike Bloomberg and former presidents Richard Nixon and Theodore Roosevelt as members—were instead given the tribal spectacle of a Trump campaign rally.
In the Trump era, the Metropolitan Republican Club has struggled in reconciling its conservative principles with the populist movement. The New York Post reported last year that Coughlin and the institution's old guard attempted to "purge" Trump supporters from leadership positions, even after the election.
"The cronyism of the Met Club board, like similar county and state boards, is a perfect example of a swamp that needs draining," expelled board member Allan Stevo told the Post in February.
"They hate Donald Trump, and they were really pissed when he won," added former executive board member Sandra Chase.
After the Post story ran, the club tried to brandish its image by courting younger Trump supporters.
Last April, the organization held a panel called "The Gay Right: LGBT Conservatives, Libertarians and Beyond!" The Daily Beast noted that the panel consisted of "four white guys" who delivered transphobic jokes to the crowd. In November, Pamela Geller—a close friend to right wing provocateur Milo Yiannapoulos known for anti-Islamic writings—spoke at the townhouse.
But even through all the infighting that inevitably comes when a traditional institution like the Metropolitan Republican Club opens its doors to the masses, many party leaders are excited for the future of conservatism.
"I think it's awesome!" Republican New York Governor candidate Brian Kolb told Observer. "This is proof there's a lot of energy."