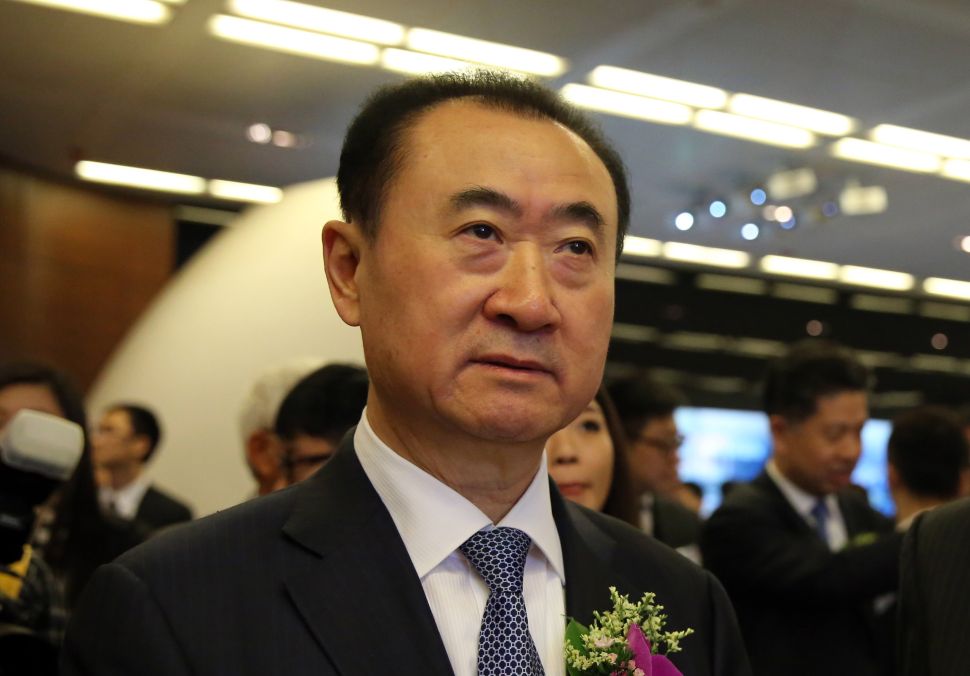 Before the opening of the World Economic Forum in Davos, Switzerland this week, foreign policy expert Ian Bremmer told Fortune that, if China opts out of the annual event one day, "that means we don't live in a global market anymore."
For now, China's political leaders still actively engage in global discussions, but the country's money is already reversing its flow.
After Apple CEO Tim Cook announced the company plans to invest $350 billion on home soil, Wang Jianlin—the former wealthiest man in China and chairman of real estate and entertainment conglomerate Dalian Wanda Group—pledged to eliminate his company's overseas debts in the coming years and to focus on the domestic shopping mall portfolio, he said in a company memo on Sunday.
"Wanda aims to gradually clear all interest-bearing debts overseas," he said in the memo.
The move is widely regarded as a reaction to Beijing's latest crackdown on capital outflows and a reversal of Wanda's previous global expansion plan.
Wanda had been one of China's most active overseas dealmakers until last year. Its most notable deals in the U.S. were the $2.6 billion acquisition of cinema chain AMC Entertainment in 2012 and the $2.5 billion purchase of Hollywood production company Legendary Entertainment in 2016. The company also owns considerable hotel and media assets in the U.K. and Australia.
In July, the company went under sudden government scrutiny, along with two other large enterprises, Fosun International and HNA Group, for posing "systemic risks" to its domestic lenders with the companies' overseas holdings, the Financial Times reported.
In the same month, Wanda sold off nearly $10 billion worth of its theme parks and hotel portfolio overseas, which shrank the company's year-end assets by 11 percent and caused a 10 percent decrease in revenue in 2017.
Jianlin rationalized the spinoff as a balance sheet restructure.
The sale of those assets wrote off $690 million in debts. Based on mathematical analysis, Jianlin noted in the memo, it's not economically viable to pursue entertainment and tourism projects at a high leverage, as these types of investments often take more than a decade to turn a profit. If the company had not spun-off those entities in July, Wanda would have faced an annual increase of $16 billion in debts.
"[Companies] in the world and China are all trying to deleverage. It is not a scientific move for us to go against the trend," Jianlin said in the memo.
Currently, Wanda holds 93 percent of its assets in mainland China and seven percent overseas.
On the domestic side, Wanda is carrying out several ambitious projects to strengthen its foothold at home, including a $15 billion theme park project to compete with the newly built Disneyland park in Shanghai.
Wanda ranked the 380th on Fortune's Global 500 list of 2017.
SaveSaveSaveSaveSaveSave
SaveSave
SaveSave