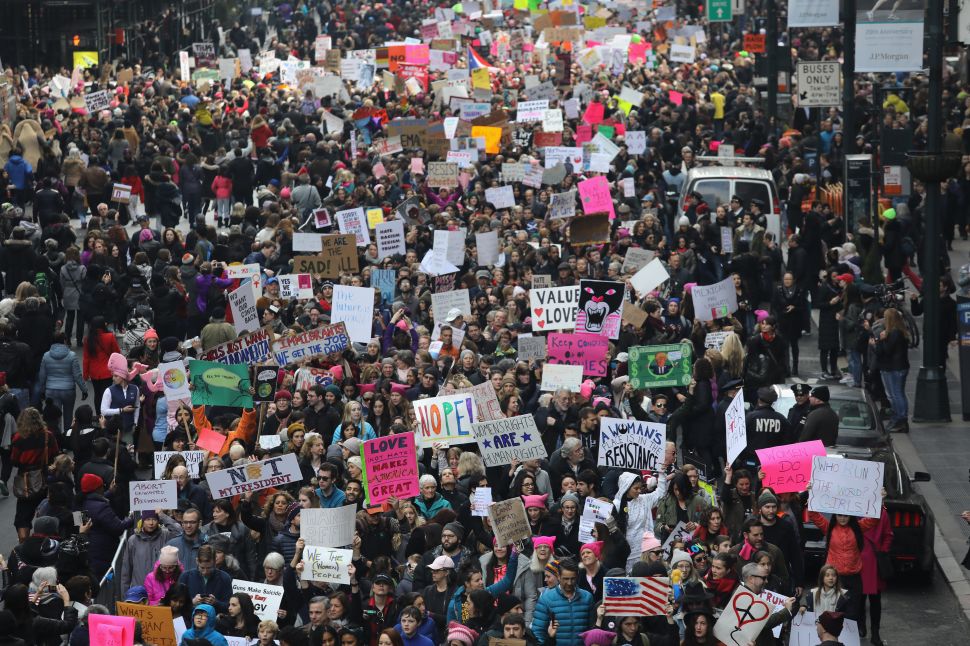 Beneath towering skyscrapers, women marched.
In New York City on Saturday, roughly 200,000 activists came together to celebrate women's empowerment. Donning pink knitted hats—holding cardboard signs with feminist quips directed at President Donald Trump's administration—activists filled streets from Lincoln Center to Trump Tower. Helicopters buzzed overhead as drummers and trumpeters squeezed between activists, lending "hey, hey, ho, ho, Donald Trump has got to go" chants new rhythm.
"Marching in the Women's March gives me hope and inspires me to keep hoping," attendee Ray Schecter told Observer.
"What the March meant to me, first and foremost, is that we haven't been gas-lighted yet!" added Avri Beard. "This year has been exhausting and demoralizing, but in that march, I saw incredible determination and optimism."
Saturday's march coincided with the one-year anniversary of Trump's inauguration following a year of cultural upheavals. From Hollywood to Washington, powerful men's careers tumbled like dominos as women outed accused perpetrators of sexual harassment, assault and rape. The march celebrated the strides made for the women's movement, while advocating for further progress.
"Hundreds of thousands of people flooding the streets one year later proves that the resistance to Trump is not only hugely significant, but sustainable, and that's true well beyond the marching," activist and Teen Vogue columnist Lauren Duca told Observer. "There are currently more women running for office than ever before in U.S. history. Taking the streets with clever signs is just the most visible manifestation of a far bigger reckoning. The pendulum is poised to swing back twice as hard."
Pop singer Halsey delivered a searing poem before the crowd, discussing her own experiences dealing with sexual assault and powerlessness. Men carried signs reading "We Can Do Better" and "Pussy Power." And a woman dressed as a middle finger danced before the Trump International Hotel to laughter and applause from fellow activists.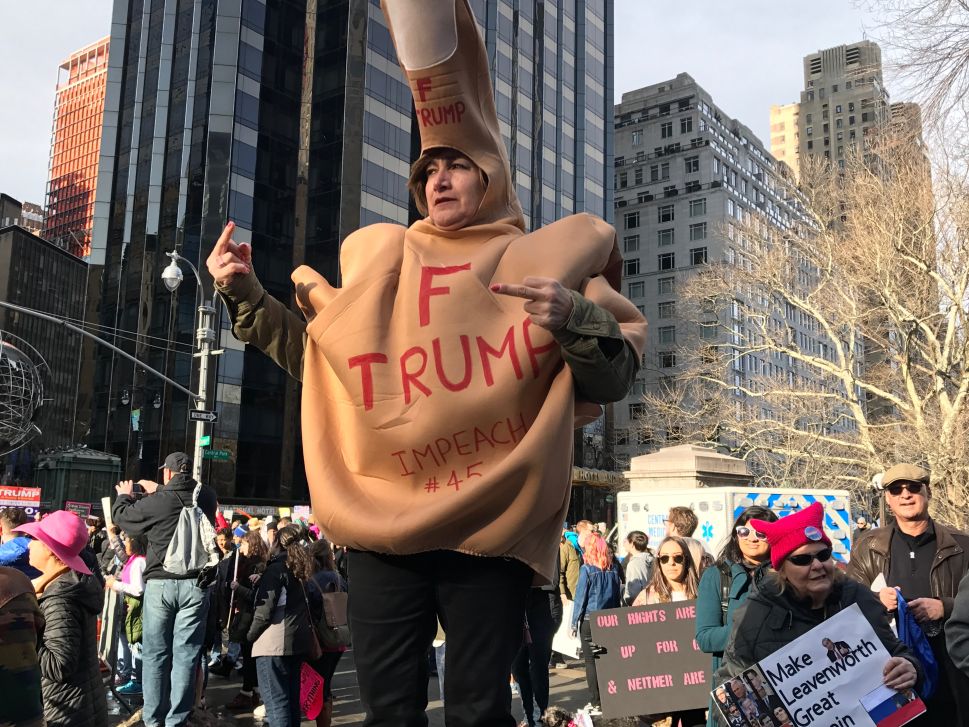 But as the sun set over Manhattan, another political group gathered in a Hell's Kitchen corridor.
Far right reporter Mike Cernovich—a regular host on Alex Jones' Info Wars and known conspiracy theorist—hosted the "A Night for Freedom" gala for 750 Trump supporters. After two venues backed down, Cernovich reportedly paid the nightclub FREQNYC $20,000 cash upfront to host the event.
Dozens of police officers stood by, anticipating violence from antifascist protestors. Inside, Republicans wearing red Make America Great Again hats enjoyed filet minot and an open bar. Cryptocurrency enthusiasts mingled with reporters from Buzzfeed and the New Yorker. A former Survivor contestant from Moscow teased a congressional run. I briefly struck up a conversation with a Department of Commerce staffer claiming to work directly under Commerce Secretary Wilbur Ross.
Former whistleblower and current Maryland Senate candidate Chelsea Manning made a surprise appearance, speaking briefly with Project Veritas' James O'Keefe —who came under fire this year after his organization attempted an undercover sting operation to discredit the accusers of former Alabama GOP candidate Roy Moore.
"I fucking crashed!" Manning told Observer at coatcheck.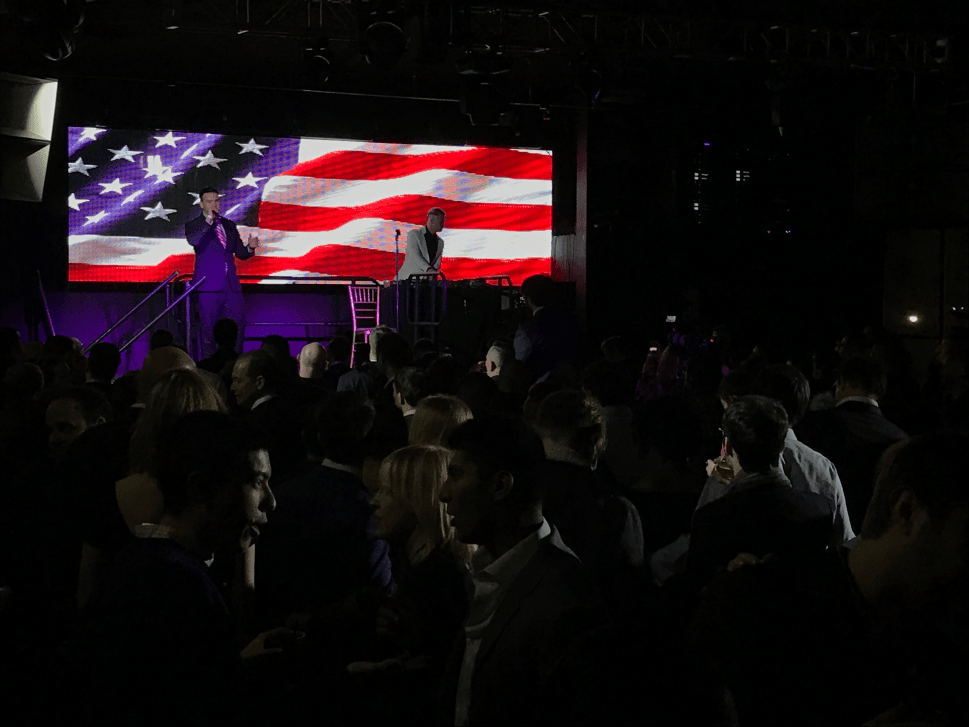 Despite Manning's claims of crashing the event, she drank beverages and stayed close to far right reporter Cassandra Fairbanks. A source told me that Manning is friends with Fairbanks, and both share similar beliefs toward government transparency. New York Magazine contributor Yashar Ali later uploaded screenshots to Twitter showing correspondences between the two.
Outside, antifascists in black masks congregated near FREQNYC's entrance. After attempting to interview them about Manning's appearance, I was greeted with a volley of profanity and insults—Manning had actually joined them after sipping cocktails with the organizers just moments prior.
Walking back into a nightclub where intoxicated Trump supporters boldly disparaged Islam, transgenders and women only added to my increasing paranoia.
"There are 400 people outside who want to kill us," said former Vice co-founder Gavin McInnes, alongside the nationalist group Proud Boys. "They've been brainwashed by the left."
"The media is going to doing anything it can to destroy me. So I'm going to destroy the media," echoed a video of Cernovich with endorsements from Alex Jones.
As the event winded down, violence escalated.
A coat check attendant told me that a Trump supporter hurled a tip jar at her; his friend offering a $20 bill as retribution. Antifascists crowded O'Keefe as police escorted the Project Veritas activist to his car. A 30-year-old antifascist hospitalized a 56-year-old Trump supporter and is now in police custody.
Saturday's political turmoil reinforced two things for me: 1) the future is female and 2) they do serve beer in hell.