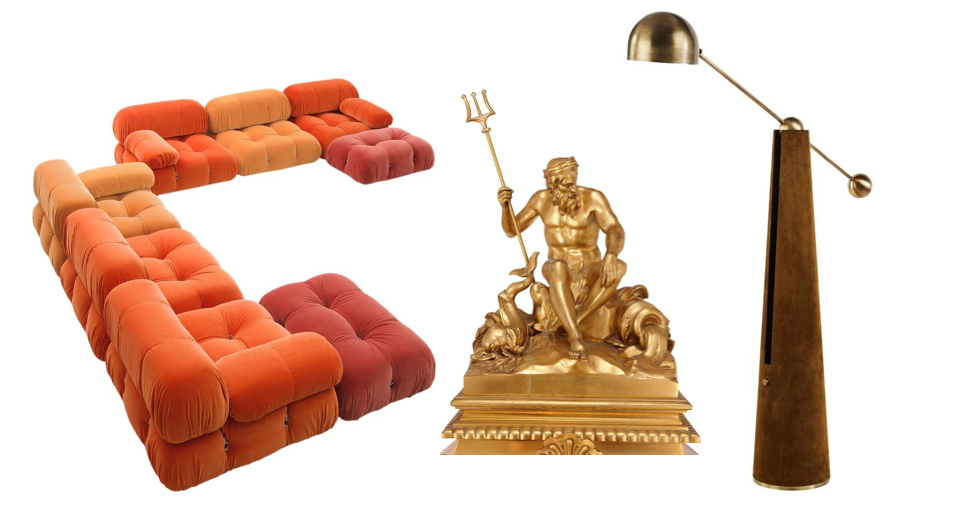 1stdibs—the popular online marketplace for luxury goods ranging from multi-million dollar jewels to ornate antique painted screens—is an invaluable resource to members of the art and design community. Beyond buying, industry professionals also spend hours at a time scrolling through the site's pieces, looking for inspiration to present to a client, replicate in a new interior or serve as research for design movements past.
Anthony Barzilay Freund, director of fine art at 1stdibs gave Observer some insight into what designers are looking for across the globe. The most searched style on the site is Art Deco, while mid-century modern seating brings in the biggest sales. American makers are the most popular. "Vladimir Kagan, Edward Wormley, Charles and Ray Eames," are the names Freund rattled off. Of the site's specialty in this movement, Freund says it's been this way from the start, but cultural events, like the recent Ettore Sottsass retrospective at the Met Breuer, often lead to a spike in searches, even influencing the market long after the show closed.
Along with being the most searched style, Art Deco is also a big seller coming a close second to mid-century furniture. Popularity for these pieces extends to Neo Deco designs, which are contemporary pieces inspired by that period, such as lighting from Apparatus and rugs from Dimore Studio. Modern Italian lighting makes for some stiff competition to modern chairs, coming in a close second as the most purchased item. Artemide, Fontana Arte and all illumination from Murano, especially Venini, fly off the shelves.
Additionally, some trends you may see over and over in your Instagram feed, like velvet sofas, have been gaining popularity in a range of styles from vintage to modern. Somewhat surprisingly, design professionals have been leaning toward more daring choices. "There seems to be a growing interest in ornate and luxe pieces. While mid-century still drives the highest number of sales, our trade audience is showing a stronger interest in maximalism—colors, patterns, and luxurious materials like velvet and mohair. Bold wallpaper and tiles are also increasingly searched," said Freund.
Internationally, the Asian market favors decorative objects and collectibles. In Malaysia that means French Décor and antique European serve ware, whereas modern Indian textiles are popular in China. French, Italian and British buyers have a penchant for Italian modern lighting, whereas Canadians favor industrial lighting designs. Americans and Germans share a love for modern seating.
Some high-ticket items prove that certain things never go out of style. Like this 19th century French mantel clock, which according to Freund indicates "there's still a strong interest in good examples of late 19th century French antique furniture and décor, especially among our biggest-spending collectors and trade clients." And for some reason, old master paintings, antique sculptures, prints and photographs that feature animals or landscapes have seen an uptick in sales over the past few months, like this oil painting of a bull by Margaret Collyer that recently sold—proving that sometimes, the trends come out of nowhere.
But one thing is for sure, as evidenced by searches on 1stdibs, the design community concurs that louder is better. Expect to see rooms clad in bright, avant-garde pieces reminiscent of the 1980s, combined with clean mid-century pieces and a sprinkling of ornate gold and glass in the months ahead.