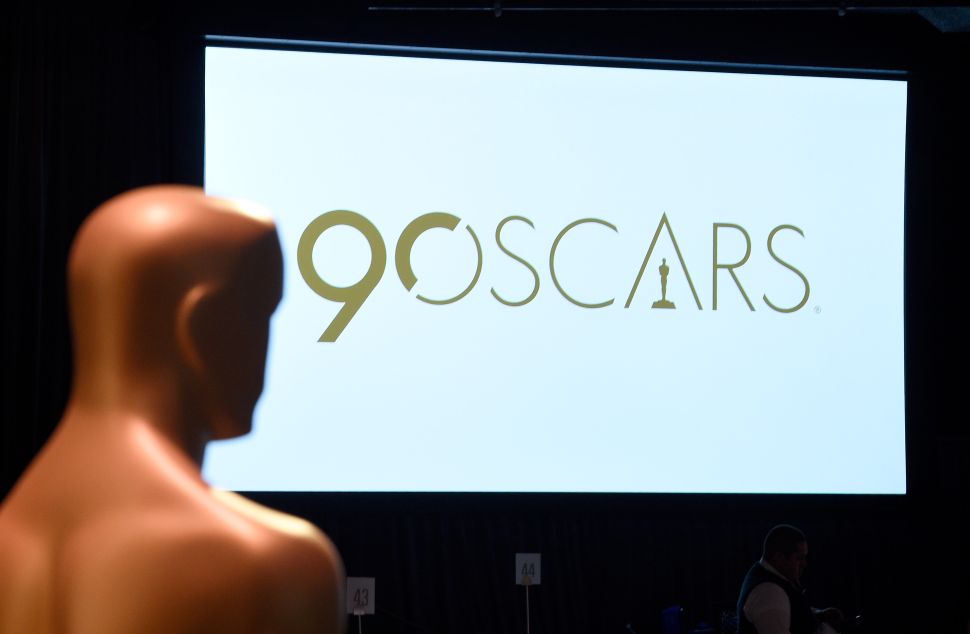 The 90th Annual Academy Awards are this Sunday, and everyone is racing to get their last-minute picks in (Observer's will arrive on Wednesday morning). Though the Oscars are voted on by the Academy of Motion Pictures Arts and Sciences, there has been a concentrated effort in recent years to reward more popcorn prestige fare.
In other words, the powers that be are trying hard to acknowledge the voice of the fans.
So who would moviegoers vote for at this year's awards?
Fandango surveyed more than 7,000 ticket buyers to find out which film and which performances audiences would be rooting for come Oscars night. The consensus pick for Best Picture was Guillermo del Toro's The Shape of Water with 19 percent of the vote, followed by Christopher Nolan's Dunkirk with 17 percent and Jordan Peele's Get Out with 16 percent.
For the first time in recent memory, there is no sure-fire frontrunner in the race, leaving the field wide open.
"It's an incredibly competitive year, where the Oscar winner for Best Picture is anyone's guess," Fandango Managing Editor Erik Davis said. "Fandango moviegoers give a slight edge to the beautifully-realized fantasy, The Shape of Water, and its visionary director Guillermo del Toro for top honors, for this unexpectedly uplifting romance with a lot of heart and even more imagination."
As of early February, MoviePass had reported that its service accounted for nearly $130 million in box office revenue for Best Picture nominees. Similarly, 87 percent of Fandango users admitted to an increased interest in movies showered with Academy Awards recognition.
In terms of the Best Acting races, fan response aligned with this year's awards season trends and consensus picks.
Gary Oldman received 44 percent of the vote for his towering turn as Winston Churchill in Darkest Hour (though Timothee Chalamet came in last with just seven percent for his gut-wrenching performance in Call Me by Your Name, so take that one with a grain of salt). Frances McDormand received 30 percent of the vote for her fierce role in Three Billboards Outside Ebbing, Missouri.
Here's Fandango's full list of Oscar moviegoer survey results:
BEST PICTURE:
The Shape of Water – 19%
Dunkirk – 17 %
Get Out – 16%
Three Billboards Outside Ebbing, Missouri – 14%
Darkest Hour – 10%
Lady Bird – 9%
The Post – 9%
Call Me by Your Name – 4%
Phantom Thread – 2%
BEST DIRECTOR:
Guillermo Del Toro (The Shape of Water) – 31%
Christopher Nolan (Dunkirk) – 29%
Jordan Peele (Get Out) – 23%
Greta Gerwig (Lady Bird) – 14%
Paul Thomas Anderson (Phantom Thread) – 3%
BEST ACTOR:
Gary Oldman (Darkest Hour) – 44%
Daniel Kaluuya (Get Out) – 23%
Denzel Washington (Roman J. Israel) – 15%
Daniel Day-Lewis (Phantom Thread) – 11%
Timothee Chalamet (Call Me by Your Name) – 7%
BEST ACTRESS:
Frances McDormand (Three Billboards) – 30%
Sally Hawkins (The Shape of Water) – 20%
Margot Robbie (I, Tonya) – 19%
Saorsie Ronan (Lady Bird) – 16%
Meryl Streep (The Post)- 15%
BEST SUPPORTING ACTOR
Sam Rockwell (Three Billboards) – 28%
Woody Harrelson (Three Billboards) – 23%
Richard Jenkins (The Shape of Water) – 18%
Christopher Plummer (All the Money in the World) – 16%
Willem Dafoe (The Florida Project) – 15%
BEST SUPPORTING ACTRESS
Allison Janney (I, Tonya) – 30%
Octavia Spencer (The Shape of Water) – 30%
Laurie Metcalf (Lady Bird) – 24%
Mary J. Blige (Mudbound) – 10%
Lesley Manville (Phantom Thread) – 6%