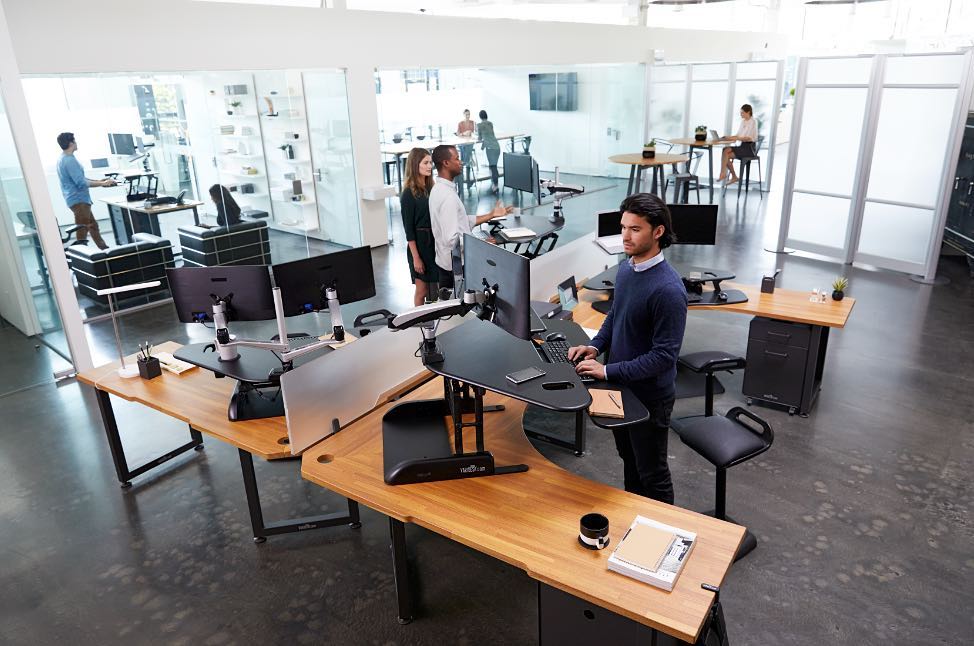 Cubicles — the workplace standard for at least four generations of diligent employees. Unveiled in 1964 and first utilized by organizations three years later, cubicles offered a way for businesses to maximize real estate while ostensibly giving employees their own spaces. What really happened, though, was that workers began to think of cubicles more as cages rather than cozy dens. And while Dilbert creator Scott Adams gave us all a good laugh at the cubicle farms in the 1980s and 1990s and 60 percent of office workers worked in cubicles as late as 2014, it's time now more than ever to retire this tired and ill-suited office setup for good.
Worried that the cubicle is getting a bad rap after 50 years? Science has finally confirmed what many suspected: One Oxford Economics research investigation showed how frustrating it was for people to be crammed into tight cubicles, greatly reducing workplace morale. Millennials especially find life in a 6-by-6 square uninviting, hence their desire to telecommute rather than be trapped in a landscape of fabric-covered walls for eight hours a day. And, with 70 percent of workers as of 2016 working outside of cubicles in open floor plans, evidently businesses are starting to realize the need for change.
Make no mistake, though: Taking the place of cubicles shouldn't just be open floor plans dotted with Scandinavian-style furniture, nor should it be a return to large personal or shared "Mad Men"-esque offices. Simply substituting one static design for another (some employees are already calling for a return to the cubicle in 2018) ignores the larger and more underlying problem affecting today's offices: a lack of activity.
The modern office should be an active workspace where culture drives functionality and employee health is as central to the tenets of work as is job performance. This type of forward-leaning workspace with its emphasis on dynamic furnishings and activity will have positive ramifications on everything from workers' wellness and productivity to the health of corporate coffers.
Breaking Down the Barriers to Activity in the Workplace
Movement isn't just a buzzword — it's an essential component of our humanity. Like all animals, we do better when we live an active lifestyle. Even with consistent exercise, in fact, remaining stationary throughout the day has been linked to digestive problems, mental health issues, and cardiovascular effects, creating a clear message that the very essence of the cubicle (sitting all day in one spot) is bad for us.
In fact, a study by the American Society of Interior Designers (ASID) revealed just how wide-reaching spatial design can be on every aspect of workplace life. The Washington, D.C.-based company used its own internal design improvements to evaluate how bringing an active workspace to fruition could measurably shape social and environmental outcomes. What they found solidifies the role that design plays in promoting a thriving workforce.
For instance, by adding health and wellness elements into the workspace — including sit-stand workstations, filtered water, and fitness center access for their people over the course of a year — ASID's personnel files showed a 2 percent uptick in workers' physical health scores. At the same time and when surveyed, workers noted that they felt like they were working at 90 percent of their capacity, an increase of 16 percent compared with when they were situated in a cubicle-like environment. Absenteeism dipped and presenteeism increased, as did employee retention.
Although ASID didn't release copious amounts of mental health information, other studies have shown that limiting occupational sitting can combat depression and anxiety. One Texas A&M research team even noted that standing desks led to memory improvements in employees.
An Active Workspace Today for Tomorrow's World
Certainly, none of this means that companies should expect their team members to engage in heart-pounding aerobics or run on treadmills several times per day, or that everyone has to complete a triathlon before receiving 401(k) benefits. Rather, companies (especially small- to mid-sized businesses that can be hampered by the cost of employee turnover) need to understand how their office design decisions can have multiple significant ramifications.
Imagine a work environment with focused, engaged teams who not only don't call in sick as much, but who also love coming to the job because their surroundings work for them, not against them. That's the desire for Millennials, who note that a happier, more engaged, and healthier workspace is more attractive than higher compensation. Overall, the sentiment from today's (and tomorrow's) workers, particularly Millennials and Gen Zers, is that a positive workplace remains a priority in their decisions about whether to take jobs. And given that physical activity is often a catalyst for stronger emotional well-being, promoting an active workspace should be an obvious step in that direction.
How can companies create an active workspace in the office? It's really much easier than you might think.
3 Pillars of the Active Workspace
The three pillars of the active workspace are: encouraging movement, flexibility, and simplicity. Office planners can use furnishings, architectural elements, and cultural enhancements to empower employees, offering workers ways to change the landscape to improve efficiency and promote personal health.
1. Encouragement of movement among employees.
Companies seeking smart designs need to look at all places where they can promote movement. Some simple examples are centralized staircases, trash cans, printers, and break rooms that can require people to take a few extra steps each day — a little bit that ultimately means a lot.
However, the cornerstone of every active workspace is examining your workers' individual workspaces and recognizing how they do (or don't) foster activity. This is the key to beginning the transformation of your office to an active workspace.
2. Flexibility that fits the employee and the organization.
Instead of looking at how many employees can be squished into a single space, organizations should plan their office spaces around their employees' and organizational needs. As we know those needs change and flex all the time. An organization should not be limited by its office furniture or walls.
Thus, you should focus on creating an office environment that is adaptable to various situation relatively easily, either by incorporating dynamic infrastructure that can suit multiple people with multiple needs or by having rooms that can be multifunctional to accommodate a board meeting one minute and a companywide lunch the next.
3. Simplicity to declutter spaces and boost productivity.
The active workspace doesn't have to be complicated. In fact, it shouldn't be. Where the cubicle fails in its approach to an uncluttered and aesthetic lifestyle, the active workspace should prioritize functionality and simplicity to bolster employee productivity.
For example, minor changes in an office — such as a quick rearrangement to create more space — should be able to be handled by employees themselves. This means relying on furniture that isn't too cumbersome or one-dimensional. As far as non-furnishing solutions go, simplicity in the active workspace also means small but important steps, such as encouraging employees who often congregate in one area of the office to use the conference room farthest away for a meeting.
Once these changes are adopted, you begin to see an amazing cultural shift within your organization. Workplace collaboration can benefit employees by sparking creativity and fostering team-building, and an active workspace can stimulate workers' moods and productivity.
So much of the culture shift boils down to that intangible "energy" in an active workspace. By focusing on how an office feels (that energy), how it smells, and how it sounds, you can help people focus and enjoy being in the office.
Looking back on its legacy, the cubicle was a necessary invention for its time. It drove a different style of work and for decades has helped to maximize the workforce while minimizing space. But nothing lasts forever, and it's time to give the cubicle its goodbye party and ship it off to retirement. There's simply no place for it in today's modern activity-driven culture, because the space that adults will occupy for decades — the workspace — shouldn't run counter to the lives they want to lead.
As a founder and the CEO of VARIDESK, Jason McCann's mission is to help companies reimagine the workspace.