Alessandra Ambrosio is listing her apartment as a rental. Click through to see inside.
Corcoran
There are three terraces.
Corcoran
She bought the apartment in 2005.
Corcoran
It's composed of three bedrooms.
Corcoran
It's 1,600 square feet.
Corcoran
The building is located in the Midtown east area.
Corcoran
If anyone has wondered how it would be to live like a supermodel, now's the time to find out—temporarily, that is. Newly retired Victoria's Secret Angel Alessandra Ambrosio is offering her longtime New York apartment as a rental, but it's going to cost you.
The Brazilian model bought the three-bedroom, 2.5-bathroom condo for $1.88 million in 2005, and it seems she used it as a pied-à-terre until she started renting it out for $12,000 per month in 2014. It looks like someone rented out the 1,600-square-foot penthouse for a while, as it didn't reappear on the market until October 2017, with a slightly increased $12,695 price tag.
But Ambrosio eventually reduced the price all the way down to $10,250 by the end of November, though she apparently had a change of heart. In late January this year, she re-upped the rent to $12,250 a month.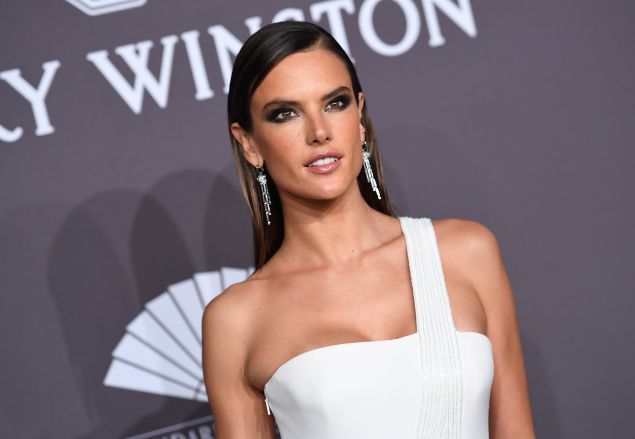 The duplex is available furnished or furnished, says the listing held by Corcoran broker Alexander Pisa and interested parties must commit to a minimum of a one-year lease.
The Murray Hill apartment, designed by Brazilian architect Artur Casas, features floor-to-ceiling windows and hardwood floors throughout, as well as a wood-burning fireplace. The kitchen is fitted with Bosch appliances, separated from the dining room.
The master suite contains a Jacuzzi tub, and there are numerous custom walk-in closets, with dressing areas, just as one would expect from the model owner. The unit occupies the 29th and 30th floors of the building, and the outdoor space is definitely one of the highlights—there are three terraces.
It's not clear where exactly Ambrosio opts to stay when she's visiting New York now, but maybe she's taking a break from the city. Ever since she announced that the Victoria's Secret show in Shanghai would be her last, she's been on an endless vacation, or at least, that's the impression we're getting from the sunny Instagram feed.