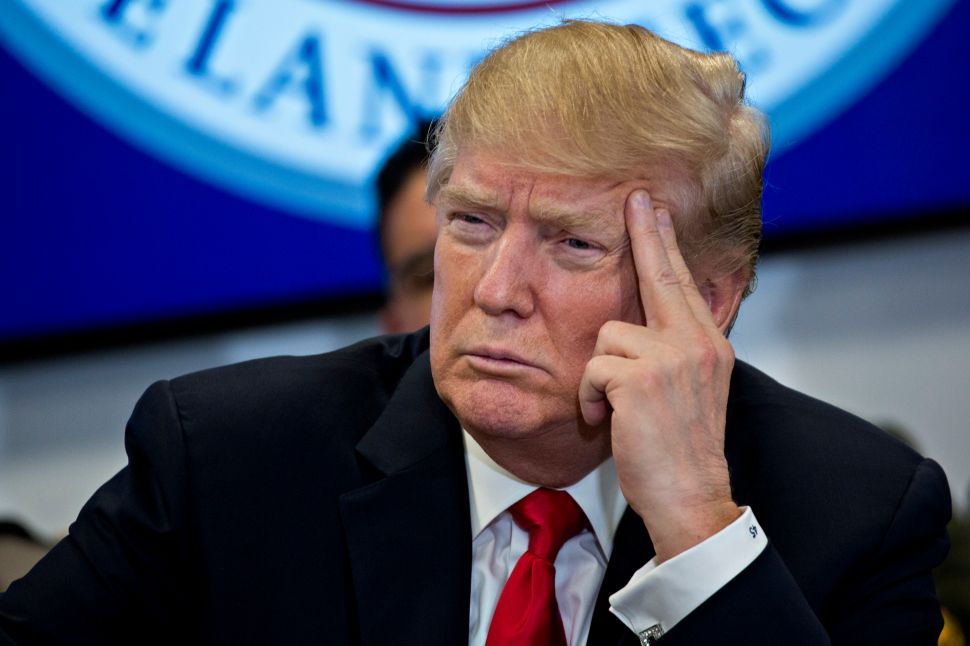 Although senior White House officials regularly appear on networks to tout President Donald Trump's 'America First' platform, many insulted the president while working in previous industries.
Before White House counselor Kellyanne Conway became the president's pit bull on CNN, the former GOP pollster critiqued the Trump Organization's business practices in the lead up to the 2016 election. Before going on a comeback tour hailing Trump as "a political genius," the shortly lived White House Communications Director Anthony Scaramucci castigated the real estate mogul's campaign as "a spectacle."
Following Monday's revelations that White House spokesperson Raj Shah called President Donald Trump "deplorable" in private messages—along with unearthed statements made by Environmental Protection Agency (EPA) Administrator Scott Pruitt—here are all the (reported) insults made against the president by members of his inner-circle.
Raj Shah
In previously private text messages published by New York Magazine on Monday, White House principle deputy press secretary Raj Shah called Trump "deplorable" and referred to the Access Hollywood tape's release as "some justice."
A former RNC staffer, Shah sought opposition research on Trump six weeks after the then-candidate declared his bid. The footage Shah obtained—a 2008 CNN transcript where Trump spoke positively of former president Barack Obama and then-Secretary of State nominee Hillary Clinton—later appeared in an ad for former GOP presidential candidate Jeb Bush.
A senior White House official told New York Magazine that Shah previously informed "his superiors in the administration" about the messages.
Scott Pruitt
Although the president and the EPA administrator are both working together to dismantle environmental institutions, Pruitt previously called Trump "an empty vessel" on "the Constitution and rule of law."
"I think he's an empty vessel when it comes to things like the Constitution and rule of law," Pruitt said on a local Oklahoma radio show unearthed by CNN on Monday. "I'm very concerned that perhaps if he's in the White House, that there may be a very blunt instrument as the voice of the Constitution."
Pruitt denied ever using disparaging language against the president.
Anthony Scaramucci
Before becoming one of Trump's biggest donors and surrogates—stepping down from SkyBridge Capital in anticipation for a White House role that lasted 11 days—Scaramucci called Trump a "hack politician" and accused the then-candidate of being a "Democratic plant for Hillary Clinton."
"The politicians don't want to go at Trump because he's got a big mouth and he's afraid he's gonna light them up on Fox News and all these other places, but I'm not a politician," said Scaramucci during an interview on Fox Business in 2015. "You're an inherited money dude from Queens County—bring it, Donald. Bring it."
Scaramucci also criticized Trump's remarks made against Megyn Kelly during the first Republican debate.
Upon taking a communications role at the White House, Scaramucci apologized for his previous remarks.
"Mr. President, if you're listening, I personally apologize for the 50th time for saying that," said Scaramucci.
Steve Bannon
Like Shah, Bannon sought opposition research on Trump during the 2016 election. A group cofounded by Bannon—which received heavy funding from billionaire GOP megadonor Robert Mercer—researched Trump's connections to organized crime, while the billionaire worked as a Manhattan real estate developer.
Bannon also called Trump "a narcissist" and his campaign references to God "a joke" in an email correspondence obtained by Buzzfeed.
In Michael Wolff's Fire and Fury, Bannon is quoted on-record calling a Trump Tower meeting attended by the president's son and Russian lawyers as "treasonous" and "unpatriotic." Bannon later apologized for the remarks after powerful Republican players cut ties with the operative.
Kellaynne Conway
As a Republican pollster who initially endorsed Ted Cruz during the 2016 election, Conway criticized Trump on CNN for building "his businesses on the back of the little guy" and "not paying contractors after [they helped him] build something."
In a separate interview with Don Lemon, Conway rebuked Trump's "unpresidential rhetoric" related to nicknames he gave to former presidential candidates Ted Cruz and John Kasich.
Conway currently serves as counselor to the president.