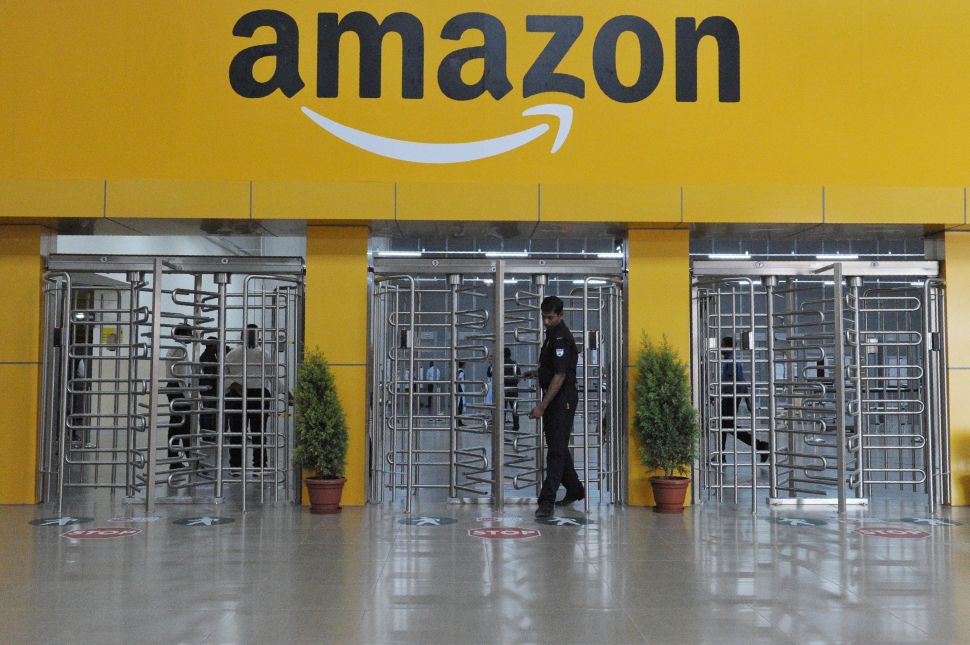 Big Brother is… touching? Not quite.
Amazon (AMZN) made waves last week when it secured a pair of patents for haptic wristbands which would monitor workers' hand movements at its fulfillment centers.
The wristband's signals can determine where a worker's hand is positioned in comparison to the item with which they're working. The bracelet would emit radio waves or ultrasonic sound pulses if it strayed too far away from the inventory bin.
Jeff Bezos' behemoth first filed the patents in 2016, and several Amazon veterans are involved with the project. The patent for the ultrasonic wristband was filed by Jonathan Cohn, senior technical program manager for Amazon Go. The radio frequency system was developed by Tye Brady, chief technologist for Amazon Robotics.
The wristbands may sound like a punishment, similar to wearing an ankle bracelet under house arrest. And given Amazon's famously draconian workplace culture (memorably detailed in a 2015 New York Times story), such a measure doesn't sound that out of place.
But Amazon's patent documents contend the bracelets are simply a cost-saving measure.
"Improved approaches for keeping track of where an inventory item is stored are of interest," the documents state.
Amazon has kept up this narrative, even after a flurry of frenzied media reports.
The company (which made $1.9 billion last quarter) said in a statement last night that the wristbands were meant to make workers' jobs easier, not chain them to a desk.
"The speculation about this patent is misguided," Amazon said. "Every day at companies around the world, employees use handheld scanners to check inventory and fulfill orders. This idea, if implemented in the future, would improve the process for our fulfillment associates. By moving equipment to associates' wrists, we could free up their hands from scanners and their eyes from computer screens."
So don't worry, Amazon employees—you can check your phone at your desk without getting an electric shock.