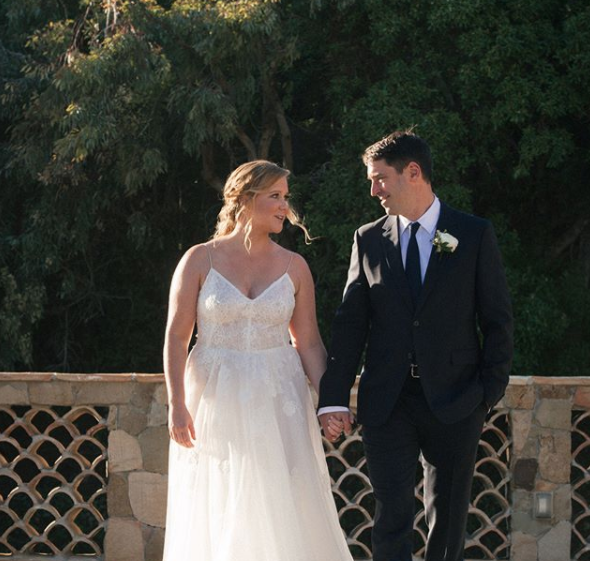 How did you celebrate Valentine's Day? Perhaps you enjoyed a romantic evening in, or maybe you treated yourself to an avocado diamond necklace. If you're Amy Schumer, you celebrated the most romantic day of the year with your brand new husband.
The comedienne tied the knot with her beau, Chef Chris Fischer, the day before V-Day in a private ceremony. The top-secret affair was held in a rented Malibu home on the water and, of course, there were plenty of celebrities in attendance, along with two ring bearing pups, according to Instagram.
Schumer posted pictures alongside her pal Jennifer Lawrence, but Jennifer Aniston, Larry David, Chelsea Handler, Jerry Seinfeld, David Spade and Judd Apatow also attended the nuptials, so one can only hope there was a stand-up session. Mindy Kaling offered her congratulations on the 'gram, but did not attend the event. If you're wondering why you didn't see any other photos pop up on Instagram (although it's unlikely the Curb Your Enthusiasm star would be sharing them), it's because there was a strictly enforced no-photos allowed policy.
In typical Schumer fashion, she posted a quick follow-up note on Instagram this afternoon, declaring that her last-minute wedding does not mean that she is pregnant. She also mentioned yesterday's South Florida gun violence, as gun safety is an issue she's cared deeply about since the shooting during her movie Trainwreck. Instead of wedding gifts, she's asking for donations to Everytown for Gun Safety.
Schumer and Fischer were first spotted together in November 2017, when they dined at Cafe Altro Paradiso in Soho, according to Page Six. At the time, Schumer was still thought to be moving on from furniture maker Ben Hanisch, who she met on an app and dated until May 2017, spending a year and a half together.
While Schumer and Hanisch were often spotted on social media, before the wedding announcement she had only shared one photo with Fischer, when she confirmed their relationship after Ellen DeGeneres's birthday party. According to E! the couple was introduced by Schumer's assistant, who just so happens to be Fischer's sister.
Her new hubby was formerly a sous chef at Mario Batali's Babbo and is also close friends with Jake Gyllenhaal, who also attended the wedding, furthering his Hollywood credentials.
The 37-year-old now lives in Martha's Vineyard, where he runs his family's restaurant, Beetlebung Farm, which counts Barack Obama and Michelle Obama as fans. Fischer penned The Beetlebung Farm Cookbook in its honor. He also writes about food and farming for the Vineyard Gazette and teaches at Boston University's Metropolitan College.
Perhaps Schumer will embrace farm life after her new movie, I Feel Pretty, comes out. It was filmed in Boston, which is almost close enough to commute to Fischer's Martha's Vineyard restaurant. If anything, this entire love story sounds like it has all the makings of a Schumer romantic comedy.