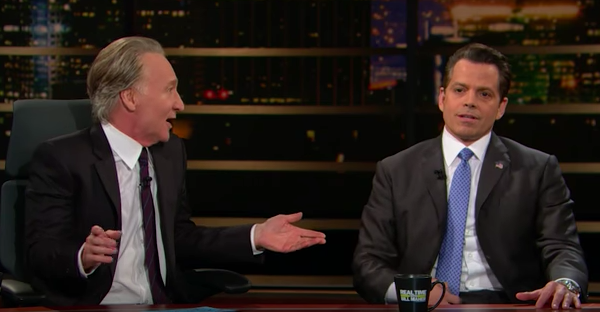 In a recent interview with Vanity Fair, Anthony Scaramucci recalled his college days at Tufts when he decided to make something of himself as the ambitious son of a construction worker who carried a lunch bucket.
"I'm not gonna be this gold-chained adorned guy driving around as a Long Island guido," he told V.F.
After graduating from Harvard Law and making lots of money on Wall Street, this now very city-slick working-class hero last summer played the role of New York hit man for President Donald Trump.
In an 11-day stint as "communications director" at the White House, Scaramucci whacked or wounded Sean Spicer, Reince Priebus and Steve Bannon. He left the job after saying, among other things, that Bannon attempts oral sex with himself, which is not necessarily harassment.
It didn't matter. Scaramucci's work there was done anyway. For a while, he laid low. Now, he's back.
With two television appearances on major stages over the weekend, Scaramucci re-joined the cast as an informal but informed White House mouthpiece for current episodes of the Donald Trump Daily Sur-Reality Show.
On Friday night, Scaramucci battled journalist David Frum on Real Time with Bill Maher on HBO. On Sunday morning, he sparred with Roland Martin on This Week with George Stephanopoulos on ABC. Scaramucci, to his credit, tried to offer some fair insight into why a lot of people support Trump.
But his most thoughtful comments were overwhelmed by the verbal sniping with a bitter edge. On Sunday, it started with Martin reminding the audience of what Scaramucci said about Trump in 2015.
"He is the president of the Queens County Bully Association," Martin said, quoting Scaramucci. "…Anthony, we appreciate your honest words… Truthful then and now."
Current Republicans, Martin said, are afraid of Big Don from Queens. Scaramucci explained why he said what he said about the Long Island Bully Boy who is now president.
SCARAMUCCI: "He was comin' at me, and I came at him in the same way I'm gonna come at you."
MARTIN: "Try it."
SCARAMUCCI: "Let me speak and you can rebut me. Let me speak."
MARTIN: "Try it."
Later, Scaramucci tried the old false-equivalence gambit to equate the phony "Memo" the Republicans put out last week with the official probe of the Trump gang by Special Counsel Robert Mueller.
"It's a bunch of nonsense," Scaramucci said. "It's the politics of personal destruction. It needs to end on both sides."
Bill Kristol, the anti-Trump conservative, called Scaramucci on this one.
"It's not the politics of personal destruction," Kristol said. "It's a serious investigation into Russia's interference in our campaign and whether there was collusion."
The tone of conversation was even snarkier on HBO Friday on Maher's show when Scaramucci joined a group that included Frum, a senior editor for The Atlantic, and Donna Brazile, the Democratic operative.
Frum implied that a Chinese company wanted to buy influence in the White House by purchasing Scaramucci's company for $90 million. But the company lost interest after he was fired by the White House, Frum said.
"How am I to understand that?" Frum said.
"David," Scaramucci said, "that's a factually incorrect statement… I curse a lot. But I don't curse on TV. That's a little B.S. actually. I'm going to call you out on that. Because you don't know the facts."
A little later, Frum opened another question to Scaramucci by referring to his own time as a speechwriter for President George W. Bush.
FRUM: "I've spent more time in a Republican administration than you."
SCARAMUCCI: "David's coming across pretty angry tonight."
FRUM: "Does it not stick in your craw that Vladimir Putin wanted to help your guy so much?"
SCARAMUCCI: "Your level, your level of anger and sanctimony is not coming across…"
FRUM: "It's not a show. It's not a performance. It's the country that is in danger. And you've helped to endanger it."
SCARAMUCCI: "You've made a very big mistake. Because of your cultural elitism, you're turning a deaf ear to what is actually, really going on out here."
At this point, when Scaramucci went back to his blue-collar roots, Frum derided his double posture as both a working-class kid from Port Washington and a smooth lawyer from the Ivy League and Wall Street.
"You're going to play that card," Frum said, "or you're going to name-drop Harvard. One or the other."
The sad part of this exchange is that Scaramucci was on to something that Trump both perceives and exploits.
"There is a problem in the country," Scaramucci said. "People have less disposable income. There's an opioid crisis." But Maher didn't want to hear it and cut him off.
Earlier, Scaramucci had tried to make a similar point.
"The aspirational working class has shifted into the 'despairational' working class," he said, adding that the cause is a globalized economy and that is the fault of neither Democrats nor Republicans.
The "working class"—people who labor with their bodies—used to think of themselves as middle class in places like Macomb County, Michigan, when the American industrial economy was good.
They had unions. They had benefits. They had job security. Now, those things are fading. Blue-collar workers are now the "working poor," stuck in service jobs. They lack the health care and pensions their parents used to have. They shop at dollar stores.
Scaramucci probably wouldn't acknowledge it so bluntly, but these are the very voters who can be emotionally motivated against scapegoats to vote against their own self-interest for demagogues.
If properly stoked and manipulated by propaganda, they will support Republicans like Trump who seek tax and health care policies that give more money to rich, healthy people and less to poor, sick ones.
It would be interesting to hear Scaramucci engage in serious intellectual conversation with a host like Rachel Maddow on MSNBC. The Mooch, who has called Washington "a gold-plated cesspool," might say a lot of interesting things.
Despite the flak from all around him on the weekend shows, Scaramucci kept his temper in check and gave as good as he got in hostile quarters. Brazile noticed.
"You're being so cool, baby," she said.
Even Maher was impressed by Scaramucci's calm under pressure and said so after the show on the YouTube overtime.
"I want to know what drug you're on," Maher said. This was after the show on YouTube. He called Scaramucci "very Michael Corleone" after a character in The Godfather.
"He doesn't raise his voice," Maher said. "He's a quiet killer."