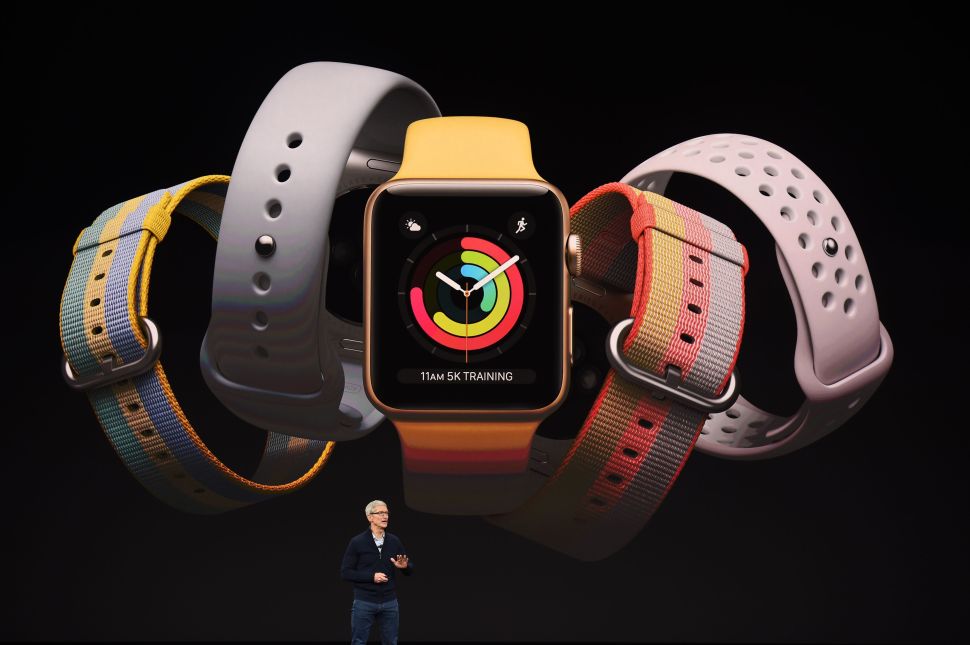 Apple (AAPL) Watch may not seem like a star product for Apple compared to the iPhone or iPad. Neither is it a talking point Tim Cook likes to bring up during investor meetings. In its latest earnings report, Apple didn't even disclose the sales figure for Apple Watch.
Yet, a newly-published estimate by market research firm Canalys shows that Apple Watch is seriously disrupting the wristwatch industry.
Canalys estimates that Apple sold more than 18 million units of the Apple Watch in 2017, eight million of which were sold in the last three months of the year. Based on calculations by Business Insider, using data from the Federation of the Swiss Watch Industry, Apple outsold main Swiss watchmakers—including Rolex, Omega, Swatch and others—combined in the last quarter.
Swiss watches are still a step ahead by whole-year sales (24 million units), but Apple Watch is catching up fast.
The Federation of the Swiss Watch Industry data shows that exports from Swiss watchmakers in 2017 grew by a timid 2.7 percent from the previous year. Asian markets—most notably, mainland China and Hong Kong—contributed to most of the growth, while major European markets, including the U.K., Germany and Spain, all saw declines.
By contract, sales for Apple Watch rose by 50 percent year-over-year, largely thanks to the introduction of Series 3 in September 2017, which accounted for roughly half of the entire 2017 sales. Apple Watch Series 3 came with a GPS version and a GPS plus cellular version. The cellular version accounted for 13 percent of the total sales in the year.
"The cellular version of the Apple Watch was in strong demand in the U.S., Japan and Australia, where all major operators stocked it in time for the holiday season," Vincent Thielke, a researcher at Canalys, said in the report.
Apple Watch is likely to continue its strong lead in 2018, with Series 3 being made available in Asian markets starting the first quarter of 2018, just in time for the Chinese New Year.
Although Apple Watch is rarely a singled-out topic of discussion in Apple's earnings reports, wearable devices are the company's focus of the future.
"Wearables were the second largest contributor to revenue growth after iPhone, which is impressive for a business that started only three years ago," Cook said at Apple's earnings announcement earlier this month.
"Apple has won the wearables game," Jason Low, a senior analyst at Canalys, said in the report.
Since the first generation of Apple Watch, released in April 2015, Apple has rolled out two new versions of the watch and a few TV and music accessories, like AirPods and Beats.