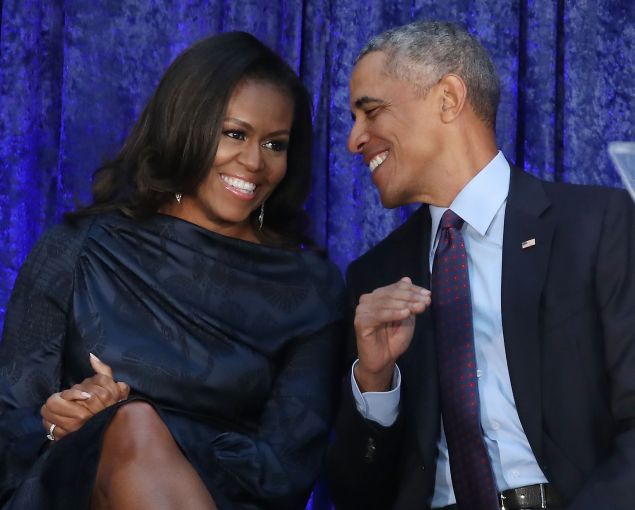 Ever since the Obamas were said to have toured apartments in 10 Gracie Square in October 2017, rumors have persisted that the former first family will put in an offer for a new home. After a duplex at the Upper East Side building went into contract, right around the time Barack and Michelle Obama were reportedly seen there, it seemed likely that the family would be adding a New York apartment to their home portfolio.
Alas, when the aforementioned duplex sold for $9.64 million last month, the buyer used a limited liability company that doesn't seem to have any connection to the Obamas. At the time, we wondered if perhaps the former POTUS and FLOTUS and their daughters, Sasha and Malia, were actually contemplating a different unit in the building. Perhaps the five-bedroom, five-bathroom penthouse that's listed for $12.75 million was a better fit for the family of four.
But it appears the Obamas won't be putting in an offer after all. According to New York Magazine, any plans to place a bid in the first place are "now dead." Indeed, a "source close to the Obamas" informed the outlet that the family does not have any "near-term plans to place a bid on any apartment at 10 Gracie Square, and likely will not ever do so." Well, that sounds quite final.
New York Magazine also notes it could be difficult for the Obamas to gain entrée into exclusive co-ops, due to boards being potentially weary of the influx of press coverage and crowds of reporters lingering outside. But then again, there are plenty of famous names that have managed to finalize deals in co-ops, including past White House inhabitants like Jackie Kennedy, who lived in 1040 Fifth Avenue.
As they already own homes in Chicago and the Kalorama neighborhood in D.C., New York would be a logical locale for the Obamas next abode. But no matter where they end up, the former president should get first dibs when it comes to rooms—Michelle Obama told Ellen DeGeneres that she's not thrilled with his spaces in Kalorama. In fact, she said that while he "doesn't have enough closet space [and] he's got the smallest room for his office," their daughter Sasha has a full suite.