Ever since Vintner's Daughter Active Botanical Serum was released in 2015 there's been no escaping media and blogger mentions of this cult oil. Gwyneth Paltrow swears by it and, perhaps not coincidentally, shills the product on Goop. With the brand itself deeming their creation a "skin care game changer," the buzz is compelling.
In general, it pays to be a skeptic of supposedly phenomenal products. Don't put all the blame on overblown marketing, though. Many women mismanage their own expectations about what a single skin care product can deliver, which is bound to lead to a letdown. This tendency could be attributed to naiveté or the very human desire to believe in miracles. More often, it's a reluctance to commit to a personalized, consistent regime when they're sure a single expensive moisturizer can save their skin. Time and again, dermatologists bemoan the fact that countless patients spend inordinate amounts of money on supposedly awesome products, go to sleep without washing their makeup off and then wonder why their skin is problematic.
So to find out if Vintner's Daughter lives up to the hype, four Observer writers and editors spent four weeks testing the product. We are in our 20s, 30s, and 40s; two of us spend significant time trying out new skin care products.
Full disclosure: The brand gave us free product to review, which shows either a certain level of confidence in what we'd find, or perhaps a belief that we wouldn't criticize something we got gratis. Either way, to be clear: We didn't pay $740 for four bottles of this oil.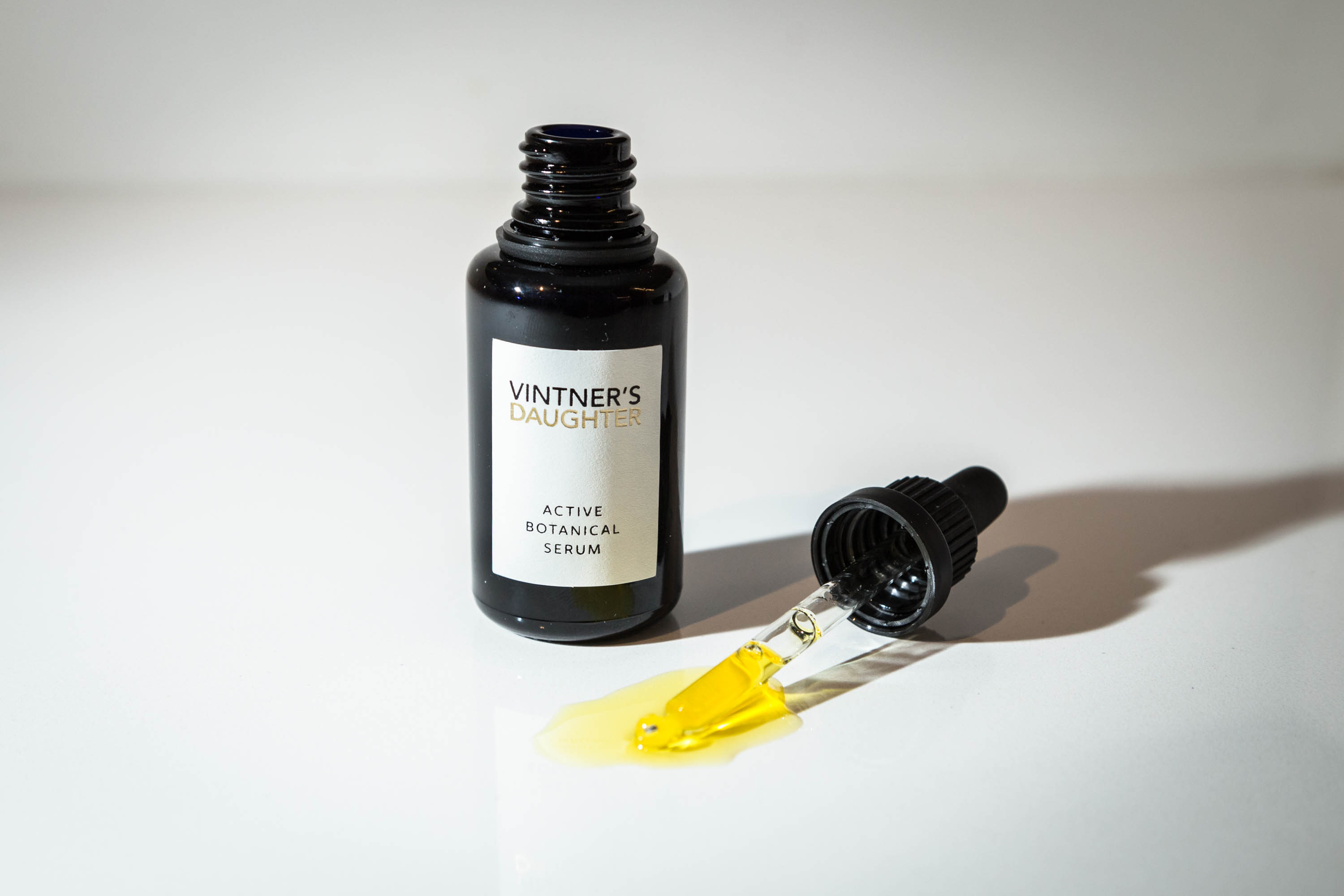 Kelsey, 25 years old
Skin type: Combination.
Typical routine:
Morning: IT Cosmetics Confidence in a Cleanser, Goop Exfoliating Instant Facial (every other day), iS Clinical C Eye Serum, iS Clinical Pro-Heal Serum Advance Plus, and Laura Mercier Tinted Moisturizer Broad Spectrum SPF 20.
Evening: IT Cosmetics Confidence in a Cleanser, followed by iS Clinical Youth Intensive Crème.
Skin conditions: Occasional blemishes, shine.
Review: Active Botanical Serum was so moisturizing that I did not use a moisturizer after it. Consequently, I only employed it in my nightly routine because I did not want extra shine during the day. The product sat on top of my skin and absorbed throughout the night, leaving me plenty moisturized in the morning.
I would say the product made my skin marginally better and more clear, but the claims that you don't have to wear makeup if you use it were absolutely not true for me. I didn't notice any dramatic changes in my skin. I liked the product and will keep using it, but found it didn't live up to all the hype. One thing I did really love about it is the scent, which is very luxurious.
Dena, 26 years old
Skin type: Combination, acne-prone.
Typical routine:
Morning: Malin + Goetz Grapefruit Face Cleanser, January Labs Restorative Tonic Mist, Agent Nateur's Holi Oil, Erno Laszlo Hydra Therapy Refresh Infusion, The White Company x Deciem Eye Revive Daily Brightening Eye Serum, Oille Lavender + Pomegranate Organic Facial Day Créme, and NYDG Chem-Free Active Defense SPF30.
Evening: Kiehl's Midnight Recovery Botanical Cleansing Oil, prescription Retin-A, and either Goop Anti-Aging Night Cream, Farmacy Sleep Tight Firming Night Balm with Echinacea GreenEnvy, or Elizabeth Arden Eight Hour Nighttime Miracle Moisturizer.
Skin conditions: Retin-A induced dryness and flakiness in winter, oily T-zone in summer and occasional breakouts.
Review: My skin took a long time to get used to Active Botanical Serum. At first, I found it a bit too oily and thought it might have been causing breakouts (although that might have been due to hormones). But as the winter dragged on, my skin began to crave the moisture and seemed to figure out how to balance the product.
Areas of redness (like around my nose and cheeks) have significantly diminished and my skin tone looks much brighter than it did before. People have even begun commenting that my skin looks good, which is a compliment I've never heard before…so it must be doing something good!
I don't think this is a miracle product that could ever get me to give up makeup, but I would recommend it as a great wintertime addition to anyone's routine.
Merin, 34 years old
Skin type: Normal/combination.
Typical routine:
Morning: Caudalie Deep Cleansing Exfoliator, Caudalie Moisturizing Toning Lotion, Caudalie Resveratrol Lift Firming Serum, and Caudalie Resveratrol Face Lifting Cream.
Evening: Caudalie Makeup Removing Cleansing Oil, Dr. Dennis Gross Alpha-Beta Peel (every other day), Caudalie Moisturizing Toning Lotion, Caudalie Premier Cru Serum, and Caudalie Premiere Cru Cream.
Skin conditions: Occasional dryness and redness. Puffy eyes when sleep-deprived.
Review: For the first week, I only used Vintner's Daughter in the evening, as a replacement for my usual serum. I didn't see any major changes, so started substituting for my morning serum as well. This was sort of a problem for me. One day, despite careful application, I got Vintner's Daughter oil in my eyes and had to take out my contacts in the middle of the day. Another time, it somehow crept down my neck and onto my hair, which made me feel a bit greasy.
The oil is much thicker than I am used to—a little goes a very, very long way. I also noticed that if I used even a tiny bit too much in my morning routine, my makeup would essentially melt off. I would get to work and see streaks. I wear very little makeup, so this was shocking. At night, I noticed that if I did not immediately apply my moisturizer on top of the Active Botanical Serum, my skin felt very tight. This never happens to me with the Premier Cru Serum; I can often wait an hour before moisturizing and it's no problem.
I didn't notice any big difference in my skin, sadly. It didn't cause any insurmountable problems for me, but I won't continue using it. I am a long-time, die-hard Caudalie addict. Ever since I discovered the line four years ago, I've used nothing else. I am of the philosophy that when you find something that works, you stick to it!
Jackie, 40 years old
Skin type: Oily/combination.
Typical routine:
Morning: Jordan Samuel Skin Plié Treatment Cleanser, January Labs Daily Brightening Tonic, Josh Rosebrook Hydrating Accelerator, Dr. Dennis Gross C+ Collagen Brighten & Firm Vitamin C Serum, Jordan Samuel Hydrate Facial Serum, Dr. Dennis Gross Hydra-Pure Oil Free Moisture, and IPKN Big Apple Sun Cream SPF 50.
Evening: Botanics Hot Cloth Cleansing Balm or True Botanicals Pre-Cleanse Oil, May Lindstrom Pendulum Potion or MV Organic Skincare Gentle Cream Cleanser, Biologique Recherche Lotion P50 1970, Earth Science Herbal Tonic Mist, Dr. Dennis Gross Ferulic + Retinol Eye Cream, either Dr. Dennis Gross Ferulic Acid + Retinol Brightening Solution or SkinMedica TNS Essential Serum, Amarté Aqua Veil Hydrator, either Amarté Hydro Lift Cream, Clinique Moisture Surge Overnight Mask, or Bio-Essence Hydra Tri-Action Aqua Droplet Sleeping Beauty Mask, and May Lindstrom Blue Cocoon if I need a boost.
Skin conditions: Shine, large pores, sebaceous gland hyperplasia, occasional hormonal blemishes.
Review: I'd heard from credible sources (like January Olds and Caroline Hirons) how much they admire and respect the products from Vintner's Daughter. With that in mind, I was still dubious about Active Botanical Serum.
For starters, the price tag wouldn't make me flinch, but only if this was a product with a lot of high-tech science behind it. But for my money, I felt a product such as this should use something more beneficial than grapeseed oil, which is both average and inexpensive, as its base.
I'd also been told point-blank by my dermatologist, Dr. Dennis Gross, to avoid leaving any oils on my skin. "Remember that the sides of pores are like walls or tubes, and it is very easy for oil and dry skin to become trapped there, clogging the pore," he said. Previously, I'd experienced positive results—however brief—from green luxury oils such as African Botanics Fleurs d'Afrique Intensive Recovery Oil and the (now discontinued) Sunday Riley Artemis Oil. So what about those? Dr. Gross explained: "In the long run, applying those oils will backfire, even if temporarily beneficial." But I was determined to suspend my cynicism and give Active Botanical Serum an honest shot.
My review is pretty succinct: It made no noticeable difference in my skin apart from giving me much more shine than usual. After two weeks of using Active Botanical Serum morning and night, I switched to night-only, in an effort to reduce the oiliness issue. It didn't help. I also deviated from Vintner's Daughter's direction to use six to eight drops of oil at once. One or two drops is all that is necessary for most skin types; more than that, and you're wasting product.
Now for what everybody wants to know: Is Vintner's Daughter worth the money? I'll shell out for something that works. My beloved SkinMedica TNS Essential Serum clocks in at $281—but it's an innovative, science-based product bursting with peptides, antioxidants and patented ingredients from a dermatologist-formulated line. Vintner's Daughter founder April Gargiulo is so nice and so beloved by people I respect, so I wish I could report better results. Alas, Vintner's Daughter Active Botanical Serum just didn't do it for me.