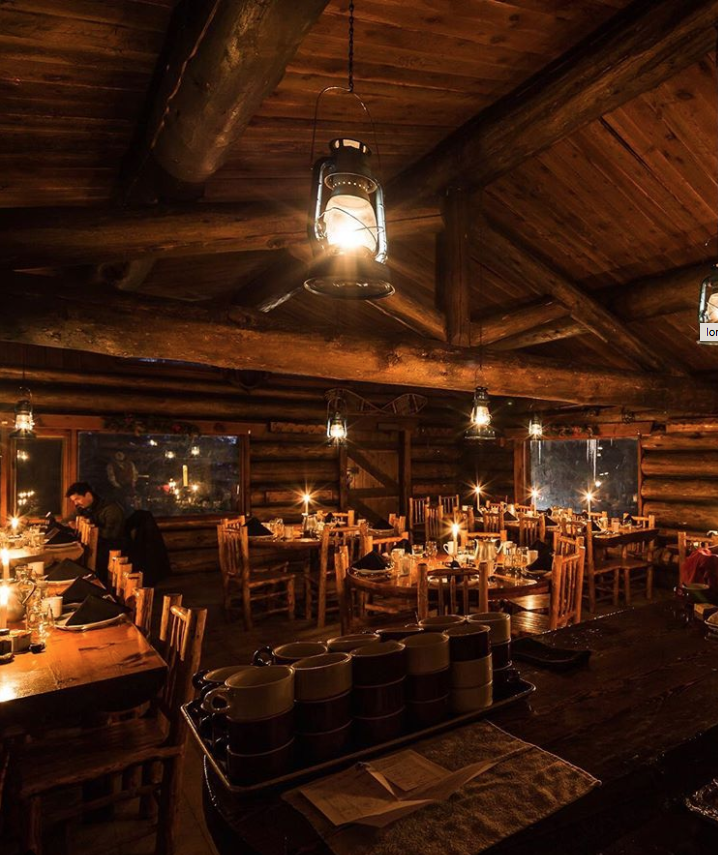 No matter what your ideal ski day entails, there's one thing everyone spending energy at altitude has in common: eating. And we're not just talking about your average chicken wings and pizza washed down with beer at après ski. Some of the most unique on-mountain dining experiences in recent memory have been popping up at North American ski resorts lately, each with its own nod to alpine traditions of yesteryear. These 15 fine dining destinations are definitely worth the calories—and worth making the trek via snowshoe, horse-drawn sleigh ride, cross-country or downhill ski.
CALIFORNIA
The Chalet – Moonlit Snowshoe Tour & Dinner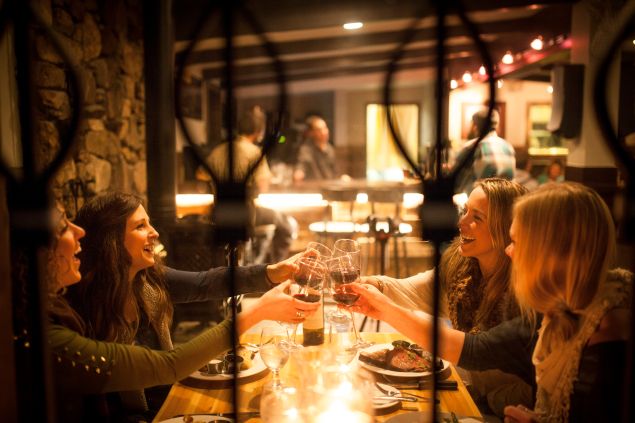 Open only select dates throughout the winter months, this European-style menu is only available to 50 guests per evening after the lifts close. Earn your dinner with a brisk quarter-mile snowshoe tour up moonlit slopes from the Alpine Meadow's base lodge. In an intimate cabin simply known as The Chalet, your three-course meal awaits, featuring raclette, hearty soups, chicken cordon bleu and apple strudel.
Access by: Snowshoe.
COLORADO
Aspen
"Did you get your Cloud 9 reservation?" is the most important question asked during Aspen's ski season, second only to, "What's the snow forecast?" North America's preeminent après ski party has been going strong for decades, feeling like a mix of South Beach and the Hamptons at 11,000 feet. Make sure to wear your Gore-Tex because the champagne you're looking at is about to be sprayed with a fervor typically restricted to New Year's Eve. Of the twice-daily seatings, make sure you get the 2 p.m. reservation; trust us, you want to close the place out…
Access by: Ski-in/ski-out.
Located just 11 miles from downtown Aspen and past the historic ghost town of Ashcroft sits the Pine Creek Cookhouse, a year-round destination for hikers and snow adventurers alike. The Cookhouse is focused on Roaring Fork Valley cuisine that's local, seasonal and responsibly raised. Don't miss the Buffalo Momos,  Nepalese-style dumplings served in a spicy roasted tomato sauce with ponzu.
Access by: Cross-country ski, snowshoe, or horse-drawn sleigh ride. Hike in the summer months.
Nestled within the peaks and valleys of Beaver Creek are three venerable cabins, each with their own unique spin on alpine cooking. With laid-back yet refined vibes, akin to a Ralph Lauren store with a kitchen, Beaver Creek's dining options aim to please.
Found along a gently sloping meadow at the base of Larkspur Bowl, the menu at this luxurious log cabin hideaway is one of Colorado's culinary delights. The former home of pioneer farmer Frank "Beano" Bienkowski, begin your evening with an open-air sleigh ride through Beaver Creek's iconic Aspen groves culminating in a five-course feast for the senses. There is no better place to enjoy Colorado lamb.
Access by: Open-air sleigh pulled by a snowcat.
Perched high above Bachelor Gulch, Zach's is Rocky Mountain fare at its best. Bask in the beauty of the Gore Range while sipping on vintages from a cellar bearing over a decades' worth of Wine Spectator "Best Of" wins. Oh, you'll also be feasting on a rack of lamb, prime beef cuts and elk chops.
Access by: Open-air sleigh pulled by a snowcat.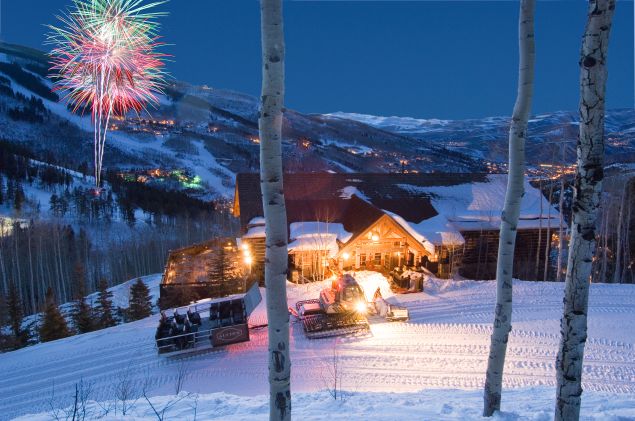 Looking for a dining experience more suited to families? Look no further. Allie's Cabin treats the adults in your party to a three-course buffet dinner complete with children's favorites. Be sure to check out the floor-to-ceiling stone fireplace for the best seats in the house.
Access by: Open-air sleigh pulled by a snowcat.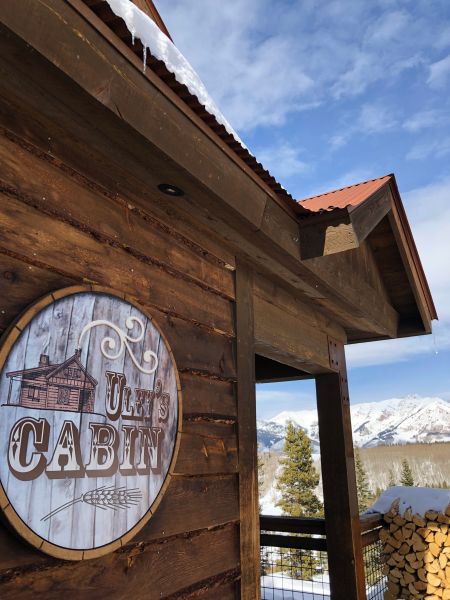 Open for both lunch and dinner, Uley's brings a bit of French flair to Colorado's culinary landscape. Lunch is à la carte, with offerings ranging from charcuterie and salads to wild boar. A five-course dinner prix-fixe menu caters to an even more refined palate. If you're visiting during the day, you can't miss the exterior ice bar, located on the deck overlooking the valley.
Access by: Ski-in/ski-out for lunch. Open-air sleigh pulled by a snowcat for dinner.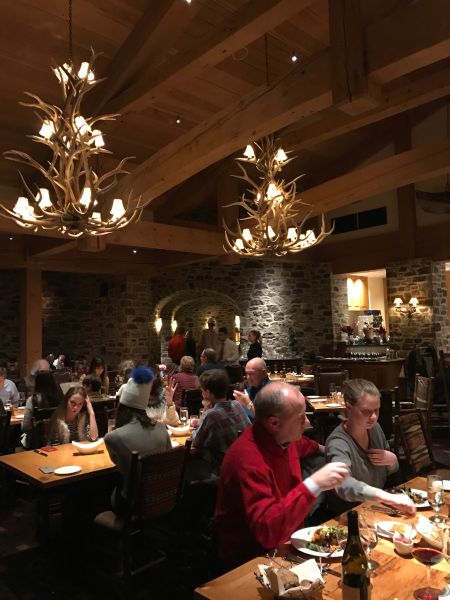 Perched 10,551 feet atop the Southern San Juan Mountains is Allred's, Telluride's flagship dining experience. Accessible only by the village gondola, the restaurant features breathtaking views overlooking the twinkling lights of the town below. Let General Manager Mario Petillo welcome you to an innovative, contemporary American dining experience featuring a bounty of locally-sourced ingredients and a robust wine list.
Access by: Gondola.
At nearly 12,000 feet, this quaint European hütte boasts the highest altitude fine dining restaurant in North America. Under the watchful eye of Chef Nicola Peccedis, whether you choose the world-renowned grilled cheese with Colorado camembert and house-made pesto for lunch or the five-course Italian Alpine dinner, your taste buds will thank you.
Access by: Ski-in/Ski-out during the daytime. Snow-coach for dinner.
Four Seasons Vail – "Steak Out" Dining Experience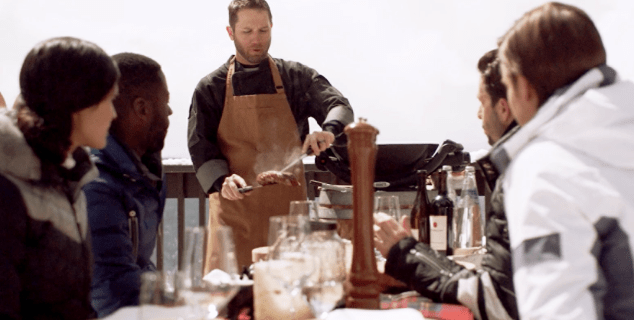 This one-of-a-kind offering provides a luxe take on the traditional mountain picnic—especially when it's the Four Seasons culinary team packing your lunch. Allow Executive Chef Marcus Stewart to cook his signature Flame steaks atop the mountain.
Access by: Ski-in/ski-out.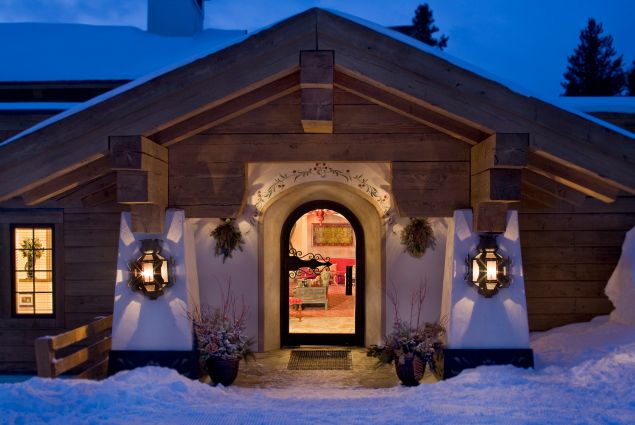 Located in Vail's epic Game Creek Bowl, this European chalet was rated one of OpenTable's top ten restaurants in Colorado on OpenTable as well as the AAA Four Diamond Award. Whether you order the traditional four-course menu or splurge on their truly unique five-course menu at the chef's table, you can do no wrong at Game Creek.
Access by: Snowcat in the winter. Hike or four-wheel drive shuttle in the summer.
MONTANA
Lone Mountain Ranch – The Sleigh Ride Dinner
Step back in time for a ride on your very own horse-drawn sleigh. After a twenty minute ride through the magical Montana wilderness, you'll arrive at the North Fork Cabin, where smoke billows from the chimney and the team inside have been working for hours—without electricity—preparing for your arrival. Armed with only oil lanterns and a century-old wood burning stove, this meal is one of the most unique any skier could hope to experience. Power down your phones and enjoy.
Access by: Horse-drawn sleigh.
UTAH
The Fireside Dining experience centers around four courses cooked served in four stone wood-burning fireplaces. Expect raclette, alpine favorites like stews, elk tenderloin, pork Osso Bucco, a roasted leg of lamb that dangles over hot coals, and, to finish, a chocolate fondue station. Did we mention it's all-you-can-eat?
Access by: Drive.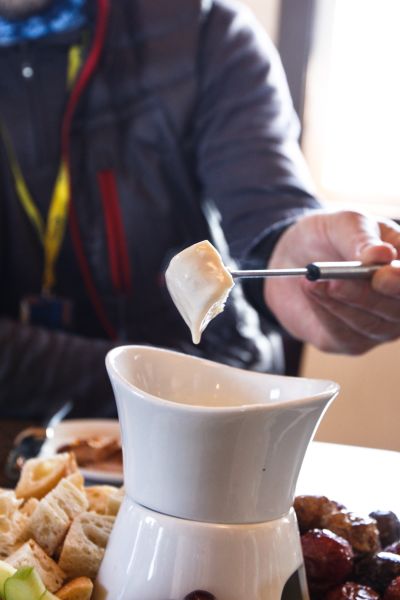 Ideal for a day off from hitting the Park City slopes, this lunch-only guided snowshoe tour from the Red Pine Gondola is the perfect "down day" activity. Take in the beauty of the wilderness before indulging in a gourmet lunch of homemade fondue, paninis and souvlaki while enjoying the best views on the hill.
Access by: Snowshoe.
WYOMING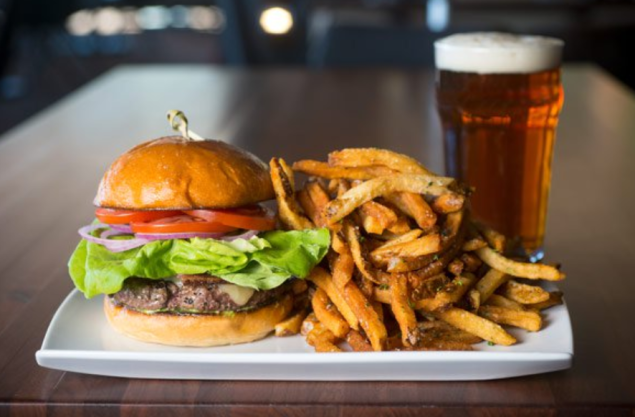 Entering its third winter, Piste has carved out a niche with tourists and locals alike. Featuring Rocky Mountain cuisine from proud purveyors like Vertical Harvest and Lockhart Cattle Company, the bistro-style lunch-only menu features can't-miss favorites like warm cheddar biscuits, rosemary chicken, French Dip, skirt steak salad and a crock of house-made chili that could feed a family of five.
Access by: Gondola.
Head to Mr. Luxury Ski for even more luxurious alpine options of all sorts.