Skinnygirl mogul and Real Housewives of New York City reality star Bethenny Frankel is taking on yet another title, as she's finally found someone to take her Soho loft off her hands. You can now call her a landlord.
The television personality has been attempting to part with the two-bedroom, 2.5-bathroom Mercer Street condo since February 2017, when she listed it for sale for $5.25 million. She didn't have much luck with the listing and cut the price down to $4.5 million, while simultaneously offering the 2,392-square-foot abode as a $13,500 a month rental.
The temporary leasing option must have been more appealing to prospective occupants, as Douglas Elliman confirmed to Observer that the apartment is being rented out, though it's not clear precisely how much the new resident is paying. The unit is temporarily off the sales market, but we expect it'll return after the lease ends—unless the inhabitant decides they simply can't depart the fashionably outfitted space, which Frankel stylishly renovated upon moving in.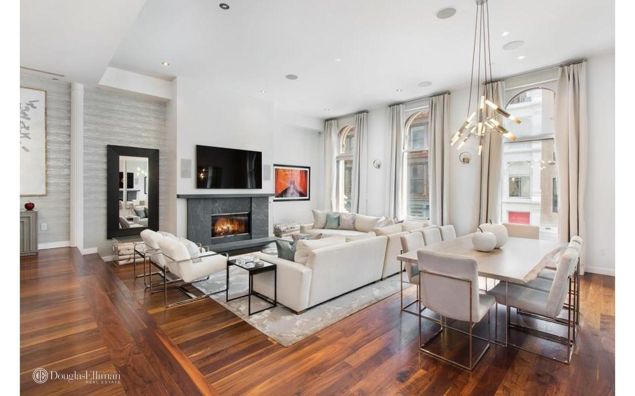 Frankel paid $4.2 million for the apartment in October 2014, after moving out of the Tribeca home she shared with now ex-husband Jason Hoppy. The apartment features 14-foot ceilings, a wood-burning fireplace and a private balcony, per the listing Douglas Elliman broker Raphael de Niro shared with Sara Dai.
The good news of a renter must have been well-received by Frankel, who recently returned from a much-discussed trip to Colombia alongside her RHONY castmates, in which there was an incident aboard a boat when an anchor reportedly got stuck and the engine caught fire.
Even though this particular home venture didn't go quite as smoothly as Frankel may have hoped, she's proven to be quite adept at the real estate game. She sold her Tribeca apartment in just one day, and she owns an impressive collection of Hamptons homes, too, including a Bridgehampton investment property that she acquired in December 2017.
Frankel's real estate moves are now being chronicled on Bethenny & Fredrik, alongside those of her pal and top Elliman broker, Fredrik Eklund. The reality TV show debuted on Bravo earlier this month.