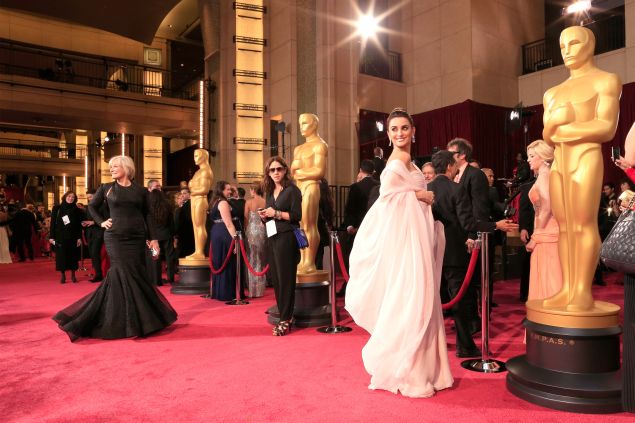 The Academy of Motion Picture Arts and Science will present their Oscars for the 90th consecutive year on Sunday, March 4, to an estimated worldwide audience of over one billion people. During the ninety years of presentations, the responses of "oh really, her again?" or, "how could they not pick him?" have far outweighed comments that any win was deserved or earned. You can't please everyone. For every winner there has to be a number of non-winners or, another way of putting it: losers. It starts even at the nomination level. This year has been no exception. 2018's biggest snub has to be the fact that The Boss Baby, an animated film with the voice of Alec Baldwin, received more nominations than Tom Hanks, zero to one. But while that might be minor in the scheme of things, other snubs in history have been huge.
Take for example the 1964 film Becket, starring two of the British Empire's greatest English-speaking actors, Peter O'Toole and Richard Burton. Both men were nominated for the Best Actor award and neither won. But that is not the tragedy here, the tragedy lies in the fact that between these two actors, they hold the record for having compiled a total of fourteen Best Actor nominations without one single victory. O'Toole garnered eight noms, and Burton had six. To add insult to this injury, Richard Burton was also nominated for a Best Supporting Actor award in 1952 for the film, My Cousin Rachel, for which he did not win, either, making the total fifteen nominations with zero wins between them.
The ladies are not to be outdone, either. Take the case of Scottish-born Deborah Kerr, a wonderful actress, on whom, in 1994, the Academy bestowed an Honorary Academy Award citation, calling her "an artist of impeccable grace and beauty, a dedicated actress whose career has always stood for perfection, discipline and elegance." Deborah Kerr was nominated six times for the Best Actress Award. She never won. She holds the record of most Best Actress nomination with never having won. Thelma Ritter shared the same fate, only as the women with the most Best Supporting Actress nomination without a win, totaling six. There was no honorary award for Thelma.
Sharing the stage with Deborah Kerr and Thelma Ritter is one of the finest actresses ever, Glenn Close. Add her name as a share holder of the title, "actress with the most nomination without a win." A Connecticut Yankee in the spirit of Katherine Hepburn, Glenn Close has been nominated three times as Best Actress, and three times as Best Supporting Actress. Still active, Close at least still has a shot at ridding herself of this dubious distinction.
Here is a quick quiz: only one of the following has an Oscar on the mantle at home: Cary Grant, Sigourney Weaver, Alfred Hitchcock, Meg Ryan, Sean Connery. Who is it?
If you guessed Cary Grant, you'd be wrong. The same with Meg Ryan, Alfred Hitchcock and Sigourney Weaver. Sean Connery won his Best Supporting Actor Oscar in 1988 for his role in The Untouchables.
Films, too, have received the famous Oscar snub. Lady luck did not blow on Steven Spielberg's dice at the 1985 awards ceremony. Even though he was not nominated as Best Director for his film that was nominated as Best Picture; his cast in the ground breaking, The Color Purple, was nominated for eleven Academy Awards in ten categories, including Best Picture, Best Actress (Whoopi Goldberg) and two Best Supporting Actress nods for Margaret Avery and Oprah Winfrey. The film was shut out of all eleven nominations. However, it only ties for this prize with director Herb Ross' The Turning Point. That 1977 battle of the bitchy ballerinas starred Shirley MacLaine and Anne Bancroft, who were both nominated in the Best Actress category.
Finally, there is the case of Mutiny On the Bounty. This 1935 sea epic directed by Frank Lloyd starred Clark Gable as Fletcher Christian, Charles Laughton as the prickly Captain Bly (hiss), with Franchot Tone in a smaller role. As there was no Best Supporting Actor category at the time, Franchot was also nominated as Best Actor. This is the first and only time in the Academy's history where three male stars were nominated for Best Actor for the same film. All three performances were snubbed by the Oscar committee in lieu of Victor McLaglen's strong performance as the Irish traitor, Gypo Nolan, in John Ford's, The Informer.