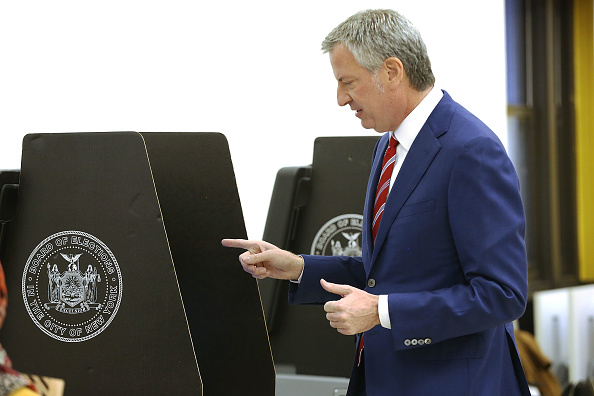 In an effort to substantially increase voter turnout and civic engagement in New York City, Mayor Bill de Blasio rolled out a comprehensive 10-point agenda that includes the city's first-ever Chief Democracy Officer (CDO) and a half-million dollar investment to fight election hacking.
During his fifth annual "State of the City" address at Kings Theatre in Brooklyn on Tuesday night, de Blasio unveiled a 10-point "DemocracyNYC" plan that includes the creation of a Charter Review Commission that will reform the city's campaign finance system and a CDO who will lead a series of initiatives to get 1.5 million New Yorkers registered to vote by 2022.
Other major elements include a $500,000 investment to protect against election hacking, a $4.3 million investment to finance a campaign to increase citywide participation in the 2020 U.S. Census and a new requirement that all commissioners and individuals who report to the mayor disclose all of their meetings with lobbyists.
And as part of the agenda, de Blasio urged Albany to undertake a series of electoral reforms, including early voting and same-day registration.
The mayor advised New Yorkers to capitalize on the momentum stemming from grassroots energy manifesting itself across the city, the state and the country.
"The moment is ripe for change, and we need to meet the moment," de Blasio said. "But we're going to have to break free of something that's broken. We're going to have to shake the foundation of a status quo. We cannot be the fairest big city in America if we have some of the most unfair and exclusionary election laws of any state in the country. We can't lead the way to a restored democratic society if our people are discouraged from voting at any turn."
His agenda, he argued, is the best way to tackle the problem.
"[It's a] simple concept that we can actually turn the tide and make our democracy in this city strong again," the mayor continued. "We're asking New Yorkers in every neighborhood to be a part of this solution."
The mayor will use his authority to appoint a Charter Revision Commission whose mandate will allow it to propose a plan for "deep" public financing of local elections. The goal, the mayor explained, is to have election campaigns be funded primarily through public dollars to reduce "the power of big money."
And de Blasio will empower the commission to come up with a proposal that will authorize city government to handle outreach efforts  that the city's Board of Elections (BOE) "has consistently gotten wrong." The board, he maintained, has yet to approve simple reforms he has proposed or accepted a $20 million offer to help them serve New Yorkers better.
His administration will also work to ameliorate the BOE's cybersecurity and invest $500,000 a year to ensure that when New Yorkers vote, they can "trust their vote will be counted"—a measure he says is necessary in light of Russia's efforts to interfere in the 2016 presidential election.
"Just this week, we learned that Russia had successfully penetrated and compromised the voter registration rolls in several states," de Blasio added. "My friends, that's not a headline from an action movie in the 1980s. It's happening here in our country right now."
And in the coming weeks, de Blasio will name the city's CDO, who will be tasked with addressing low voter turnout. In the 2017 general election, less than 22 percent of registered voters voted, compared to 55 percent in 1993, according to WNYC.
To meet the goal of registering 1.5 million New Yorkers, the CDO will work to reach all 17-year-olds in public schools who are eligible to vote in the next election—roughly 50,000 New Yorkers every year.
Starting next school year, a brand-new "Civics for All" initiative will teach public school students how to stay civically engaged.
Every public high school will also receive $2,000 to model the participatory budgeting process established by the City Council. Other plans include voter registration drives on college campuses and a citywide voter registration campaign, along with set goals for every city agency to register New Yorkers to vote.
To facilitate the process of joining a community board or running for the Community Education Council or local elected office, the city is creating an online portal that serves a "one-stop shop" with information such as how to open a campaign bank account and filling out the right paperwork.
But in order to achieve reforms, de Blasio contended, the city will need some help from Albany. Those reforms include increasing accountability and efficiency at the BOE by "empowering professional executive management" and early voting.
"It's time to say enough is enough," the mayor said. "Let's make this a place where we can vote again."
The mayor said he was "happy" that Gov. Andrew Cuomo announced a 30-day budget amendment to fund voting reforms, including early voting. The amendment provides roughly $7 million in the fiscal year 2019 executive budget for New York counties to offer early voting in the 12 days leading up to Election Day.
But he vowed to ensure it is "actually enacted in the state budget." He also urged Albany to make absentee voting easier, to allow same-day registration and to end rules that make it harder for people to vote.
Another key component of the "DemocracyNYC" agenda is an effort to provide more transparency about city officials' interactions with lobbyists.
On Monday, the city launched an updated disclosure website that enables New Yorkers to search which city officials are meeting with which lobbyists. And starting on March 1, New York City will be the only city in the nation requiring all commissioners and people who report directly to the mayor to disclose every meeting they have with a lobbyist.
The last component of the agenda was the "Get Counted" initiative, which includes a new Census coordinator to spearhead a campaign to get more immigrant and low-income New Yorkers counted in the Census, WNYC reported.
"President Trump's vastly unqualified nominee to run the 2020 Census has withdrawn his name from consideration," de Blasio said. "But the fight to make sure that every New Yorker gets counted has only just begun. Given the Trump administration's views of our rich diversity, we must work twice as hard to get a fair shake."
SaveSave
SaveSave