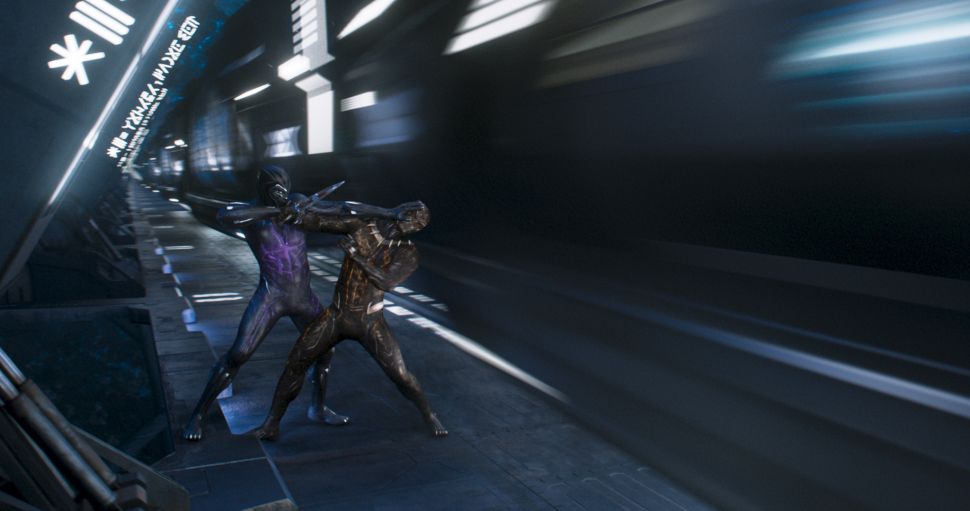 Why does anyone still underestimate Marvel's unparalleled power at the box office?
When the first tracking numbers for Black Panther's opening weekend came out in early January, industry insiders were projecting "just" $80 to $85 million. Immediately, we argued that was a lowball estimate. When additional numbers came out a few weeks later, analysts had upped their projections to $120 million, which we still thought was too low.
Now, with just a few days until the movie hits theaters, Hollywood's leading tracking service, NRG, estimated that Black Panther will earn at least $165 million domestically in its opening weekend, per THR. All praise be to Wakanda, pre-release hype and the long President's Day weekend.
If NRG's estimate is accurate, it will mark the Marvel Cinematic Universe's (MCU) biggest non-sequel solo movie opening and one of the top first frames in superhero movie history.
As of now, the top five are as follows: Marvel's The Avengers ($207.4 million), Avengers: Age of Ultron ($191.2 million), Captain America: Civil War ($179.1 million), Iron Man 3 ($174.1 million) and Batman v Superman: Dawn of Justice ($166 million).
The stylish and unique-looking Black Panther has been generating hype ever since it released its first teaser last year.
Though Wesley Snipes' Blade holds the honor of being the first blockbuster superhero movie to feature an African-American lead, Black Panther is the first modern film to do so and the first to be shot with a predominantly black cast and crew.
Director Ryan Coogler (Creed), 31, has kicked his career off with quite a bang over the last couple of years and elevated his game yet again this time around. Given the buzz surrounding the MCU's 18th feature, many are eagerly awaiting word on what Coogler will do next.
Black Panther currently boasts a 97 percent on Rotten Tomatoes and has been receiving stellar reviews from critics across the board. It stars Chadwick Boseman, Lupita Nyong'o, Michael B. Jordan, Daniel Kaluuya, Letitia Wright, Winston Duke, Angela Bassett, Forest Whitaker, Martin Freeman and Andy Serkis.