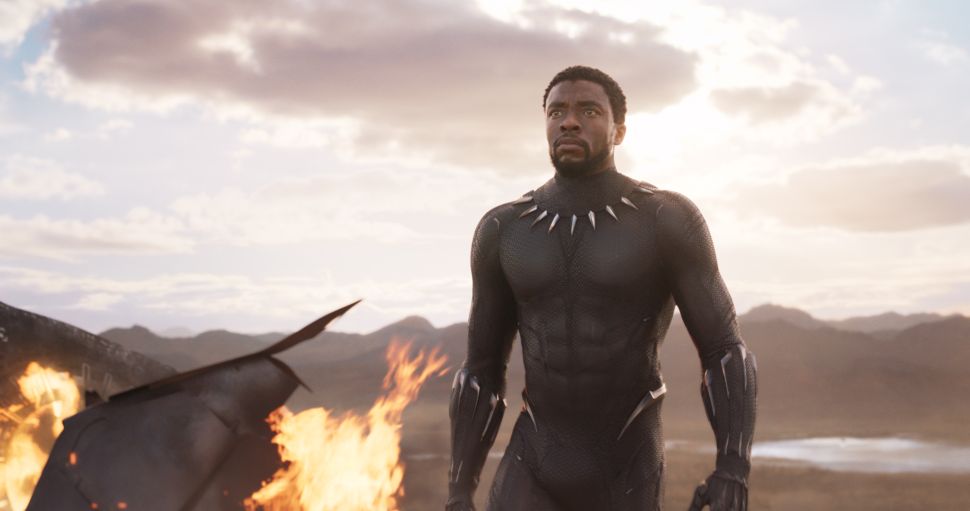 All hail King T'Challa of Wakanda.
Disney-Marvel's Black Panther is showing absolutely zero signs of slowing down at the box office, grossing an amazing $108 million to $112 million domestically, which is good for the second-highest second weekend ever behind only Star Wars: The Force Awakens ($149 million).
In just 10 days, Black Panther—starring Chadwick Boseman and directed by Ryan Coogler—has grossed $400 million domestically, the fastest film to reach that benchmark save The Force Awakens.
Worldwide, the superhero adventure has already taken in $704 million. Having topped the second weekend of 2012's The Avengers ($103 million), which is the highest-grossing MCU film to date at $1.51 billion, many are wondering just how large Black Panther's grosses can grow.
Cha, meet ching.
In its second weekend, the film dropped just 46 percent, proving to be a cross-demographic repeat viewing hit. Consider, many industry insiders lost their minds when Batman v Superman: Dawn of Justice and Star Wars: The Last Jedi dropped around 68 percent in their second weeks. But Black Panther is connecting with critics and fans alike with an A+ Cinemascore and a 97 percent rating on Rotten Tomatoes.
Most importantly, the movie's success is blazing a path forward for the Marvel Cinematic Universe (MCU).
Recently, we asked ourselves if the MCU could survive after 2019's Avengers 4, which will fulfill the contracts of the main roster of stars (Robert Downey Jr., Scarlett Johansson, Chris Evans, Chris Hemsworth, Jeremy Renner, Mark Ruffalo). Marvel Studios head Kevin Feige had been preparing for this eventuality by introducing new heroes in movies such as Ant-Man and Doctor Strange, but neither was quite as celebrated as the core characters.
Common sense dictated that the MCU would position Tom Holland's Spider-Man as the Avengers centerpiece moving forward, especially after Homecoming's $880 million worldwide gross. The character is Marvel's most popular of all time, after all.
But Holland's age and the complex deal Marvel Studios struck with Sony to share the character rights complicate that possible route.
Given the massive mind-blowing success of Black Panther, however, Marvel may have found the heir-apparent to Tony Stark and Captain America as this shared universe's foundational property.
Just look at some of the records the film is breaking at the box office (per Forbes) and try to tell us it hasn't captured the cultural zeitgeist:
Smallest second-weekend drop for an MCU movie (46 percent);
Second-best hold for a $200 million-plus opener (did not drop over $100 million between weeks one and two);
Second-biggest non-opening weekend ($108 million to $112 million);
Second-fastest to $350 million North America (nine days);
Second-fastest to $400 million domestic (10 days);
Second-biggest 10-day total ($404 million).
Demographics of the second-weekend audience were: 33 percent African-American, 37 percent Caucasian, 18 percent Hispanic, seven percent Asian and five percent others, according to comScore. You'd be hard-pressed to find another blockbuster that appeals to such a variety of moviegoers.
Black Panther also opens the door for a more diverse slate of Marvel movies moving forward.
The Brie Larson-led Captain Marvel will be the MCU's first female-led feature, and now that Disney has purchased 21st Century FOX (FOXA), fans are clamoring for a Storm solo movie given the character's second-rate treatment over the years. A Blade revival also remains a distinct possibility.
All in all, Black Panther is a smashing success for the MCU in the here and now but also a roadmap to sustained viability long past the retirement of the current roster of Avengers.