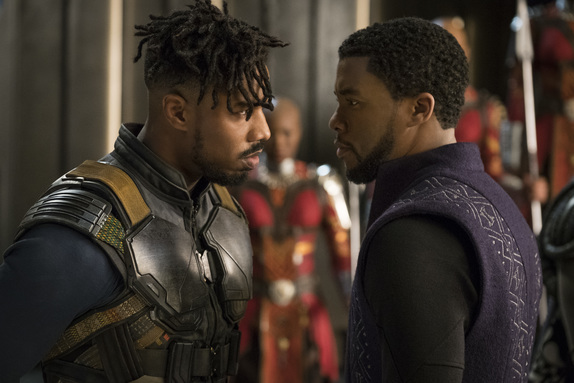 You may not know it, but Ruth E. Carter is the mastermind behind some of your favorite on-screen looks from the past, present and future. Her list of credits starts with Do the Right Thing; includes titles like Meteor Man, Selma, and Lee Daniels The Butler; and has earned her Oscar nominations for Amistad and Malcolm X. Her attention to detail rivals few. So when she turned her eye to crafting the costumes for Marvel's Black Panther and its Kingdom of Wakanda, she drew on her background working across past and hypothetical future time periods ,and combined it with a heavy dose of out-of-the-box thinking, to create what she succinctly described to Observer as "indigenous future-fashion." 
Wakanda might be a fictitious kingdom, but everything you see on-screen in this eagerly-anticipated movie has been meticulously researched by Carter and her team. For Carter, though, this was a project like none other. "I've never seen my work on this level. I've done some pretty special projects with some pretty special people, but this genre is so much bigger," Carter said. This job included the all-important task of refining the Black Panther suit, which first appeared in Captain America: Civil War, for a slicker aesthetic and better performance for Chadwick Boseman, who has the honor of wearing it. In the film, it's Black Panther's sister, Shuri, making these adjustments. Behind the camera, it was Carter and the visual development team.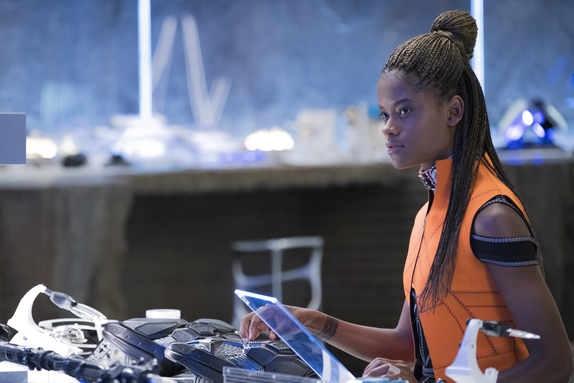 The technologically advanced people of the Wakanda, fictionally located in East Africa, are untouched by colonialism. Their costuming represents a celebration of African history merged with contemporary design movements. To find reference points for what she wanted to create, Carter divided up her team. "One section was Afro-futurist, another section was Ancient Africa and then another section was just the Marvel Universe and Black Panther." 
The vivid color palette of Black Panther is a striking aspect that forms a bond between indigenous clothing and contemporary influences. The bold red uniform of the Dora Milaje—the all-female secret service style bodyguards sworn to protect the king—instantly stood out when the first teaser was released during the NBA finals last year. The red armor they wear is one of several costumes incorporating sacred geometry patterns, and the color, beading, neck rings and arm pieces incorporate clothing traditions of the Maasai and Ndebele people.
Danai Gurira plays Okoye, head of the Dora Milaje. She takes a step out of her clothing comfort zone while on an assignment with T'Challa (a.k.a. Black Panther) and Wakandan spy Nakia (Lupita Nyong'o). Switching out red armor for a crimson colored gown, she still needed the elegant dress to be practical for an action sequence atop a moving car. Creating a design that would fit the character's needs took some testing. "We put a stunt girl on top of the car in a prototype," Carter said. "The car drove around a parking lot; we just needed to see how dynamic we could make that dress move."
Nakia is from the River Tribe, which is why green is repeated throughout her costuming. During the undercover casino scene (for which Carter cites James Bond for inspiration) she is meant to look like an African heiress. This gown was developed using similar methods as the Black Panther suit; taking a Kente pattern and printing it onto a Eurojersey fabric. Nakia appears elegant, but ready to "kick some ass." The palette of this scene also delivers a strong visual motif, nodding to the colors of the Pan-African flag. Carter explained that director Ryan Coogler—she refers to him as a "modern day revolutionary"—wanted this casino entrance to "be red, black and green." T'Challa's wears "a panther-esque black motif" to make up the third part of this striking image.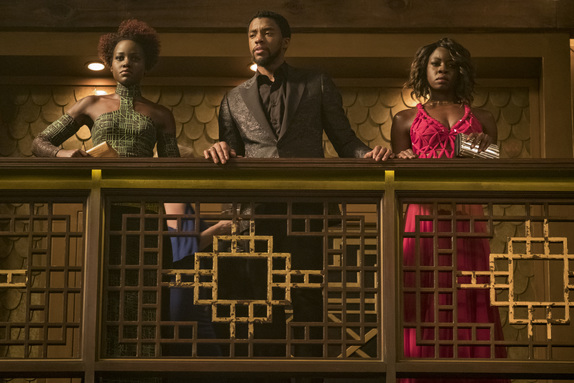 For T'Challa's costume evolution, the focus was to make him become "more elegant as he took over his role of king" Carter said. "He needed to be fashioned as a leader, so you didn't want anything to be out-of-place. You wanted to keep everything very simple." On the other end of the scale there is Erik Killmonger (Michael B. Jordan) in cargo pants, boots and a shearling-lined jean jacket. Carter explains the influence for his look "was rooted in Oakland—definitely part of Americana."
If the costuming for the Dora Milaje army is a mix of ferocity and femininity, then T'Challa's sister, Shuri, is a young princess ready to show off her tech prowess. Carter opted for a quirky sartorial look for Shuri. "I looked for fabrics that were techy, so I used a lot mesh and I combined it with leather." Carter added that "Ryan Coogler wanted her to have a serious sneaker game."
Carter estimates that ninety percent of the pieces were custom-made. Innovative 3-D printing technology was used to make some of Queen Romonda's (Angela Bassett) geometry-influenced regal attire, including a perfectly cylindrical crown. Carter reached out to 3-D printing fashion expert Julia Koerner at U.C.L.A. and explained exactly what she was after. "I gave her a Zulu hat that the South African Zulu married women wear and I said 'this hat cannot look like it is hand done.'" When the pieces arrived it was like "opening the greatest present on Christmas Day."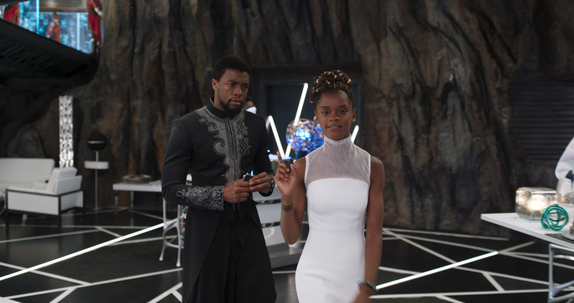 Iconic designers such as Yves Saint Laurent and Issey Miyake influenced aspects of the costume design, but Carter also looked to contemporary brands such as the knitwear company MaXhosa by Laduma for color inspiration. Scouring eBay resulted in one of the few non-custom pieces: a woven leather Burberry trench from the Fall 2012 collection, worn by Okoye when out on a mission.
Black Panther hits theaters in the middle of Black History Month, and the significance of this was important to Carter. "We may not know where exactly we come from, but we know we come from Africa. This is a way for a lot of people to see it in a light that they can take pride in and they can embrace," Carter said. "And this way, when we say we use the Maasai as our inspiration and you see this beautiful costume, you might want to go and look at the Maasai and see how they live today. See how they lived yesterday and go back into your history. I feel it will inspire the masses to take a second look—take a look again."