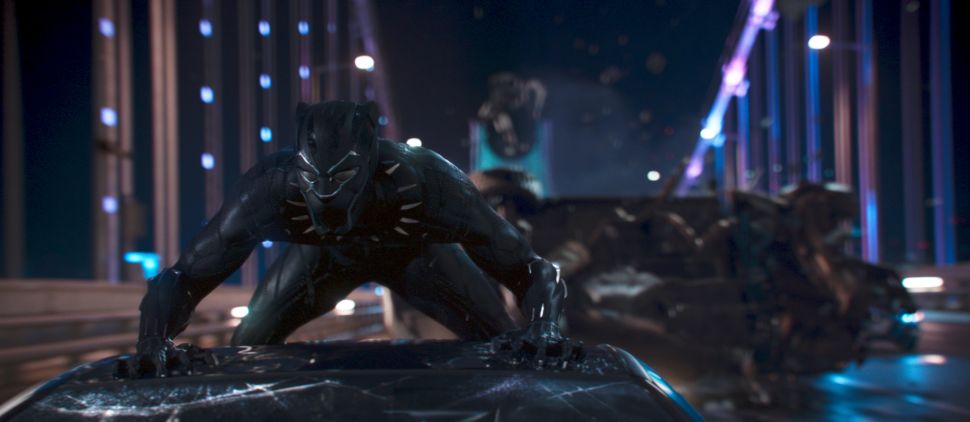 This is why we can't have nice things.
Remember when a small but overly vocal contingent of moviegoers decried Disney and Lucasfilm's Star Wars: The Last Jedi for not being precisely what they wanted out of a Star Wars film? Well, those losers went out and started an alt-right Facebook group that attempted to bring down the Rotten Tomatoes score for The Last Jedi.
Now, they're taking aim at Marvel's Black Panther.
Despite glowing early reactions to the film and mounting box office potential, the "Down With Disney's Treatment of Franchises and its Fanboys" Facebook group has created a new event titled, "Give Black Panther a Rotten Audience Score on Rotten Tomatoes."
Too much free time, meet the angry internet.
[protected-iframe id="ffe84742dd98e801841370b32a63bf7a-35584880-125099115″ info="https://giphy.com/embed/p5lVKWNGaAtcA" width="480″ height="204″ frameborder="0″ class="giphy-embed"]
"Given the massive success of the audience review rigging on the Rotten Tomatoes site for 'Star Wars: The Last Jedi,' and due to the sudden rise in those disgruntled with Disney business practices, among other factors, especially due to the corporate manipulations which created falsified bad press for the DCEU [DC Extended Universe], I feel that it's time to strike back at all those under Disney and bring down the house of mouse's actions for paying off the critics that hurt DC Comics on film and for other parties affected by them," wrote the event creator.
"I'll be making events like this for 'Infinity War' and the Netflix shows etc so we can rally together to truly make a difference…" the rant continued. "If you want to spread spoilers to Marvel fanboys, use this event as a platform to inform us of targets!"
As of this writing, 3,784 people are attending the event, and 1,971 have expressed interest. A similar event has also been created for May's Solo: A Star Wars Story because you might as well go whole hog, right?
The Last Jedi, released in December, currently has an audience score of just 48 percent on Rotten Tomatoes.
The alt-right Facebook group has taken credit for this low score, writing: "Thanks to friends of mine who taught me a thing or two about Bot Accounts, I used them to create this audience score through Facebook accounts created that subsequently logged into Rotten Tomatoes who rigged this score and still keep it dropping."
A direct message to the Facebook group was not immediately answered.
However, Huffington Post's outreach did receive a reply, with the moderator explaining that he was upset with Lucasfilm's introduction of more female characters, "among other things," and that Oscar Isaac's Poe Dameron was a "victim of the anti-mansplaining movement."
The outlet also reported that the moderator believes Poe and Luke Skywalker are in danger of being "turn[ed] gay" and that the male characters should be given control of the galaxy.
Black Panther hits theaters February 16.