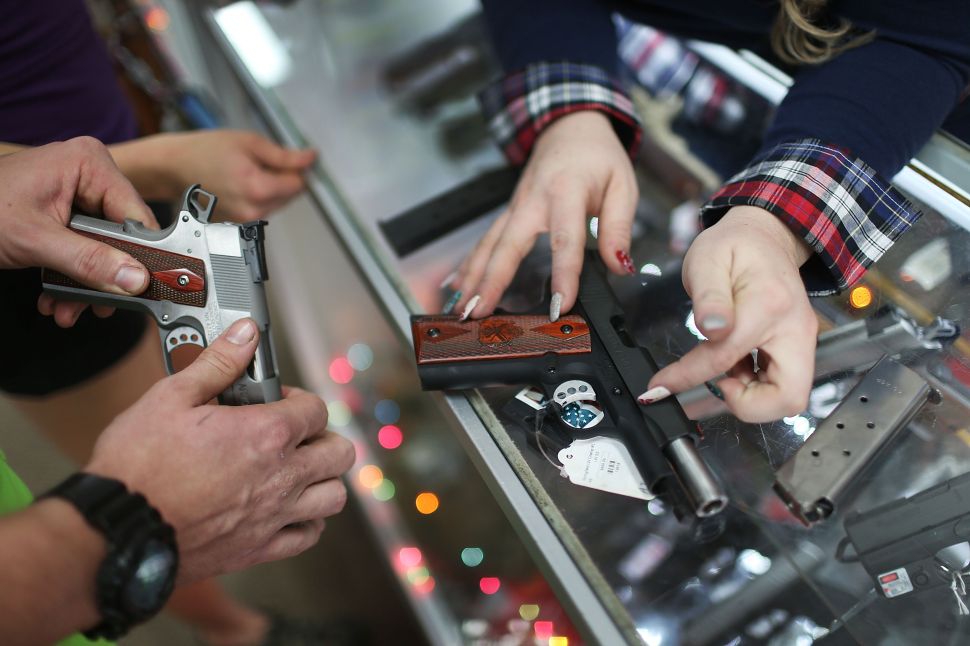 No one really knows where Bitcoin will end, but there is a growing consensus that its underlying technology, blockchain, is here to stay. Can it offer a solution to America's most baffling problem at the moment—gun violence? It's an intriguing question with very divided views.
In November 2017, Thomas Heston (not related to Charlton Heston, the former president of the National Rifle Association of America), a public health professor at Washington State University, floated the idea of tracking firearm information using a blockchain-powered database.
The implementation, as Heston drafted out in a not yet peer-reviewed paper, would be quite straightforward: Similar to how Bitcoin buyers store their digital money in a Bitcoin wallet, individuals who own or plan to purchase a gun would upload their information to an electronic gun safe, which would be tied to the person's biometric data such as a fingerprint. Then, whenever a gun was created or moved from one safe to another, the transaction would be verified and recorded on a blockchain by a distributed group of data owners.
The main benefits of this approach, Heston argues, are protecting gun owners' information from potential hacks and, more importantly, reducing firearm-related injuries, which cost the American economy $229 billion a year, according to a 2012 estimate.
A blockchain database could also improve the accuracy of background checks, which is currently performed by the FBI through the centralized National Instant Criminal Background Check System (NICS). By the FBI's own estimate, about 3,000 people pass a NICS background check each year despite being prohibited from purchasing a gun under state or federal law.
Heston's paper doesn't have a section discussing the potential downsides of the plan, but he acknowledges that adopting a new technology, especially for the government, comes with challenges.
"Like any new technology, blockchain has to be developed. One potential risk of the plan might be an initial cost of implementation," he told Observer.
"Another potential risk, I think, is a fragmented system, because you are going to have a state-by-state thing that will actually hinder the sharing of information. So, the federal government will have to take a leadership role in it," he added.
Some tech startups have already turned the idea into reality.
Blocksafe, an Atlanta-based company that provides blockchain-powered supply chain solutions, offers an application just for firearms tracking.
"Decentralized applications (DApps) can be developed in a way that greatly benefits companies in the gun industry. For example, a third-party device is created by a manufacturer. They could install a custom-built DApp onto it, so the manufacturer can easily track its inventory and distribution," Kevin Barnes, founder of Blocksafe and a U.S. Army veteran, told Bitcoin Magazine in June 2017. 
Barnes said at the time that Blocksafe was in talks with a few manufacturers and that about a quarter of them appeared interested in the application.
However, lawmakers seem to bitterly dislike the blockchain idea.
In April 2017, Arizona became the first state to pass a bill that bans the use of any decentralized technology, including blockchain, in firearms tracking. Missouri is considering a similar bill.
Nick Schroer, a state representative who sponsored the Missouri bill, said that an enhanced gun tracking system powered by blockchain may help reduce gun theft and misuse in high-crime districts, but, for most places, privacy invasion remains a major concern.
"Legislative members are still incredibly uneasy with the thought of a third party or a 'big brother' monitoring how many shots you take at different points of time," Schroer told Observer. "The individuals in Missouri whom I've talked to, whether they own guns or not, still deeply believe in privacy."
Proponents for using blockchain gun tracking apparently view the matter of privacy differently.
"I think the [lawmakers' reaction] primarily stems from misunderstanding," Heston said. "They think that people in charge of these blockchain databases will invade gun owners' privacy. But actually, blockchain provides better protection for privacy as it reduces the risk of cyber attacks."
"Enhanced firearm tech is going to continue to develop no matter what," Barnes said. "When I was following the smart-gun mandates from President Obama and his administration, all I could picture was my wife, kids and future grandkids with a weapon that some third party could share control of."
"As a programmer of 20 years and a Bitcoin enthusiast, I realized the only solution was to bring to market a network that would prevent that nightmare," he continued. "At the same time, we can use the blockchain to save lives by enhancing the very tool that has been protecting our freedom in such a way that the device owner keeps full control of the device features and data."