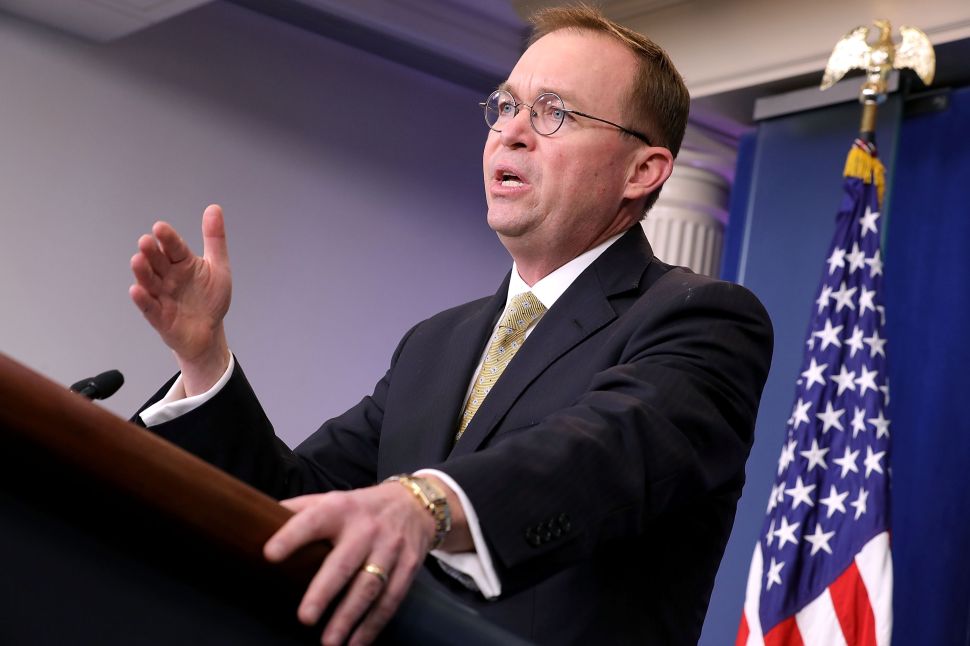 The food stamp program is just like a scrappy startup.
Or at least that's how Mick Mulvaney, director of the Office of Management and Budget (OMB), described the Trump administration's vision of food aid for low-income families at a briefing yesterday.
The White House wants to replace half of poor Americans' monthly cash benefits with a box of food. The so-called "America's Harvest Box" would include items like milk, juice, cereal, pasta, peanut butter, beans, canned meat, poultry or fish, and canned fruits and vegetables.
The Department of Agriculture estimates that it can supply these goods at about half the cost of retail, slashing costs while still feeding the hungry. This fits with President Donald Trump's proposed budget, which cuts food stamps by $17 billion in 2019 and $213 billion over the next decade.
"USDA America's Harvest Box is a bold, innovative approach to providing nutritious food to people who need assistance feeding themselves and their families," Secretary of Agriculture Sonny Perdue said in a statement.
Any household that receives at least $90 a month in food stamps would be part of the Harvest Box program—that's about 38 million people, according to CNN. Their remaining benefits would come from the existing EBT (Electronic Benefit Transfer) system.
But apart from the logistics, one particular analogy in Mulvaney's presentation raised a lot of eyebrows.
"I don't want to steal somebody's copyright, but (it's) a Blue Apron (APRN)-type program where you actually receive the food instead of receive the cash," he said.
Of course, there's a big difference between the food stamp program (which has an average cost of $1.40 per person per meal) and a meal kit startup which costs almost $10 per serving.
Blue Apron meals also feature fresh fish, meat and produce, while the "Harvest Box" only features canned items.
There's also no indication whether the boxes would be altered for those with specific dietary needs, such as vegans, diabetics or people with nut allergies.
Retailers like Walmart, which offer benefits to food stamp recipients, could also lose money over the Harvest Box plan.
Most importantly, from an economic standpoint Blue Apron's business model isn't one worth emulating.
As much as one-third of the price per box goes toward shipping and logistics, and customers have often complained about excessive packaging.
A BuzzFeed investigation also found that Blue Apron's packing and shipping facilities were filled with health and safety violations, violent incidents and unhappy workers.
This rash of scandals has led to economic woes for the company.
When Blue Apron went public last summer, it was expected to have a $3 billion valuation. Less than two weeks before the IPO, however, Amazon acquired Whole Foods, and the food tech world turned upside down overnight.
As such, Blue Apron ended up with a valuation of only $1.9 billion. The company opened with a share price of $10 (it was expected to fetch $17).
Since then, share prices have dropped to $3, and Blue Apron's market cap has plummeted to $568 million. The company was also forced to lay off over 300 people, and subscription levels dropped from 856,000 customers to 746,000 customers.
Even good news comes with a grain of salt for Blue Apron.
Today the company unveiled its fourth quarter earnings, which showed revenue had dropped by 13 percent to $187.7 million. That's actually a smaller drop than Wall Street was expecting, but it still wasn't enough to stop Blue Apron's slide—company stock was stagnant at $3.30 in morning trading.
Given this host of issues, it's strange the federal government is touting Blue Apron as a paragon of success for food stamp recipients. Meal kit startups are a terrible model for a program that's all about tightening apron strings.
Blue Apron declined to comment for this story.