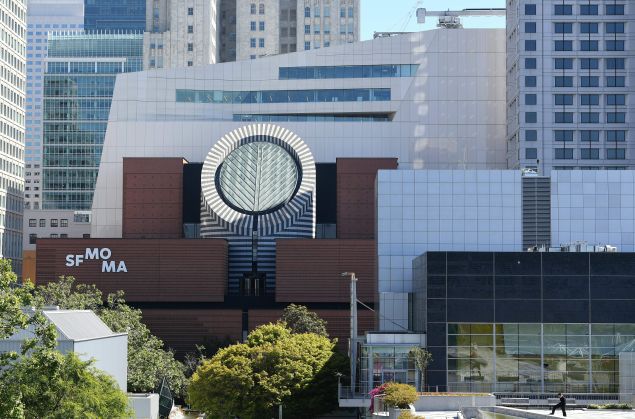 A U.S. district court in San Francisco turned back a challenge from a Bay Area Building Industry Association to Oakland's recently enacted amendment to its "Percent for Art" statute that requires large-scale real estate developments in the city to include publicly accessible works of art or pay a fee to the municipal arts agency. The February 5 ruling by Judge Vince Chhabria accepted a motion by Oakland City Attorney Barbara Parker to dismiss the association's lawsuit to stop the implementation of the city's 2015 requirement that developers of both commercial and residential properties include artwork on their sites.
That statute compels developers of commercial projects to spend one percent of their budgets on public artworks, or one half of one percent in the case of residential projects, or else pay a corresponding sum to the city for its arts programs. The law was introduced back in 2014 by council member Libby Schaaf, who shortly afterwards was elected mayor.
Because of the law, the Building Industry Association brought a lawsuit in 2015 against the city of Oakland on constitutional grounds, claiming that the municipal law violated both the First Amendment to the U.S. constitution, by requiring speech in the form of purchasing works of art, and the "takings clause" of the Fifth Amendment, which limits a public entity's ability to take control of private property for public use.
Judge Chhabria turned aside the Fifth Amendment objection, claiming that the U.S. Supreme Court has interpreted the "takings clause" as applying only when government officials sought to require something of a real estate developer regarding a specific individual property rather than a broad class of properties. He did not call the association's claim meritless, but stated that resolution of this issue "should be in the Supreme Court, not the Northern District of California."
The judge had less patience for the First Amendment objection to Oakland's law, claiming that the ordinance is not "automatically invalid simply because it involves some degree of compelled speech. Plenty of laws involve a degree of compelled speech, and only some of those trigger heightened judicial scrutiny." According to a statement released by the association in 2015, at the time that this expansion of the city's 28 year-old public art law was enacted, "the First Amendment's free-speech guarantees include the right not to give voice to someone else's message." However, Judge Chhabria ruled that "the ordinance does not require a developer to express any specific viewpoint, because developers can purchase and display art that they choose."
The requirement to include publicly accessible artwork in a residential or commercial project, or provide an equivalent amount of money to the city for its art programs, the judge claimed, has the positive goal of "improving the aesthetics within the city and bolstering real property values."
The ruling noted that Oakland "is one of at least twelve cities in California that have ordinances requiring developers to display or fund art as a condition of project approval." Among other municipalities in California requiring real estate developers to include artwork in their projects are Beverly Hills, Culver City, Los Angeles, Pomona, San Diego, San Francisco, Santa Monica and West Hollywood. The cities of Mountain View, California, Portland, Oregon and Seattle, Washington stipulate the installation of public artworks when certain zoning variances are granted.