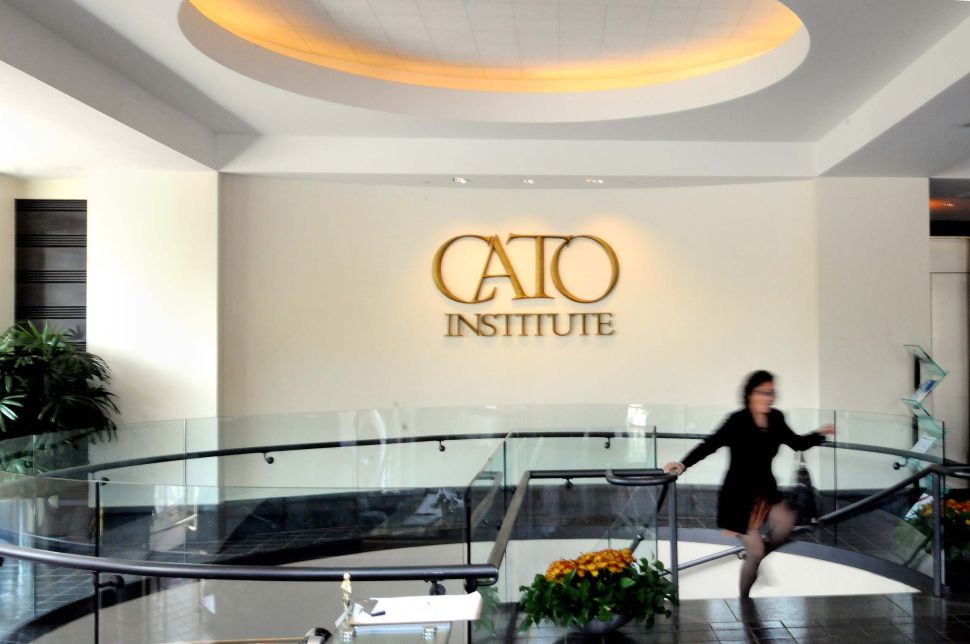 Three former Cato employees have accused the libertarian think tank's co-founder Ed Crane of sexual misconduct.
The accusations were first reported by POLITICO and detail a toxic office culture at Cato overshadowed by Crane's predatory behavior.
One woman claimed Crane asked her to remove her bra. Another former employee said he compared her breasts to pornographic images on his desktop. A third said he sent her an email on breast augmentation.
"There'd be people who'd walk in and he'd say, 'Doesn't she have great legs?'" said the woman who Crane allegedly made pornographic comparisons to. She was 25 at the time, while Crane was in his 50s. A former employee confirmed to POLITICO that she complained about Crane's behavior when they worked together.
Crane reportedly settled a sexual harassment dispute in 2012 after making unwanted sexual comments to then-Director of External Affairs Carey Lafferty. A lawyer for Lafferty confirmed that a settlement was reached, but did not specify for how much.
The settlement with Lafferty happened as Crane jockeyed for control over the institute with Charles and David Koch—who all co-founded Cato in 1977, alongside economist Murray Rothbard. Both Crane and David Koch left Cato in 2012 following infighting and the settlement, with the former receiving $400,000 annually in the years after his departure and the title of president emeritus.
"It speaks volumes that once the Kochs had the chance to take action, they gave up their stake in Cato in exchange for Ed Crane's departure," a spokesman for the Koch Brothers told POLITICO.
"I just have no comment," Crane said when asked about the settlement.
In addition to the Lafferty settlement and the three accusers who came forward against Crane, five other former Cato employees described a culture abetting sexual misconduct at the institute.
Crane was said to drink alcohol at work and frequently watch pornography in his office, even forwarding videos to male coworkers. On one instance, he attempted to unsnap the bra of a young woman at the institute's annual holiday party.
"I can remember once we had a contractor come in to present this idea for an issues campaign. And literally the minute she left, he turned to all the men in the room and went, 'Man, I'd love to have her sit on my face,'" one male former employee who worked at Cato told POLITICO.
Crane's response to the allegations?
"Hmm. Earnest, humorless journalists. Your story is chock-full of falsehoods, some of which were even 'out of earshot.' I still don't see how this sniping by unnamed former employees amounts to an article."