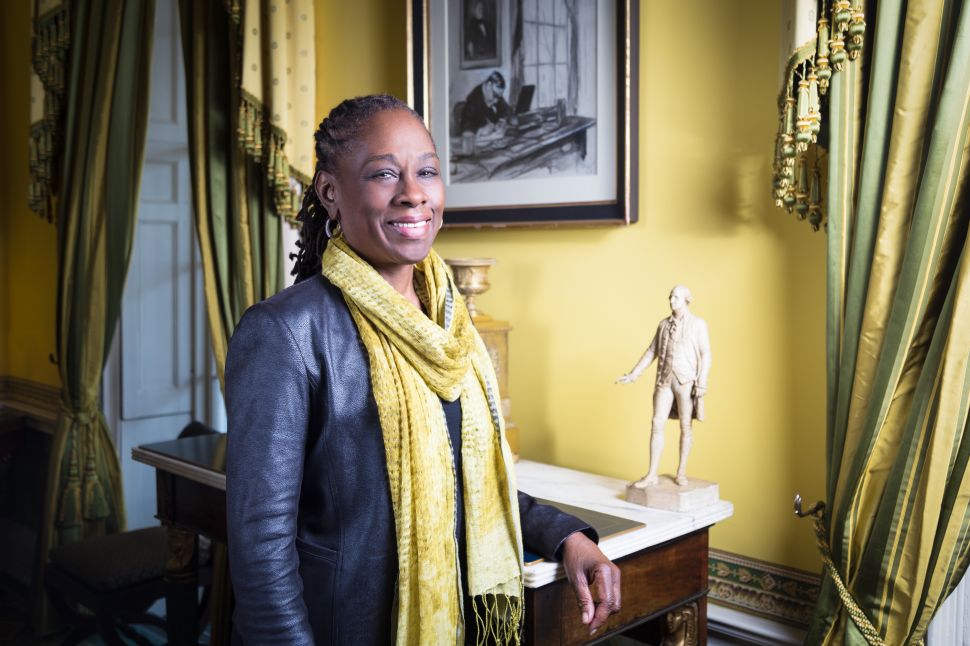 The first time Chirlane McCray stepped into City Hall, she was a 36-year-old speech writer for then-Mayor David Dinkins—the city's first and only black mayor—in the early 1990s. She recalled a "very fast-paced" environment.
"We had a lot of speechwriters," McCray told Observer in the patent-yellow parlor at Gracie Mansion on Tuesday afternoon. "Today, we wouldn't think it was a lot but back then, we thought it was a lot, and we were always busy. Mayor Dinkins would do—goodness, it was a slow day if he did five different events that required remarks. We'd have to do sometimes as many as 12 or 15."
McCray, now 63—who was sporting a light yellowish green Eileen Fisher fringe scarf and a black leather jacket—said it was the "most exciting job I have ever had" and that she learned a lot about the city "because of his movements."
It was there that she met her future husband, now-Mayor Bill de Blasio, who was Dinkins' assistant for community affairs. McCray, a poet and activist, wrote about being a lesbian in a 1979 essay for Essence magazine but has said she met and fell in love with de Blasio—whose pursuit she had initially resisted—in 1991. They married in 1994.
"Back then, we had beepers," she continued. "We didn't have cell phones… we did have word processing, but we didn't have internet. Think about it—it was a very different world."
When her husband took office in 2014, she discovered a "very different city" that included a 24-hour news cycle to which she was not accustomed. And moving to a new place, she recounted, was a "big deal."
"First term was really hard work, just much harder than I expected and part of that is because creating something is a lot more work than running it or maintaining it," McCray recalled. "It's a lot of work, and of course, the first term, you have to hire people and you have to put processes in place. And it's all new."
Fast-forward to February 2018 and McCray says she's feeling less intimidated by the job.
"Now that I've acclimated and have some routines in place and I feel more comfortable here, I think I just look forward to it just being more smooth," she said.
In 2015, McCray launched ThriveNYC, a $850 million, 54-program initiative approaching mental health as a public health challenge and tackling the stigma associated with the issue. In November 2016, the First Lady unveiled the Cities Thrive Coalition, a bipartisan group of mayors looking to develop mental health reform locally and nationally.
Her daughter, Chiara, has struggled with depression and substance abuse and her own parents grappled with depression.
And in September 2017, she launched the NYC Unity Project, a $4.8 million multi-agency effort to expand services for LGBTQ youth, including employment training, transgender health care and inclusive education.
She touted ThriveNYC and NYC Well, a 24/7 mental health hotline, as her biggest accomplishment. Another key achievement, she argued, was "redefining" the First Lady position "in terms of where I'm able to be and what I'm able to do."
McCray is chairwoman of the Mayor's Fund to Advance New York City, a n0t-for-profit organization mayors use to raise money for charitable initiatives that City Hall supports—a voluntary, unpaid position to which de Blasio appointed her in February 2014.
And she and the mayor interview all potential administration appointees together.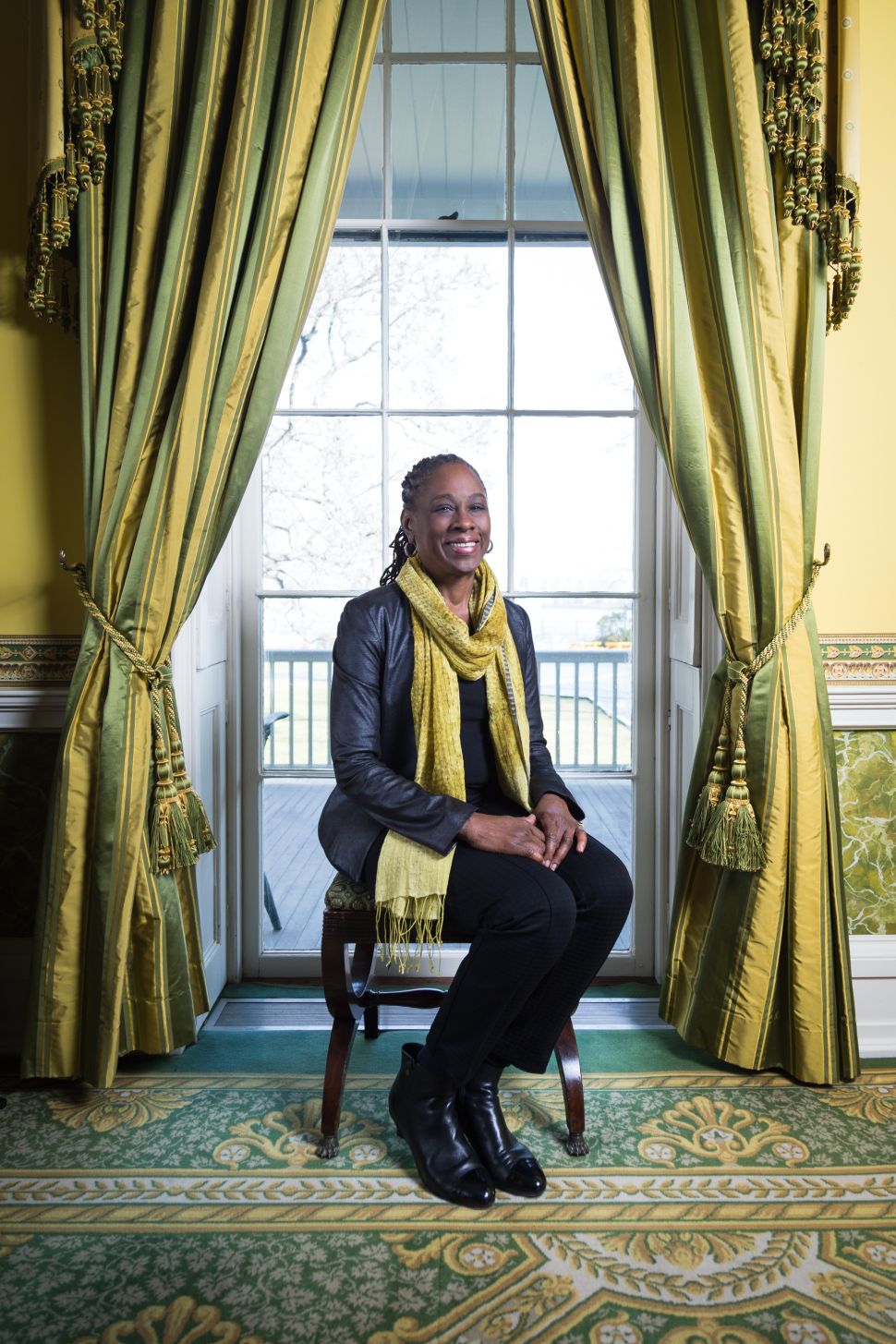 She recalled initial questions about whether she would have an office at City Hall.
"Although I am not paid, there was a lot of pushback and a lot of feeling that it's different from being a prominent part of a campaign and I was my husband's surrogate many times, many instances and I campaigned every day with him and without him and that was very much a part of my life," the First Lady explained. "But once he became mayor, it's expected that, 'O.K., you know, I step back and I do something else.'"
So, she set out to take on her own initiatives.
"I think I've been a great asset to the administration," McCray maintained. "And we know that, for example, that mental health is a very popular and prominent initiative in terms of this administration. That was not expected. That was not part of my husband's platform. That was me, and so I think that I've brought value. I'm value-added."
A year after she launched the Cities Thrive Coalition, the coalition expanded from 25 cities in 2016 to 200 cities last year.
And earlier this month, she unveiled a $6 million plan to help rehabilitate female inmates at the Rikers Island jail complex; Sisters Thrive, a national volunteer effort to promote mental health literacy in the black community; and NYCHOPE, a web-based portal for domestic violence survivors.
McCray said any new ideas will be within the framework "of what I'm already doing."
"I don't foresee anything dramatically different because what I have already rolled out is so big and ambitious, and my primary goal in the next four years is to make sure that what I've done so far is actually a success," she said.
She wants to ensure that ThriveNYC services reach the people "who need them the most."
Still, she wants to travel to bring her mental health work to the national stage.
"I'll be looking at candidates to see how they score in terms of their understanding of how mental health and substance misuse connect to the issues that they care about," McCray continued.
She also recently spoke out against Rob Porter, who resigned as President Donald Trump's staff secretary amid domestic abuse allegations by his ex-wives.
"I am thrilled that it's getting the national attention that it deserves because it is something that I started working on in the '70s and to see that finally, that women's voices are being heard, that people are paying attention…" the First Lady added. "It's directly related to the #MeToo movement."
Despite her busy schedule, McCray insists she's still having fun.
She told Observer that her favorite authors are the late American science fiction writer Octavia Butler and Nigerian novelist Chimamanda Ngozi Adichie and that she enjoyed reading American historian David Oshinsky's Bellevue: Three Centuries of Medicine and Mayhem at America's Most Storied Hospital. She also plans to read Ghanaian-American novelist Yaa Gyasi's Homegoing and American novelist Colson Whitehead's The Underground Railroad.
"With nonfiction, I like to read about health and fiction; I love African writers and just anything and everybody," McCray said, putting her hands in the air to signal how high her stack of books is.
And as far as movies go, she saw The Post, a biopic on The Washington Post's reporting on the Pentagon Papers and wants to see Ladybird, a women-centered coming-of-age movie, as well as a screening of actress and playwright Anna Deavere Smith's Notes from the Field, which focuses on the school-to-prison pipeline.
She also said she visits the Studio Museum in Harlem at least once or twice a year.
"I don't have time for hobbies right now, but I am trying to do more reading… watch a little more TV, get to more movies, that's why I'm going to Black Panther tonight," she said, jokingly touting her social life. "I think I'm doing really well on the having fun thing!"
And the First Lady still manages to keep tabs on today's music.
"I really like Childish Gambino, and I'm just beginning to explore the new artists who are out there and I'm very fortunate to have two young people tell me who they are and what I should be listening to," McCray said, laughing.
Speaking about her children—Dante, a senior at Yale University, and Chiara, a Santa Clara University graduate—McCray said they did not have the "same level of scrutiny" as when her husband was on the City Council and public advocate.
"First of all, they're both old enough to speak for themselves and could make their own decisions about how much or how little they wanted to participate," she noted.
She contended it would have been "difficult" for her if they were younger.
"I don't think I would have been able to do the things that I've done, actually, if the children had been younger," McCray added.
At the end of her term, she hopes ThriveNYC and other initiatives are successful.
"I want people to look at Thrive, to think that Thrive really did make a difference in our city," McCray said.
And what's next?
McCray told Observer that running for office or leading a not-for-profit are both possibilities but that it is "too early" to tell.
"Well it's very exciting to think that I could have a life after this," McCray said. "It is. It's very exciting. I do think about it from time to time. It does not dominate my daily thinking because I'm very focused on what I'm doing now. I believe if I do what I've set out to do really well, if I serve with distinction, that doors will open for me later on."