Christie Brinkley opted for a duplex in Tribeca for the winter. Click through to see inside.
Town Residential
It's about 3,000 square feet.
Town Residential
Brinkley threw herself a birthday party here.
Town Residential
The bedrooms are all on the lower floor.
Town Residential
There's a fireplace and floor-to-ceiling windows.
Town Residential
One of the two terraces.
Town Residential
It was last on the market for $29,500 a month.
Town Residential
Christie Brinkley is taking a little break from the Hamptons this winter. The supermodel, who owns a number of homes out east, is presently renting a glassy penthouse in Tribeca.
Brinkley's new three-bedroom, 2.5-bathroom duplex was last on the rental market for $29,500 a month, but it looks like Brinkley scooped it up in January 2018. The penthouse is already getting plenty of use—Brinkley hosted her 64th birthday party within the 3,000-square-foot space earlier this month, reports Variety.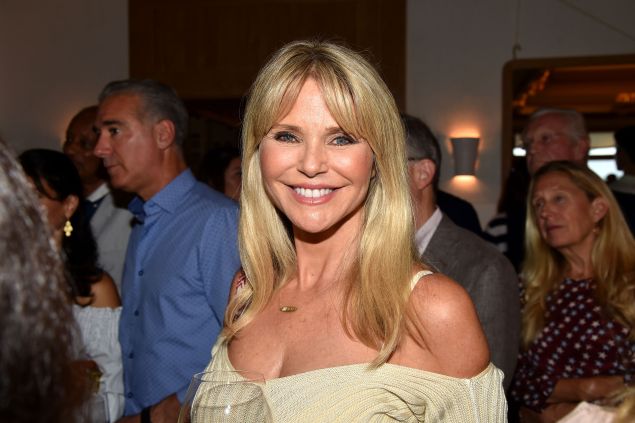 It's not too surprising that Brinkley is spending a bit more time in the city now, as her daughter Sailor is now attending college in Manhattan. Her son, Jack, and her eldest daughter, Alexa Ray Joel, also reside in New York.
Brinkley's new abode is entered via the upper level and features two terraces, a fireplace and a modern, open kitchen. The bedrooms are on the lower level, including the master suite, which features floor-to-ceiling windows and two closets, one of which is a customized walk-in. The en-suite bathroom contains a soaking tub, separate walk-in shower and a double-sink vanity. The additional two bedrooms on the lower floor of the loft are separated from the master by a downstairs den, per the listing held by Town Residential. The listing broker, Danny Davis, was unavailable for comment.
While it might not boast picturesque water vistas like her Hamptons homes, the 859-square-foot roof terrace in Tribeca does provide river views.
Brinkley still owns at least two homes in the Hamptons, both of which she's still trying to part with. Her waterfront Sag Harbor is now asking $20 million, while a Bridgehampton property she owns is listed for $29.5 million.