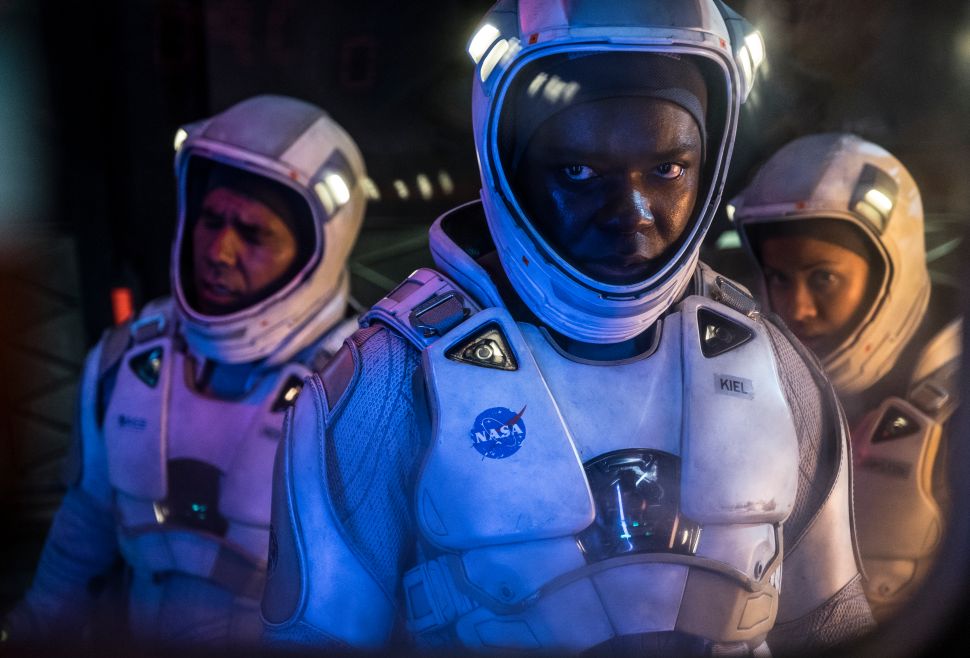 Back in January, rumors began popping up that Netflix was in talks with Paramount Pictures to acquire the worldwide rights to the third Cloverfield movie. At the time, we were skeptical of such a move for both parties. Paramount is already lacking in the franchise department, and if reports of a troubled production were true, then Netflix ran the risk of becoming Hollywood's dumping ground for bad movies.
The rumored deal called for the streamer to cover a large chunk of the film's $45 million budget and included more risk than its purchase of the international rights for the upcoming Natalie Portman eco-thriller Annhilation, a move which we celebrated.
However, no one had heard anything else about the negotiations since that first story.
Then, Netflix dropped a surprise teaser during Sunday night's Super Bowl and released the film on its platform right after. While the move stole attention away from NBC and its big This Is Us episode (comScore data shows that Cloverfield generated 41,000 social media conversations), the film itself isn't inspiring a ton of goodwill.
Here's what the critics are saying about The Cloverfield Paradox.
Forbes: "At some moments, it feels like The Cloverfield Paradox can make the same case that Lost did all the time: sure, the plot doesn't make much sense, but it's really about the characters and their emotional journeys. Except this is a movie that can't even make its mind up about that … The actors do a solid job nonetheless. [Gugu] Mbatha-Raw proves that she could be the next Sigourney Weaver if she's ever in an Aliens rip-off that doesn't let her down."
Hollywood Reporter: "A trainwreck of a sci-fi flick bent on extending a franchise that should have died a peaceful death almost exactly one decade ago … A theatrical release would likely have been disastrous for this dud; with any luck, it will be forgotten amid tomorrow's hangovers."
Thrillist: "While there are a handful of nifty sequences and good performances overall, this feels like a blown-out pilot for one of those Syfy series you always mean to get around to but never do … If this movie, either as The God Particle or The Cloverfield Paradox played in theaters, it would have been roundly booed by critics and audiences alike. But as a surprise present on Netflix, it's absolutely more than serviceable in a "bad movie night" way. I had a blast making fun of this, and I didn't spend anything on gas money or tickets"
The Guardian: "The Cloverfield Paradox is an unholy mess … Right from the start, it's hard to shake the feeling that this was a troubled production. There are unexplained plot elements, underwritten characters and messy editing choices that'll make viewers wonder if they missed something in the blink of an eye … As the film bumbles from one confusingly mounted scene to the next, disappointment turns to boredom … What the film does manage well, aside from some nifty production design, is a string of effective shock moments from the disappearance of a planet to some nasty business with a bunch of worms."
Collider: "The Cloverfield Paradox is a tepid, predictable, and largely uninteresting sci-fi film where dumb characters do dumb things and bad things happen because the script needs them to. It's a movie that's not particularly scary, interesting, or deep, but it does have good actors performing admirably … the movie is nowhere near as good as the original Cloverfield or 10 Cloverfield Lane. It's not even as good as some of the weaker episodes of Black Mirror." 
Critics similarly panned Netflix's $90 million fantasy blockbuster Bright with Will Smith, yet the film drew 11 million viewers within its first three days of release, per Nielsen data. Though Netflix should be wary of earning a reputation as the digital version of "straight to DVD," chief content officer Ted Sarandos doesn't seem overly concerned with the perceived quality of his films.
"Critics are an important part of the artistic process but they're pretty disconnected from the commercial prospects of a film," Sarandos recently told shareholders of Bright. "The way we look at it is [that] people are watching this movie and loving it and that is the measure of success. If critics get behind it or don't, that's a select group of social media influencers talking to a select audience."
General audiences have been far kinder to The Cloverfield Paradox than critics, with the film currently holding a user score of 63 percent on Rotten Tomatoes.