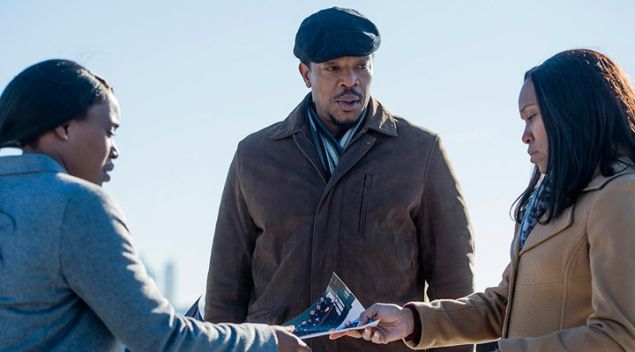 The new crime drama from Veena Sud (best remembered for Fox's The Killing) debuts on Netflix today. If you're a fan of procedural crime drama set in big cities with challenging courtroom cases and cops behaving badly, Seven Seconds is for you. If you're also interested in the ongoing conversations about criminal justice reform and race relations in America, so much the better. This show tackles it head on.
Much like The Killing, Seven Seconds centers around one crime and the lives it changes—and destroys. Assistant prosecutor K.J. Harper (Clare-Hope Ashitey) is investigating a car accident in which an off-duty white cop in Jersey City (played by Beau Knapp) hits Brenton Butler, a black teenager on a bike cruising through the park. After seeing Brenton's destroyed bike under the grill of his SUV, the cop, named Peter Jablonski, calls his squad leader instead of 911. Together, they leave the kid heavily bleeding and unconscious in the snow, and cover up the crime. But Brenton is saved, and fights for his life in the hospital with his mother Latrice (Regina King) and father Isaiah (Russell Hornsby) by his side. While the detective assigned to the case, Joe 'Fish' Rinaldi (Michael Mosley), is eager to write it off, Harper suspects there's something more going on, and becomes fixated on finding out what really happened.
Will justice prevail?
If you've been watching the real life law and order playing out in our society, you probably have doubts. For many this story is all too familiar. Philando Castile, Freddie Gray and Oscar Grant were all young, black men ill-treated by our criminal justice system. In fact, the anger Sud felt over those stories is exactly what motivated her to develop this idea. "The show was inspired in 2015 during the Freddie Gray murder trial," Sud told Observer in a phone interview. "Every night I turned on the TV and saw the Gray story, I was reminded of similar cases, and was wondering to myself 'how can this still be happening?'"
Unlike a lot of crime dramas, the show isn't really about cracking the case—we already know what happened. Watching Harper investigate is certainly important, but investigating the cultural situation of how something like this could be allowed to take place is where the real drama and heartbreak lies, because it is all too true to life. Watching Jablonski and his colleagues decide against getting Brenton medical attention, leaving him for dead, is a dark and disheartening scene to see—but essential in continuing the conversation of how we place value on bodies in our society.
"The characters and stories in this show bring truth and pain to the forefront," Russell Hornsby, who plays Brenton's father, told Observer. "It should cause people to be upset and feel and change their heart. It's our job to give the audience an opportunity to empathize."
Seven Seconds accelerates at a steady pace, and the shock factor never falters. Veterans like King and Hornby are captivating as grieving parents seeking answers, but the skill in this show is how it reveals how many other lives are rocked by incidents such as this. Michelle Veintimilla plays Jablonki's pregnant wife who throws her morals out the window to keep her husband out of jail. Newcomer Corey Champagne steals every scene as Brenton's childhood friend who is pursued for information while he deals with the reality of what has just happened to his friend. Seven Seconds may not move everyone to take the lead in this social revolution, but the hope is that it might change at least a few minds about why one is necessary.