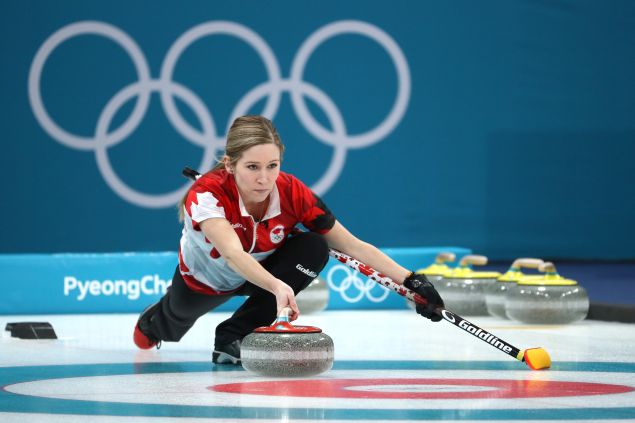 Watching Canada win the gold medal in curling's Olympic mixed doubles debut made me realize that curling and curlers hardly get the athletic respect they deserve. Leading Winter Olympic historian David Wallechinsky only compounded the "snickers" at curling, characterizing the I.O.C.'s decision to include it as "allowing non-athletes to take part in the Winter Olympics."
The mild derision continues. "A board game played on foot," Olympic journalist Ron C. Judd calls it in his book on winter sports. "When it comes to sweat, grit, daring and toil," Judd insisted, "curling doesn't measure up." Simen Hegstad Krueger's inspirational Gold medal in the 30 kilometer skiathlon will surely take its place among the legends of true grit, daring and toil. At the start of this grueling cross-country ski race, Krueger fell and was knocked in the head, damaged his poles, and lay in the snow as the rest of the skiers raced for the gold. By the time he arose and restarted his race, way behind the pack, he ostensibly raced for pride, with no chance to win. Showing extraordinary true grit—"resilience" philosopher of sport J.S. Russell calls it—he kept churning and rejoined the race, eventually catching up to the trailing pack. As the leaders played tactical games, he kept pushing, climbing back into contention, taking advantage of the leaders' collective decision to keep the pace relatively slow, until the sprint nearer to the end. Having expended so much energy to move from 63rd (dead last) to the lead, he, somehow, surged to the front and never looked back, winning easily. Surely a classic display of true grit unavailable to curlers.
So yes, compared to the agonizing physical training; pain in competing; and display of power from skaters, skiers and sliders, curlers may not seem to hold their own as athletes competing in sport.
Some reference books simply refuse to classify curling as a sport, using the more "condescending" term "game," as Judd does, lumping curling with "shooting, archery, billiards, bowling and golf."
So what is curling: A game or a sport? And what are curlers—players or athletes?
Largely abandoning as insoluble the attempt to clearly conceive the nature of game and boundary of sport, many leading philosophers embraced Bernard Suits's definition of games as "the voluntary attempt to overcome unnecessary obstacles."
Stop and think about that.
We often play by placing obstacles in our own way—limitations on movements or equipment—solely to develop skills to overcome those artificial limits and reach our goal. Suits was onto something essential.
But a painter who represents reality in a style—say a pointillist or impressionist—also voluntarily overcomes unnecessary obstacles, yet doesn't seem to be playing a game.
As these Olympics demonstrate, sports like ice dancing or figure skating (and many other judged or "aesthetic" sports) require the athlete physically to produce aesthetic movement and form. Beauty counts as truth.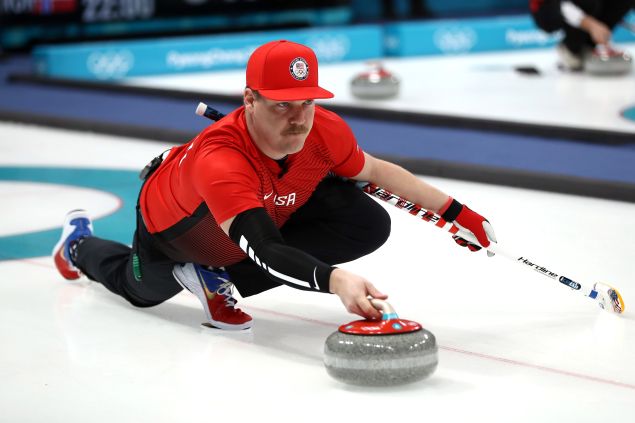 Beauty counts for nothing, however, in racing sports. Whether speed skating or cross-country skiing, whatever the medium and whether distance or sprint, time keepers or referees determine the outcome objectively, no aesthetic judges needed. It's all about who is first across the finish—perhaps in record time. Time or place is truth.
Almost everyone agrees sport requires competing athletes to physically execute moves. Some racers and aesthetic athletes, however, experience their performance as a test, more than a contest. As they perform their well-practiced, physically demanding routines, these physical contestants ignore their opponents, pay no attention to others, and stay completely within themselves.
U.S. figure skating champion Bradie Tennell skated a nearly flawless routine in the short program of the team contest. "You've shown nerves of steel on the outside, but what was going on inside your head during your first Olympic skate?" Andrea Joyce asked Tennell after her Olympic debut.
"You know, it's going to sound funny. But nothing. I did what I trained."
Tennell had worked incredibly hard to establish "muscle memory," so that she could let her mind go blank and allow her body take over in a pure athletic performance. "For any athlete, when the lights go on under the biggest pressure, you can only hope nothing is going on inside," a commentator chimed in. All body, no conscious mind. "You want to be like 'Olympics where, who? Where am I?'" Joyce concurred.
Surely a vast overstatement.
Many classic sports such as hockey, football, basketball, soccer and tennis require great athletes to constantly and consciously read and react to opponents' moves. For me, the purest sports require constant, conscious, reactive choice of move. They have a game embedded within them. Essential to most games—chess, bridge, checkers—is the idea that each player (or team) chooses moves in response to the opponents' moves. Intentions intersect, positions change, and athletes must analyze and adjust.
Not all sports have this pronounced game component.
But then, too, these games—sometimes called "mind sports"—simply don't require physical or athletic performance. The best board game player better analyzes position—seeing, then choosing the best move. The move chosen becomes the move made, automatically. The greatest world champion chess player could be paralyzed and unable to move a piece. It would not detract from the mastery. The great athlete, however, must also physically execute it—never absolutely perfectly, but hopefully well enough. Not surprisingly, the Canadian team warmed up to "get the feel of the ice." No great chess or bridge master needs a feel of the board or the cards.
Watching Kaitlyn Lawes and John Morris dominate their opponents in the gold medal curling finals, we saw athletes show their superior skill in analyzing positions, deciding the move, then physically executing those moves. They may not be super strong and super swift. Their discipline may seem at first to resembles billiards or shuffleboard, where opponents analyze positions, choose and execute their best shots.
But unlike any other game or sport I can think of, curling brings an added dimension: Having chosen and physically initiated their moves in response to the actions of their opponents, we saw curlers in real-time continue to analyze and physically adjust the stone's throw, revising their positional diagnosis and altering the move's actual course, by sweeping or not, at just the right moment with just the right vigor. It's even more challenging than it appears, for the ice must be "pebbled," with droplets spread throughout the rink allowing the stone to move and "curl."
During the course of play, the pebbled ice changes contour and the players must be sensitive to those changes and how sweeping will affect the stone's course.
Curling may not test true physical grit or strength. But let's not talk about what curling isn't, and focus on what it is. Even a most casual viewer who has never before curled or witnessed a match live can be deeply engaged in witnessing champion athletes demonstrate superiority in this blend of physical execution and strategy—the hallmark of pure sport.
Robert Blecker is a professor of Criminal Law and Constitutional History at New York Law School.