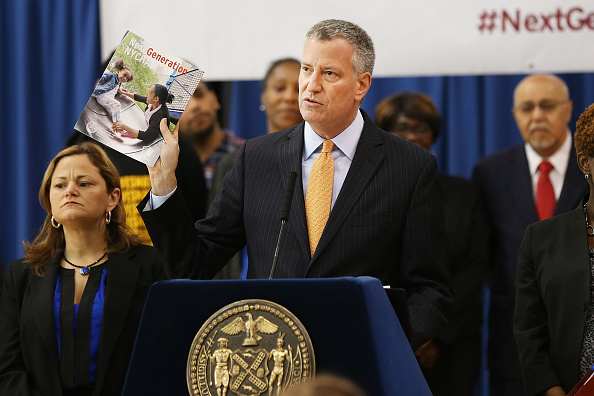 Mayor Bill de Blasio says public housing residents deserve the "very best living standard" with which the city can provide them "with the money we have" amid criticism over the failure of New York City Housing Authority's (NYCHA) boilers and heating systems.
During an unrelated press conference at One Police Plaza early Tuesday afternoon, de Blasio defended his administration's work to support NYCHA as its chairwoman, Shola Olatoye, faced tough questions about the heating systems and boilers that left residents without heat or hot water on some of the coldest days of the winter at a City Council hearing.
At the end of January, de Blasio announced that the city is investing $200 million to replace boilers and improve heating systems at 20 NYCHA developments undergoing constant outages. The renovations will be finished by 2022 and benefit about 45,000 residents.
When asked by the New York Daily News' Jill Jorgensen if public and private housing residents deserve the same living standards, the mayor said his job "is to constantly do better with what we have."
"People in public housing deserve the very best living standard we can give them with the money we have," he said.
"If you say, 'Do I want to see a society [in] which everyone has as much equality in their housing, in their income as possible?' Yes," de Blasio continued. "That's my worldview. But do I think we, in the public sector, can achieve everything that a private sector can achieve with much greater resources than the private sector? No, I don't have that illusion."
A Daily News report found that more than 320,000 public housing residents—80 percent—lost their heat or hot water at some point during the winter. NYCHA has roughly 400,000 residents. When asked if he would find such an occurrence acceptable from a private landlord, he argued the public sector has a "very different reality."
"Private sector, profit motive has an entirely different orientation and typically has a lot more resources to work with as opposed to the public sector that's here to serve people—in this case, working people, low-income people in this city," the mayor added. "We're going to serve them come hell or high water. We're going to serve them whether it's easy or not, whether the federal government sends us money or not."
In response to criticisms from NYCHA residents who have warned of previous broken promises from NYCHA, the mayor said their cynicism and skepticism is "well-earned." But he took aim at the federal government for a decrease in funding for NYCHA over the years and blasted the state for not filling the gap.
He noted "federal disinvestment in public housing" started in 1980 when the late former President Ronald Reagan was elected.
Public housing, he explained, was created on the "assumption of federal support" and that funding would grow and continue to grow with inflation over time.
"That stopped," he said. "The buildings were left, the people were left. The money started to dry up. The state of New York did not fill that gap, which is a real cautionary tale. I urge all of you when you wonder why I am such—if I can use the phrase advisedly—a harass about our surpluses and protecting our reserves, it's because we've got lots of object lessons."
And he said the $200 million investment for the boilers and heating systems brings his total commitment to NYCHA's capital infrastructure to $2.1 billion from fiscal year 2014 to fiscal year 2027 and $1.6 billion in NYCHA's operations from fiscal year 2014 to fiscal year 2022.
"Nothing even close to that ever happened in the past," the mayor maintained. "And we will keep doing that so long as the money is there."