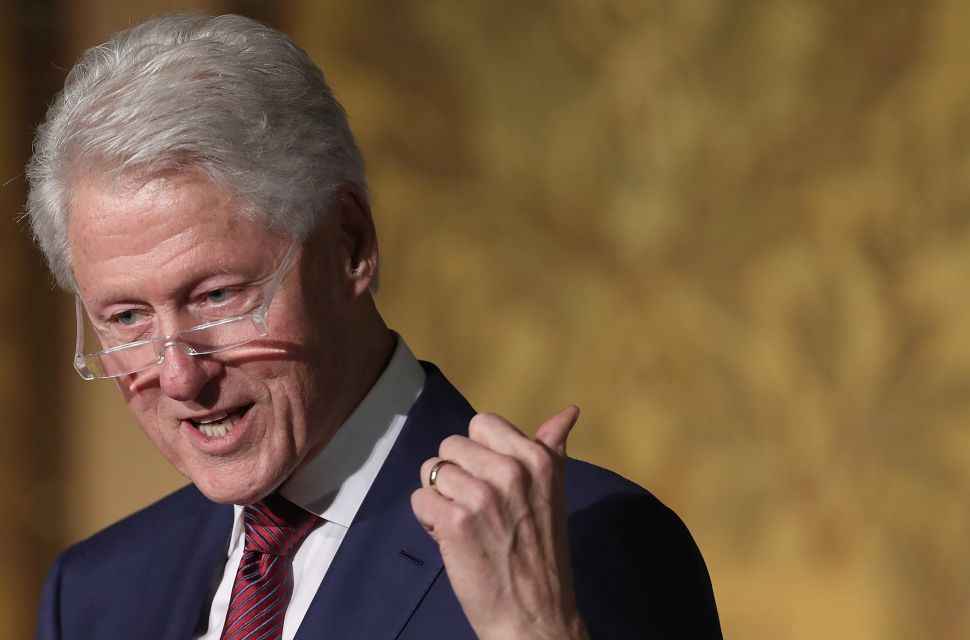 Although Hillary Clinton was hailed as a trailblazer for the women's movement, Democrats are distancing themselves from allegations surrounding her husband—former president Bill Clinton—ahead of this year's midterm elections.
"I think it's pretty tough," Rep. Pramila Jayapal (D-Wash.), vice chair of the House Progressive Caucus, told POLITICO, adding that Bill Clinton's presence "brings up a lot of issues that will be very tough for Democrats."
Bill Clinton has been accused of sexual misconduct by three women, one of whom alleges the former president raped her. Though the allegations lingered over Clinton for decades, they have been revisited following #MeToo's social upheaval against powerful men accused of predatory behavior.
As the Democratic party dealt with crises over allegations against former lawmakers Al Franken and John Conyers, Clinton's accusers returned to share horror stories involving the former president—and even stormed Franken's office in November demanding the former senator resign.
"I was 35 years old when Bill Clinton, Ark. Attorney General raped me, and Hillary tried to silence me," wrote Juanita Broaddrick over Twitter. "I am now 73….it never goes away."
Broaddrick published a book at the start of the year about her experiences dealing with the Clinton family, You'd Better Put Some Ice On That: How I Survived Being Raped By Clinton Clinton.
As Senator Kirsten Gillibrand (D-N.Y.) further builds a platform around women's advocacy—in what many are interpreting as a presidential challenge to Trump in 2020—various democratic candidates are weighing the costs of a Clinton endorsement in the #MeToo era.
"As we travel around the country… different candidates are going to be making requests for different surrogates," Democratic Congressional Campaign Committee Chairman Ben Ray Luján told reporters on Wednesday morning.
"[Bill Clinton] carried Georgia. The personal side that is now being highlighted, we'll have to measure," Georgia Democratic Chair DuBose Porter told POLITICO.