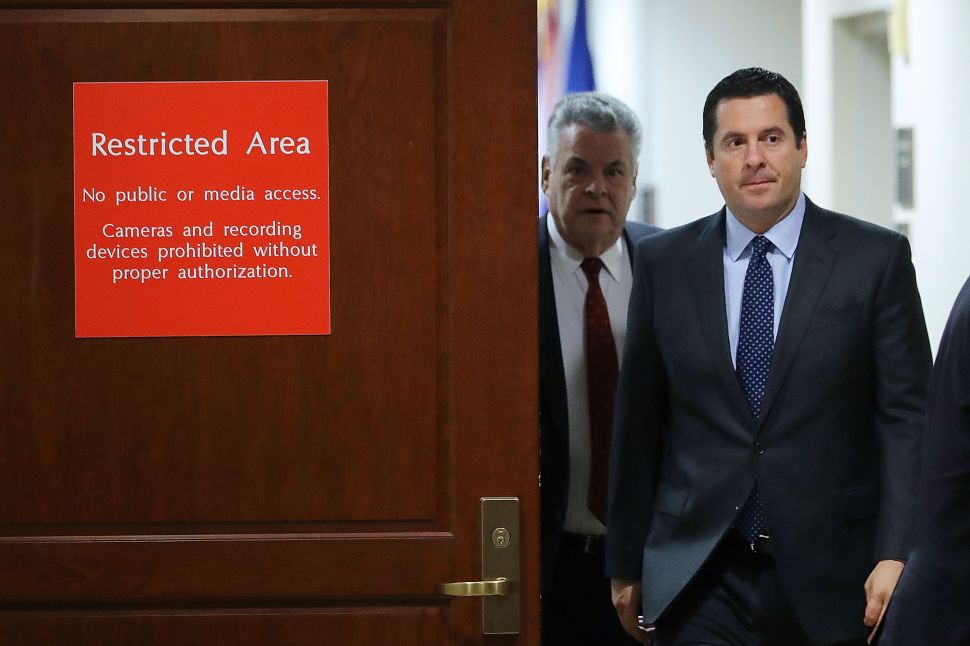 House Intelligence Committee Chairman Devin Nunes (R-Calif.) and ranking committee member Adam Schiff (D-Calif.) each asserted counter-narratives on Saturday over government surveillance of a former Trump campaign advisor.
As the White House released a memo produced by Schiff and House Democrats accusing Nunes of doctoring a report on surveillance practices, the committee chairman took center stage at the Conservative Political Action Conference (CPAC).
"We actually wanted this out," said Nunes of Schiff's memo, adding there is "clear evidence" that Democrats are colluding with "parts of the government" to cover up FISA court abuses.
Schiff's memo claims that Nunes' report "draws selectively on highly sensitive classified information" and includes "distortions" and "misrepresentations." The document describes lawful surveillance practices employed by the Justice Department—rather than reliance on a dossier compiled by a former British intelligence agent Christopher Steele, an argument pushed heavily by Nunes.
"What you're not going to see is anything that actually rejects what was in our memo," Nunes told CPAC.  "They are advocating that it is okay for the FBI and DOJ to use dirt from one campaign to go against another campaign."
The chairman warned the United States will not "have a FISA court in this country" if the Department of Justice continues to breach protocol, later advocating for another investigation into whether there were abuses.
"The Obama administration did not keep us safe, instead they… went after team Trump," said CPAC chairman Matt Schlapp.
After touting his history of warning against national security threats from Russian President Vladimir Putin, Nunes dismissed intelligence agency reports that the Trump campaign colluded with Moscow.
"The only evidence that we have of collusion is…money going to a British agent who was either paying Russian agents or giving information to Russian agents that was dirt on the Trump campaign," said Nunes, noting that the "collapse of the media" fed sensationalism to Special Counsel Robert Mueller's investigation.
The committee chairman was awarded with the American Conservative Union's "Defender of Freedom Award" after his address.