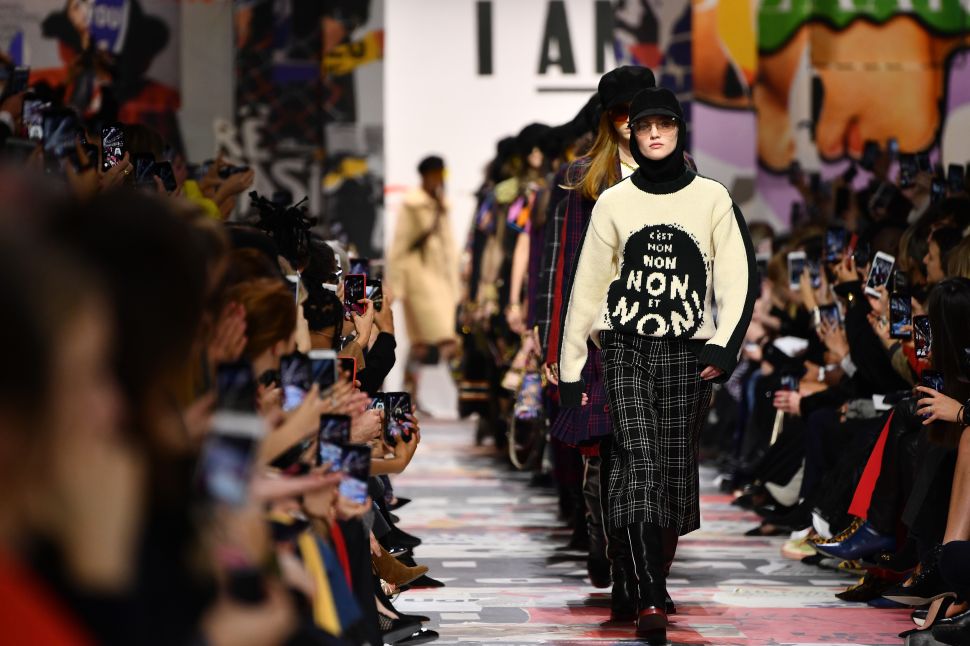 Ever since she debuted a t-shirt with Chimamanda Ngozi Adichie's slogan, "We Should All Be Feminists" on the runway in September 2016, dior (CHDRY)'s Artistic Director Maria Grazia Chiuri has proved her prowess when it comes to combining feminism and high fashion. And remember last season? That's when Grazia Chiuri tapped into the women's rights work of Niki De Saint Phalle, including her forward-thinking quotes and whimsically powerful illustrations, in addition to the writing of art scholar Linda Nochlin, particularly her essay titled, Why Have There Been No Great Women Artists?
In this designer's hands, there's no disconnect between the deeply pocketed fashion customer and a handful of the social issues plaguing the world in 2018.
Case in point? Grazia Chiuri's Fall 2018 collection, which bowed at Paris Fashion Week earlier today and served to honor the anniversary of the Paris protests of 1968. Exactly 50 years ago, the country underwent something of a social revolution, when citizens—including thousands of young students—held marches and occupations to fight against capitalism, the plight of traditional institutions and a very rigid society, one where women were forbidden from wearing pants to work and needed their husband's go-ahead to open a bank account. Basically, the younger generation was requesting the creation of a modern society that adapted to the times.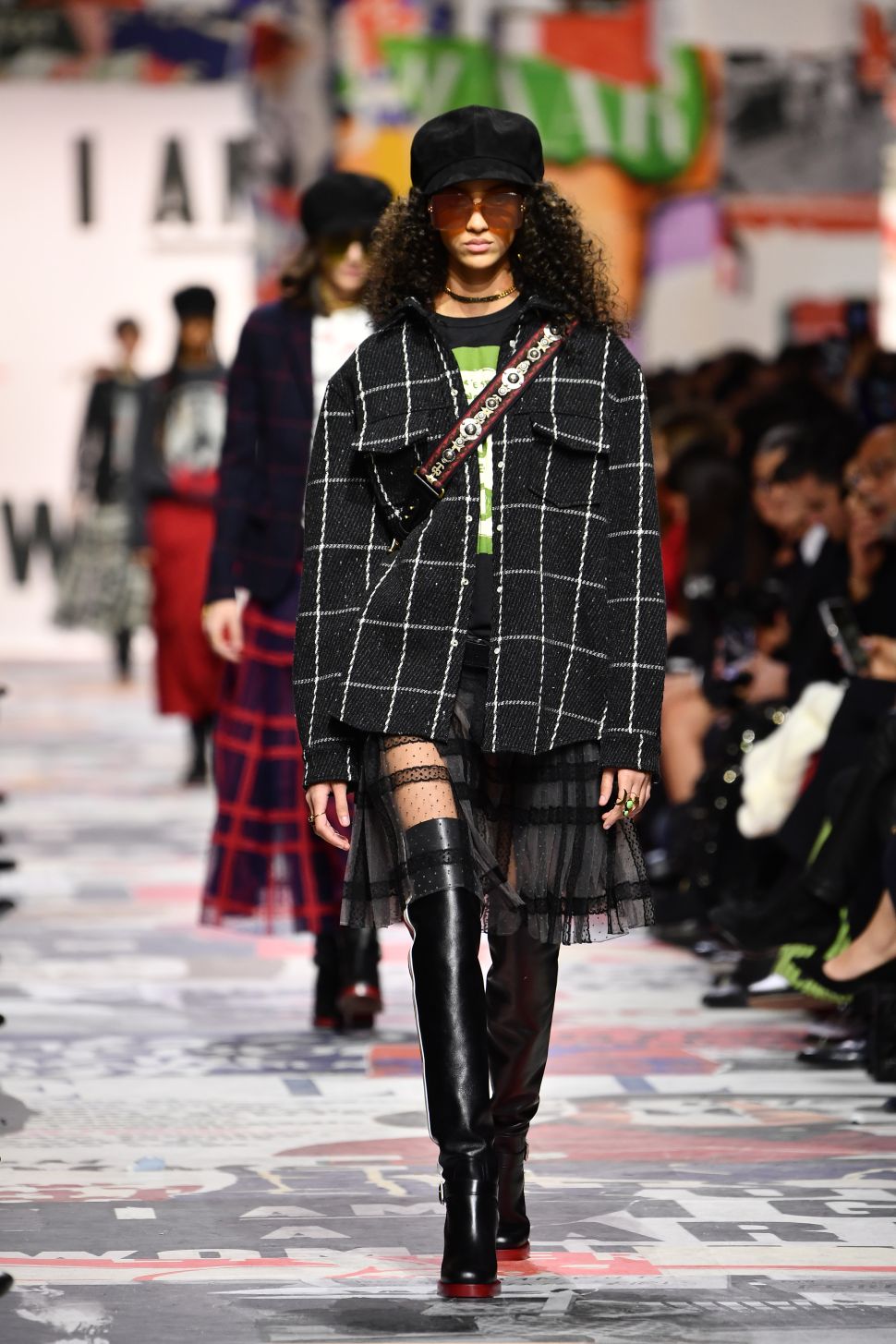 "This act of cutting loose and choosing one's own image is precisely what Maria Grazia Chiuri sets out for the women of today…Her sharp fashion instinct guides the dseigner throughout this return to a singular and incredible time, because changing the world also means changing clothes," the show notes read.
It goes without saying that the '60s, (an era defined by the Youthquake revolution, per the late Vogue Editor-in-Chief, Diana Vreeland) holds strong parallels to today. Specifically, it calls to mind the students of the Parkland, Florida shooting, who are organizing walkouts, demanding change from their representatives and generally shaping the current conversation about gun control.
All of which feels a bit deep for a fashion brand to tackle in a five-minute runway show. But Grazia Chiuri isn't one to shy away from delving into these contentious issues. While her fellow creatives at marquee brands simply skim the surface, like the subtlest feminist mention at Gucci, Dior is diving headfirst into her pro-female plight.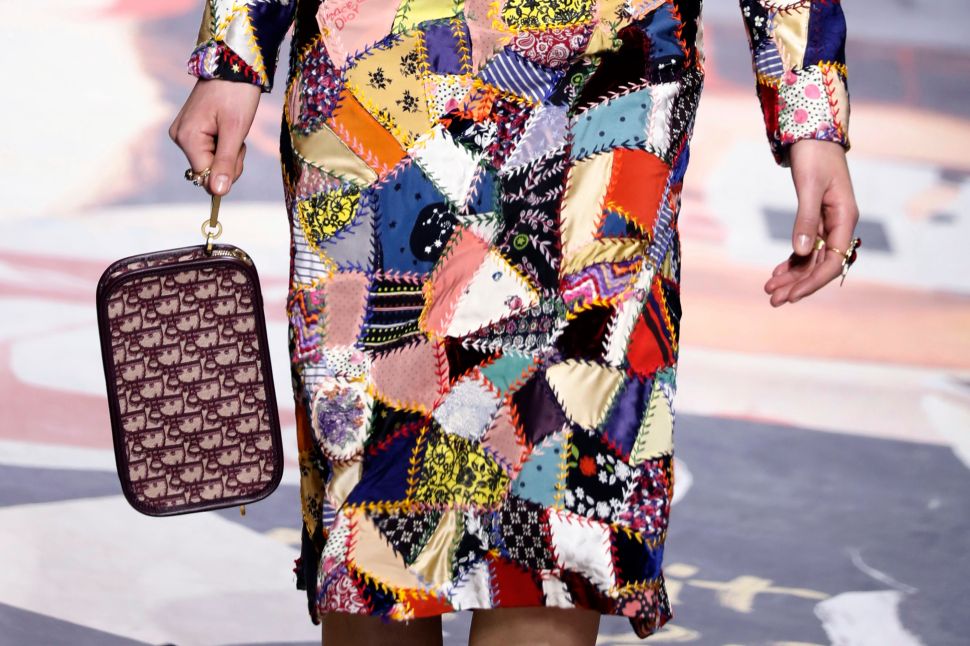 How does she—and the LVMH-controlled brand–do it, in a way that doesn't alienate the oft-times conservative haute shopper?
"I want to create collections that are wearable by different women—with different cultures, bodies, and nationalities—but still with the Dior aesthetic," Grazia Chiuri spelled out to Glamour in October 2017. "As a luxury brand, we have to offer our style—with our point of view, values, craftsmanship, creativity—but in a way that is wearable by all kinds of different women with different styles of life."
So this season, the runway, from the walls to the floor, was covered in a patchwork of various women's rights slogans and images from vintage magazines. "Women's rights are human rights," shouted one section of the room that was erected in the Musée Rodin.
The actual collection made nods to the crowd of mini skirt wearing protestors who stormed the Dior boutique in Paris on September 12, 1966. Armed with posters that read "Mini skirts forever," they sparked the creation of the Miss Dior collection by Marc Bohan, the brand's artistic director at the time.
In terms of sloganed clothing for Fall 2018, there was little to none, save for a single chunky sweater that read, "C'est non, non, non et non!" But there was plenty of pretty protest garb, like leather boots with chunky red soles, ideal for stomping out the patriarchy and floral embroidered trench coats that balanced a delicate touch with a tough design. And there were plenty of obvious references to the '60s, including peace signs, doves, bright daisies and even studded leather clogs.
The brand says: "In this collection, Maria Grazia Chiuri…openly counterbalances the return of the uniform, to bring us back to what it signifies: the individual taking precedence over gender differences, the equality of rights and roles which remains the great conquest of that time." Whether that will sell handbags and pretty frocks remains to be seen, but at least it's a solid reminder that not all fashion brands, even those at the upper echelon, are tone deaf.